US Mid-Am Qualifying Results - Carolina CC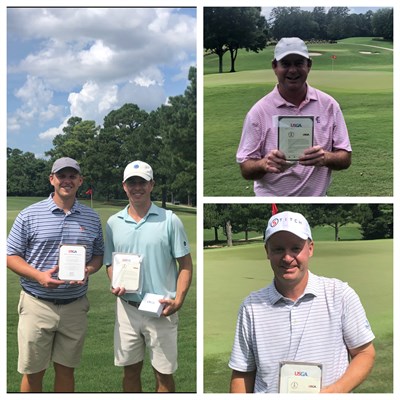 RALEIGH, N.C. (August 16, 2021) -- Final results from U.S. Mid-Amateur Qualifying at Carolina Country Club in Raleigh, N.C. on Monday, August 16, 2021 (6,272 yards, par 35-36--71).
Four qualifying spots and two alternate positions were available at this qualifying site.
Chad Day of Raleigh, N.C. won medalist honors with a round of four-under-par 67. Thomas Owen of Fayetteville, N.C. also qualified with a round of three-under-par 68. Four players shot one-under-par 70 and went to a playoff for the final two qualifying positions and the two alternate positions. John Blackwell of Wilmington, N.C. secured his qualifying position with a birdie on the first playoff hole and James Bohn of Cary, N.C. won the final qualifying position with a birdie on the second playoff hole. Ward Minton of Raleigh, N.C. earned the first alternate position and Jayson Jennings of Fuquay Varina, N.C. is the second alternate.
The qualifiers will advance to play at the championship at the Sankaty Head Golf Club in Siasconset, Massachusetts from September 25-30.
This USGA Qualifier was conducted by the Carolina Golf Association, on behalf of the United States Golf Association.
Hole-by-hole scoring can be viewed here.
US Mid-Amateur Qualifying Results
Carolina Country Club, Raleigh, N.C.
August 16, 2021
Pos.

Player

Affiliation

To Par

Total Score

Details

1

Chad Day

Raleigh, North Carolina

-4

67

2

Thomas Owen

Fayetteville, North Carolina

-3

68

T3

John Blackwell

Wilmington, North Carolina

-1

70

T3

James Bohn

Cary, North Carolina

-1

70

The following players did not make the cut

CUT

Ward Minton

Raleigh, North Carolina

-1

70

First Alternate

CUT

Jayson Jennings

Fuquay-Varina, North Carolina

-1

70

Second Alternate

CUT

Bobby Dean

Charlotte, North Carolina

E

71

CUT

Shawn Foley

Charlotte, North Carolina

E

71

CUT

Raymond Wooten

Clemson, South Carolina

E

71

CUT

Evan Boyer

Morrisville, North Carolina

E

71

CUT

John Pitt

Raleigh, North Carolina

E

71

CUT

Michael Becker

Raleigh, North Carolina

1

72

CUT

Drew Steffens

Raleigh, North Carolina

1

72

CUT

Josh Points

Raleigh, North Carolina

1

72

CUT

Brian Urban

Holly Springs, North Carolina

1

72

CUT

Bryce Aronson

Raleigh, North Carolina

1

72

CUT

Gavin Shaw

Raleigh, North Carolina

1

72

CUT

Mark Gauley

Raleigh, North Carolina

1

72

CUT

Bill Brewster

ROCKY MOUNT, North Carolina

2

73

CUT

Courtney Faircloth

Fuquay Varina, North Carolina

2

73

CUT

Brandon Reece

WAKE FOREST, North Carolina

3

74

CUT

J.D. Mcneill

Raleigh, North Carolina

3

74

CUT

John Mikels

Raleigh, North Carolina

3

74

CUT

Chris Bitzenhofer

Mount Olive, North Carolina

3

74

CUT

David Shambley

Cary, North Carolina

3

74

CUT

Weston Bell

Piedmont, South Carolina

3

74

CUT

Jeff Walker

Northfield, Illinois

3

74

CUT

Brent Battson

Houston, Texas

3

74

CUT

Bob Mcgee

Cary, North Carolina

4

75

CUT

Jason Smith

Raleigh, North Carolina

4

75

CUT

Andy Knox

Apex, North Carolina

4

75

CUT

Ryan Nagy

Raleigh, North Carolina

4

75

CUT

Bill Marlowe

Raleigh, North Carolina

4

75

CUT

Reid Clark

Raleigh, North Carolina

5

76

CUT

Sumner Alford

Fuquay-Varina, North Carolina

5

76

CUT

Edward Bailey

Cary, North Carolina

5

76

CUT

Matthew Spruill

Elizabeth City, North Carolina

5

76

CUT

Andrew Bridgers

Greenville, North Carolina

5

76

CUT

Will Dull

Charlotte, North Carolina

5

76

CUT

Stephen Helton

Clayton, North Carolina

6

77

CUT

Dustin Moore

Burlington, North Carolina

6

77

CUT

Kyle Austin

Mebane, North Carolina

6

77

CUT

Brooks Honeycutt

Raleigh, North Carolina

6

77

CUT

Richard Fountain

Charlotte, North Carolina

6

77

CUT

Adam Rhodes

Cary, North Carolina

6

77

CUT

Joshua Walker

Durham, North Carolina

6

77

CUT

Kern Carlton

Chapel Hill, North Carolina

6

77

CUT

Russell Burke

Raleigh, North Carolina

6

77

CUT

Josh Neal

Raleigh, North Carolina

6

77

CUT

Craig Martin

Holly Springs, North Carolina

7

78

CUT

Robbie Perry

Fuquay Varina, North Carolina

7

78

CUT

William Buchanan

Greensboro, North Carolina

7

78

CUT

Chris Cox

Greensboro, North Carolina

7

78

CUT

Micah Alexander

Durham, North Carolina

8

79

CUT

Brian Mull

Wilmington, North Carolina

8

79

CUT

David Fowler

Winston-Salem, North Carolina

8

79

CUT

Ilan Szulik

Durham, North Carolina

8

79

CUT

Ross Alberghini

CHARLOTTE, North Carolina

8

79

CUT

Quinn Gruber

Raleigh, North Carolina

8

79

CUT

Dan Gossin

Cary, North Carolina

9

80

CUT

Brian Mazhari

Charlotte, North Carolina

9

80

CUT

Cam Sexton

Durham, North Carolina

9

80

CUT

Bryan Willis

Charleston, South Carolina

9

80

CUT

Daniel Sumerel

Williamston, North Carolina

9

80

CUT

Chris Russell

San Diego, California

10

81

CUT

Michael Disch

Charlotte, North Carolina

10

81

CUT

Tom Chuaypradit

Raleigh, North Carolina

11

82

CUT

Raleigh Powell

South Boston, Virginia

11

82

CUT

Matthew Baker

Durham, North Carolina

11

82

CUT

Eric Johnson

Charlotte, North Carolina

12

83

CUT

Justin Miller

Raleigh, North Carolina

13

84

CUT

Brandon Belisle

Wilmington, North Carolina

13

84

CUT

Craig Walton

Raleigh, North Carolina

18

89

WD

Will Warner

Pinehurst, North Carolina

-

WD

WD

Brett Harris

Franklin, North Carolina

-

WD

WD

Henry Persons

Athens, Georgia

-

WD

WD

Shawn Will

Raleigh, North Carolina

-

WD

WD

Baker Street

Swansboro, North Carolina

-

WD

WD

T.D. Luten

Raleigh, North Carolina

-

WD

WD

Tony Herring

Raleigh, North Carolina

-

WD

WD

Shawn Odonnell

Holly Springs, North Carolina

-

WD

WD

Matt Pettis

Pinehurst, North Carolina

-

WD

WD

Connor Leonard

Raleigh, North Carolina

-

WD