US Mid-Am Qualifying Results - CC of Lexington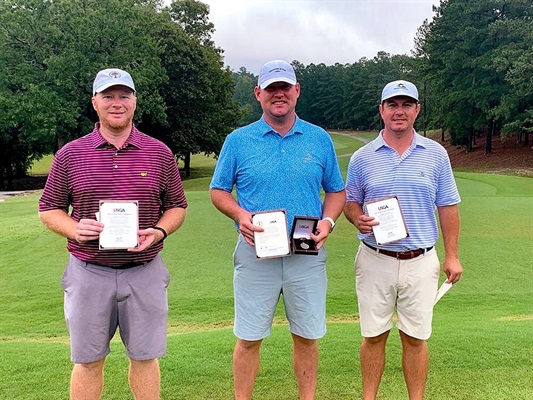 LEXINGTON, S.C. (August 17, 2021) -- Final results from U.S. Mid-Amateur Qualifying at Country Club of Lexington in Lexington, S.C. on Tuesday, August 17, 2021 (6,654 yards, par 36-36--72).
Due to weather delays, play was unable to be completed on August 16. Three qualifying spots and two alternate positions were available at this qualifying site.
Kyle Davis of Charlotte, N.C. won medalist honors with a round of five-under-par 67. Taylor Smith of Atlanta, GA and Donald Taylor of Columbia, S.C. each shot three-under-par 69 to claim the second and third qualifying spots. Brian Quackenbush of Aiken, S.C. earned the first alternate position in a playoff after shooting two-under-par 70. David Denham of Athens, GA will be the second alternate.
The qualifiers will advance to play at the championship at the Sankaty Head Golf Club in Siasconset, Massachusetts from September 25-30.
This USGA Qualifier was conducted by the South Carolina Golf Association, on behalf of the Carolinas Golf Association and the United States Golf Association.
Hole-by-hole scoring can be viewed here.
US Mid-Amateur Qualifying Results
Country Club of Lexington, Lexington, S.C.
August 17, 2021
Pos.

Player

Affiliation

To Par

Total Score

Details

1

Kyle Davis

Charlotte, North Carolina

-5

67

T2

Taylor Smith

Atlanta, Georgia

-3

69

T2

Donald Taylor

Columbia, South Carolina

-3

69

The following players did not make the cut

CUT

Brian Quackenbush

Aiken, South Carolina

-2

70

First Alternate

CUT

David Denham

Athens, Georgia

-2

70

Second Alternate

CUT

Damon Postal

Charlotte, North Carolina

-1

71

CUT

Thomas Parker

Charlotte, North Carolina

-1

71

CUT

Nelson Dickson

Simpsonville, South Carolina

-1

71

CUT

Jordan Sease

Cayce, South Carolina

-1

71

CUT

Brent Roof

Columbia, South Carolina

-1

71

CUT

Michael Sims

Lexington, South Carolina

-1

71

CUT

Brandon Twigg

Charleston, South Carolina

E

72

CUT

James Doyle

Charlotte, North Carolina

E

72

CUT

Matthew Kilgo

Charlotte, North Carolina

+1

73

CUT

Daniel Ezelle

taylors, South Carolina

+1

73

CUT

Daniel Jackson

Indian Trail, North Carolina

+1

73

CUT

Rex Riley

Charleston, South Carolina

+1

73

CUT

Robert Andrews

Nevada, Missouri

+1

73

CUT

Preston Almond

Shelby, North Carolina

+2

74

CUT

Jay Biber

Charlotte, North Carolina

+2

74

CUT

Ryan Clancy

Bluffton, South Carolina

+2

74

CUT

Jeremy Boggs

Fort Mill, South Carolina

+3

75

CUT

Chris Eassy

Simpsonville, South Carolina

+3

75

CUT

David Gibson

Lexington, South Carolina

+3

75

CUT

Frank Wrenn IV

Greenville, South Carolina

+4

76

CUT

Jason Cochcroft

Columbia, South Carolina

+4

76

CUT

Rhett Anderson

Savannah, Georgia

+6

78

CUT

Brian Geppi

Greenville, South Carolina

+6

78

CUT

Matt Reed

Atlanta, Georgia

+6

78

CUT

William Braude

Charlotte, North Carolina

+6

78

CUT

Wes Pope

Pineville, North Carolina

+7

79

CUT

Marais Lombard

Charlotte, North Carolina

+8

80

CUT

Chris Hancock

Scottsboro, Alabama

+9

81

CUT

John Osborne

Seabrook Island, South Carolina

+10

82

CUT

Jay Campuzano

lexington, South Carolina

+10

82

CUT

TJ King

Indian Land, South Carolina

+17

89

WD

Ben Goforth

Greenville, South Carolina

-

WD

WD

Braxton Mclennan

Charlotte, North Carolina

-

WD

WD

Cabrick Waters

Gaffney, South Carolina

-

WD

WD

Travis Gantt

Moncks Corner, South Carolina

-

WD

WD

Spencer Hurteau

Charleston, South Carolina

-

WD

WD

Kyle Niemann

Charleston, South Carolina

-

WD

WD

Scott Harben

Decatur, Georgia

-

WD

WD

Daniel Keddie

Charleston, South Carolina

-

WD

WD

Josh Dale

Charleston, South Carolina

-

WD

WD

John Obrien

Columbia, South Carolina

-

WD

WD

Ryan Grant

Atlanta, Georgia

-

WD

WD

Matthew West

Charleston, South Carolina

-

WD

WD

Ryan Reynolds

Lugoff, South Carolina

-

WD

WD

Matthew Laydon

Charleston, South Carolina

-

WD

WD

Marion Moore Jr

Georgetown, South Carolina

-

WD

WD

Rich Montgomery

Little River, South Carolina

-

WD

WD

Mark Callahan

Charlotte, North Carolina

-

WD

WD

Scott Slappey

Atlanta, Georgia

-

WD

WD

Jeff Faino

Charlotte, North Carolina

-

WD

WD

Devin Presnell

Fort Mill, South Carolina

-

WD

WD

Justin Lyles

Lexington, South Carolina

-

WD

WD

Matt Sevigny

Charlotte, North Carolina

-

WD

WD

David Foster

Charleston, South Carolina

-

WD

WD

Joshua Sapolich

Mt pleasant, South Carolina

-

WD

WD

Richard Andrews

Chapel Hill, North Carolina

-

WD

WD

Jonathan Mackey

Pawleys Island, South Carolina

-

WD

WD

Cory Caldwell

Spartanburg, South Carolina

-

WD

WD

Kevin Johnson

Greer, South Carolina

-

WD

WD

Taylor Ingle

Winnsboro, South Carolina

-

WD

WD

Philip Gunn

St. Simons Island, Georgia

-

WD

WD

Cal Hardee

Knoxville, Tennessee

-

WD

WD

Jonathan Strauss

Columbia, South Carolina

-

WD

WD

Andrew Lockliear

Bonneau, South Carolina

-

WD

WD

Erik Golden

Conway, South Carolina

-

WD

WD

Michael Hutchison

Charleston, South Carolina

-

WD

WD

Dan Wild

Charleston, South Carolina

-

WD

WD

Jon Eichstaedt

Charlotte, North Carolina

-

WD

WD

Robert Dargan

Columbia, South Carolina

-

WD

WD

Cody Sundberg

Fort Mill, South Carolina

-

WD

WD

Levi Shelton

Scottsboro, Alabama

-

WD

WD

Rob Butler

Athens, Georgia

-

WD

WD

Jimmy Mcquiston

Raleigh, North Carolina

-

WD

WD

John Gibbs

Augusta, Georgia

-

WD

WD

Graham Worsham

Charleston, South Carolina

-

WD

NS

John Belicka

Mount Pleasant, South Carolina

-

NS

NS

Travis Steed

Macon, Georgia

-

NS

NS

Zack Siefert

Simpsonville, South Carolina

-

NS

NS

Robert Burrow

Charlotte, North Carolina

-

NS