Amateurs Take Back The Tar Heel Cup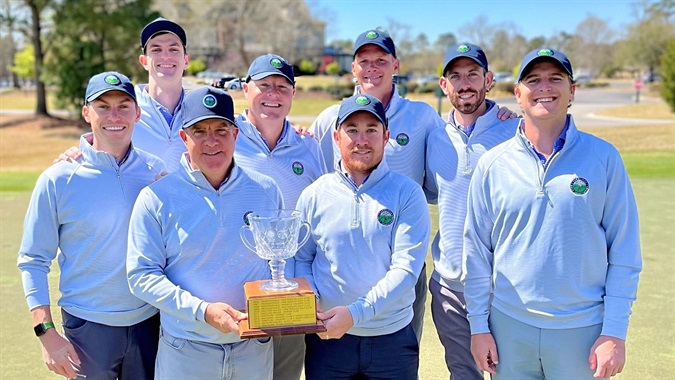 WALLACE, N.C. (March 29, 2021) - The 27th Tar Heel Cup Matches presented by Holderness & Bourne took place at River Landing Country Club's LandingCourse in Wallace, N.C. featuring the eight top amateurs and PGA professionals from North Carolina. For the amateurs to take back the cup, they needed 6.5 points with the professionals needing 6 points to retain the cup.

Related: Championship Website | Match Results | History

Starting off with Four-Ball Matches on Monday, the Professionals rocketed out to a 2-0 lead, with 4&2 and 4&3 wins respectively for the pairs of Larry George of Wallace, N.C. and John Faidley of Charlotte, N.C., and Matt Vick of Pinehurst, N.C. and Charles Chapman of Mount Croghan, S.C.
The Amateurs would answer in the anchor matches, as the duo of Scott Harvey of Greensboro, N.C. and Chris Cassetta of High Point, N.C. took home a convincing 4&3 victory, while the final match of the day saw Josh Nichols of Apex, N.C. and David Sargent of Cornelius, N.C. grind out a 2&1 victory to even the matches at two a piece heading into Tuesday singles.
The Final Round of the Tar Heel Cup saw the Amateurs race out to an early advantage in the singles matches, with Scott Harvey, Chris Cassetta, and Mark Olbrych of Raleigh, N.C. all winning the first three matches of the day. With the amateurs only needing 1.5 points to win the Tar Heel Cup, a 2 up win for David Sargent and a 6&4 Matthew Younts of Stokesdale, N.C. win secured the Cup to be brought back to the Amateur side.

The Carolinas Golf Association would like to thank the members and staff at River Landing, especially the Murphy Family, Superintendent Peter Futral, and Director of Golf Larry George, who have graciously hosted these matches since 2015.
27th Tar Heel Cup Matches presented by Holderness & Bourne
River Landing in Wallace, N.C.
First Round: Four-Ball Results
Larry George & John Faidley (Professional) def. Matthew Younts & Daniel Neveu (Amateur), 4&2
Matt Vick & Charles Chapman (Professional) def. Anthony Conn & Mark Olbrych (Amateur), 4&3
Chris Cassetta & Scott Harvey (Amateur) def. Jimmy Flippen & Jon Mayer (Professional), 4&3
Josh Nichols & David Sargent (Amateur) def. Luke Lovell & Preston Cole (Professional), 2&1
NC Amateurs: 2 points, NC Professionals: 2 points
Final Round: Singles Matches Results
Scott Harvey, Amateur def. Matt Vick, Professional, 3 & 2
Chris Cassetta, Amateur def. Charles Chapman, Professional, 4 & 2
Mark Olbrych, Amateur def. Luke Lovell, Professional, 1Up
Jimmy Flippen, Professional def. Daniel Neveu, Amateur 3 & 2
David Sargent, Amateur def. Jon Mayer, Professional, 2Up
Larry George, Professional def. Josh Nichols, Amateur, 3 & 2
Matthew Younts, Amateur def. Preston Cole, Professional, 6 & 4
Anthony Conn, Amateur tied John Faidley, Professional
NC Professionals: 5.0 points, NC Amateurs: 3.0 points
Final: NC Amateur: 7.5 points, NC Professionals 4.5 points
About River Landing Country Club
The coastal plains of North Carolina are the beautiful setting of a community where beauty and lifestyle go hand and hand—River Landing.
River Landing is a private, gated, residential golf community covering over 1,700 unspoiled acres on the banks of the northeast Cape Fear River in Wallace, NC. An easy 35 minute drive from historic Wilmington and just an hour and 15 minutes south of Raleigh, NC, we represent the best of North Carolina's beauty, weather and recreation. And the cost of living here? Very attractive!
Our championship golf courses are world-class, and are complemented by our state-of-the-art Sports and Fitness Center. Here residents enjoy secure surroundings featuring scenic walking, hiking and nature trails, mature, lush landscapes and some of the nation's best fishing, boating and gardening.
River Landing offers the lifestyle you deserve with the value you demand. Welcome!

About the Carolinas Golf Association (CGA)
The CGA is a 501(c)(3) not-for-profit educational organization that was founded in 1909 to promote and to protect the game of golf in the Carolinas by providing competitions, education, support and benefits to golf clubs and golfers. The CGA is the second largest golf association in the country with over 700 member clubs represented by nearly 150,000 individuals.
The CGA annually conducts 48 championships and five team match competitions for men, women, juniors, and seniors. It also runs over 150 One-Day (net and gross) events as well as qualifying for USGA national championships. The CGA serves golf in the Carolinas with numerous programs such as: the USGA Handicap System; tournament management software and support; course measuring and course/slope ratings; agronomy consultation; answers about the Rules of Golf, Rules of Amateur Status, and Handicapping; Carolinas Golf Magazine; Interclub series; Tarheel Youth Golf Association; Carolinas Golf Hall of Fame; expense assistance for USGA Junior and Girls' Junior qualifiers from the Carolinas; and the Carolinas Golf Foundation (CGF). The CGF has distributed nearly $2,000,000 since 1977 to benefit Carolinas' golf initiatives including junior and women's programs.
For more information about the CGA, visit our website.

About the Carolinas PGA Section
Since its inception in 1923, the Carolinas PGA Section has been committed to nurturing and improving the quality of the game for the thousands of golfers using its member facilities. Now the largest of the PGA's forty-one sections, the Carolinas PGA Section of the Professional Golfers' Association boasts nearly 2,000 professional members and represents more than 800 golf facilities within North and South Carolina as well as portions of southern Virginia.
PGA professionals are responsible for conducting a variety of golf-related functions which include human resource management, golf shop merchandising, golf instruction, tournament operations, junior golf programs, growth of the game initiatives, golf club repair, administering the rules, public relations and much more. For more information, contact Liz Muroski, Director of Media and Promotions at 336-398-2742 or lmuroski@pgahq.com.
##30##