Hometown Heroes Win Carolinas Four-Ball At Camden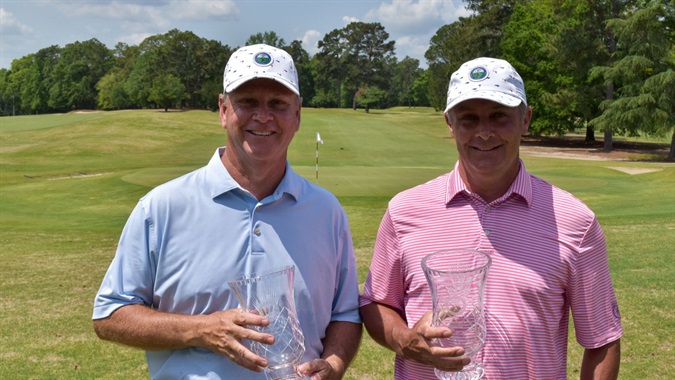 CAMDEN, S.C. (May 2, 2022) -- Final results of the 71st Carolinas Four-Ball Championship at Camden Country Club in Camden, S.C. on May 2, 2022. The field played at 6,455 yards (par 35-35--70).
Related: Championship Web Site | Full Field | Scoring | History | Photos

It was a win written in the stars, as the team of Dillard Pruitt of Simpsonville, S.C. and hometown hero Rob Butler of Camden, S.C. claim the 71st Carolinas Four-Ball Championship.
"Well you know it's a lot of fun," said Butler. "Dillard and I just enjoy being together. He was my brother-in-law's roommate in college, so we 'brother-in-law'd' extremely well this week."
Pruitt and Butler's incredible run started with a strong opening to the week in stroke play qualifying, as a 5-under-par, 65 and 4-under-par, 66 had them locked in as the six seed for the match play bracket. After a 1-up victory in their Round of 32 match, the Sweet 16 proved to be a touch easier, with a convincing 4 & 2 victory clinching them a Quarterfinals spot.
"Ice at night with Bengay and heat wraps in the morning was huge," said Pruitt. "We had a great time, Rob's a great partner. He knows the golf course like the back of his hand."
Once in the Quarterfinals, Pruitt and Butler were given all they could handle by the team of Zac Lewis from Willow Spring, N.C. and Stephen Lavenets of Winnabow, N.C. A birdie on the 18th by the team of Lewis and Lavenets pushed their match to a playoff. Pruitt and Butler would remain steady, coming away with a win in 20 holes and setting the table for a Semifinal match.
A 1-up victory in the Semifinals set the stage for a terrific final match, as on the other side of the bracket the defending champions Anthony Conn of Raleigh, N.C. and Brandon Reece of Rolesville, N.C. were making a run of their own.
A 3 & 2 Quarterfinals victory, followed by a 2-up Sweet 16 win had Reece and Conn fresh heading into their Semifinals match. A controlling 2 & 1 advantage had the defending champs in excellent shape to win in back-to-back years.
The final lived up to its billing, with a back and forth match that saw Pruitt and Butler go 2-up through 10 holes. Birdies on both the 11th and 12th for Conn and Reece saw the momentum swing right back, where it would stay until the 15th. A par on the Par 4 15th saw Pruitt and Butler take a 1-up advantage into the 187-yard Par-3, 16th.
"I thought when Dillard made the putt on 10 that we kind of had a handle on it," said Butler. "They came right back with two birdies. Fifteen was a big hole but 16 was even bigger."
A crisp iron shot by Butler and a 20-foot birdie roll led to a 2-up advantage with two left. A par on the 17th was all Pruitt and Butler needed, as they finished with a 2 & 1 victory to come away with the 71st Carolinas Four-Ball Championship.
"I hit a 7-iron, must have been about 15-20 feet short of the pin," said Butler. " I had it about a cup out left and put it right in the middle."
The CGA extends its most sincere thank you to the members and staff of Camden Country Club, especially, Head Golf Professional Matt McCarley, and Superintendent Nick Price for their hospitality in hosting the 71st Carolinas Four-Ball Championship.

71st Carolinas Four-Ball Championship
Camden Country Club, Camden, S.C.
Final Results
Dillard Pruitt and Rob Butler def. Anthony Conn and Brandon Reece, 2 & 1
About the Carolinas Golf Association (CGA)
The CGA is a 501(c)(3) not-for-profit educational organization that was founded in 1909 to promote and to protect the game of golf in the Carolinas by providing competitions, education, support and benefits to golf clubs and golfers. The CGA is the second largest golf association in the country with over 700 member clubs represented by nearly 150,000 individuals.
The CGA annually conducts 48 championships and five team match competitions for men, women, juniors, and seniors. It also runs over 150 One-Day (net and gross) events as well as qualifying for USGA national championships. The CGA serves golf in the Carolinas with numerous programs such as: the USGA Handicap System; tournament management software and support; course measuring and course/slope ratings; agronomy consultation; answers about the Rules of Golf, Rules of Amateur Status, and Handicapping; Carolinas Golf Magazine; Interclub series; Tarheel Youth Golf Association; Carolinas Golf Hall of Fame; expense assistance for USGA Junior and Girls' Junior qualifiers from the Carolinas; and the Carolinas Golf Foundation (CGF). The CGF has distributed nearly $2,000,000 since 1977 to benefit Carolinas' golf initiatives including junior and women's programs.
For more information about the CGA, visit our website.
##30##