US Senior Open Qual - River Landing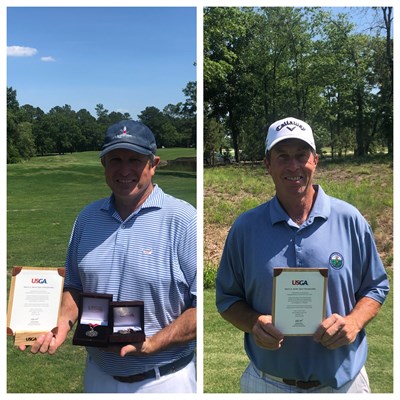 WALLACE, N.C. (May 18, 2022) -- Final results from U.S. Senior Open Sectional Qualifying at River Landing Country Club's River Course in Wallace, N.C. on Wednesday, May 18, 2022. (6,786 yards, par 36-36--72).
Two qualifying spots and two alternate spots were available at this qualifying site.
Matt Sughrue of Arlington, VA won medalist honors with a round of five-under-par 67. Eddie Hargett of Blythewood, S.C. and Daniel Neveu of Pinehurst, N.C. both finished at three-under-par 69 and went to a playoff to determine the final qualifying spot. Hargett made birdie on the first playoff hole to earn the qualifying position and Neveu will be the first alternate. Chris Hockaday of Angier, N.C. will be the second alternate after his round of two-under-par 70.
The qualifiers will advance to the 42nd U.S. Senior Open Championship at Saucon Valley Country Club in Bethlehem, PA from June 23-26, 2022.
Hole-by-hole scoring can be viewed here.
US Senior Open Sectional Qualifying Results
River Landing Country Club, Wallace, N.C.
May 18, 2022
Pos.

Player

Affiliation

To Par

Total Score

Details

1

Matt Sughrue

Arlington, Virginia

-5

67

2

Eddie Hargett

Blythewood, South Carolina

-3

69

The following players did not make the cut

CUT

Daniel Neveu

Pinehurst, North Carolina

-3

69

First Alternate

CUT

Chris Hockaday (p)

Angier, North Carolina

-2

70

Second Alternate

CUT

Neal Lancaster (p)

Smithfield, North Carolina

-1

71

CUT

Jason Widener (p)

Chapel hill, North Carolina

-1

71

CUT

Chip Collins (p)

Hope mills, North Carolina

E

72

CUT

Chris Culler

Camden, South Carolina

E

72

CUT

Derek Sanders (p)

Whispering pines, North Carolina

E

72

CUT

Kevin Mccallister (p)

Oak ridge, North Carolina

1

73

CUT

Raymond Franz Jr. (p)

Mount pleasant, South Carolina

1

73

CUT

Joe Bush (p)

Bluffton, South Carolina

1

73

CUT

Allen Rhea

Jonesborough, Tennessee

2

74

CUT

Ricky Morton (p)

Jacksonville, North Carolina

2

74

CUT

Sherrill Britt

West end, North Carolina

2

74

CUT

Damon Boyette

Alpharetta, Georgia

2

74

CUT

Chris Sullivan (p)

North palm beach, Florida

2

74

CUT

William Lincicome

Pinehurst, North Carolina

2

74

CUT

Jim Karr (p)

Palm beach, Florida

2

74

CUT

Larry George (p)

Wallace, North Carolina

2

74

CUT

John Marino (p)

Chapel hill, North Carolina

2

74

CUT

Dean Channell

Pinehurst, North Carolina

3

75

CUT

Uly Grisette (p)

Bermuda run, North Carolina

3

75

CUT

Steve Larick (p)

Lexington, South Carolina

3

75

CUT

Jeff Jamieson

Cary, North Carolina

3

75

CUT

Lee Porter (p)

Greensboro, North Carolina

4

76

CUT

Klas Tenmark (p)

Molndal

4

76

CUT

Gary Robinson

Fayetteville, North Carolina

4

76

CUT

Emos Korblah (p)

Durham, North Carolina

4

76

CUT

Russ Dodson (p)

Virginia beach, Virginia

4

76

CUT

Todd Sapere (p)

Pooler, Georgia

4

76

CUT

James Bohn

Cary, North Carolina

4

76

CUT

Rodney Mulford (p)

Raleigh, North Carolina

5

77

CUT

Chris Collins

Myrtle beach, South Carolina

5

77

CUT

William Baker (p)

West end, North Carolina

5

77

CUT

Tony Bostic

Vienna, Virginia

5

77

CUT

Trent Gregory

Wake forest, North Carolina

5

77

CUT

Donald Wright (p)

Lake worth, Florida

6

78

CUT

Tommie Deal (p)

Pinetops, North Carolina

6

78

CUT

David Wettlaufer (p)

Southern pines, North Carolina

6

78

CUT

Michael O'Grady

Augusta, Georgia

6

78

CUT

Rob Perry

Cary, North Carolina

6

78

CUT

Joseph Hodsden (p)

Suffolk, Virginia

6

78

CUT

Craig Gunn (p)

Danville, Virginia

7

79

CUT

Michael Hays

Virginia beach, Virginia

7

79

CUT

Matt Crichton

Cary, North Carolina

7

79

CUT

Kent Sonnefeld (p)

Huntersville, North Carolina

7

79

CUT

Francis R Debois Jr (p)

Spring lake, North Carolina

7

79

CUT

Preston Edmondson

Morrisville, North Carolina

8

80

CUT

Keith Waters

Raleigh, North Carolina

8

80

CUT

Edward Bailey

Cary, North Carolina

8

80

CUT

Park Williams

Kernersville, North Carolina

8

80

CUT

Lance Waggener

Morehead city, North Carolina

8

80

CUT

Matthew Musolf

Martinez, Georgia

8

80

CUT

John Lombardozzi

Herndon, Virginia

8

80

CUT

David Cauthen (p)

Mount holly, North Carolina

9

81

CUT

Evan DeWulf

Waxhaw, North Carolina

9

81

CUT

Mark Houston (p)

Newport news, Virginia

9

81

CUT

Alex Ambrose

Cary, North Carolina

9

81

CUT

Kevin Omundson

Huntersville, North Carolina

9

81

CUT

Christopher Conlon

Cocoa beach, Florida

10

82

CUT

Marcus Gray

Colfax, North Carolina

11

83

CUT

John Zoppi

Pinehurst, North Carolina

11

83

CUT

Dennis Ward (p)

Hampstead, North Carolina

12

84

CUT

Paul Townsley

Chesapeake, Virginia

12

84

CUT

Michael Stack (p)

Richmond, Virginia

13

85

CUT

Jason Rudd

Fort mill, South Carolina

22

94

CUT

Matt Briggs

Monroe, North Carolina

33

105

WD

Dale Fuller

Raleigh, North Carolina

-

WD

NC

Brian Hepler

Wilmington, North Carolina

-

NC

CUT

Curtis Gamblin

Madisonville, Kentucky

-

DNF

CUT

Dave Schreyer (p)

Peachtree cuty, Georgia

-

DNF

NS

Thomas Tolles (p)

Hendersonville, North Carolina

-

NS

NS

Mike Castrilli

Calabash, North Carolina

-

NS