US Senior Open Qualifying - Quixote Club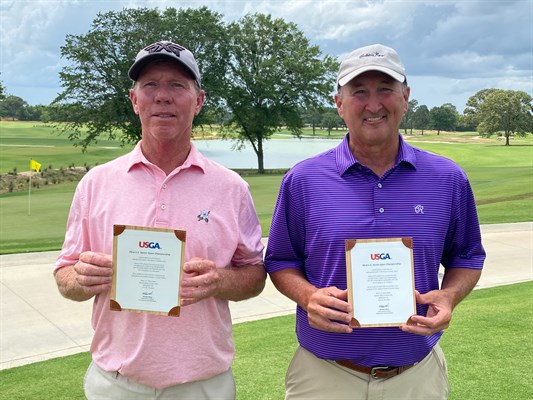 SUMTER, S.C. (May 23, 2022) -- Final results from U.S. Senior Open Sectional Qualifying at the Quixote Club in Sumter, S.C. on Monday, May 23, 2022. (6,833 yards, par 35-35--70).
Two qualifying spots and two alternate spots were available at this qualifying site.
Gustav Ulrich of Whispering Pines, N.C. won medalist honors with a round of four-under-par 66. Todd White of Spartanburg, S.C. shot one-under-par 69 to claim the second and final qualifying position. Brad Jones of Augusta, GA and Scott Roberts of Lancaster, S.C. each shot even-par 70 and headed to a playoff for the alternate positions. Jones won and will be the first alternate, and Roberts will be the second alternate.
The qualifiers will advance to the 42nd U.S. Senior Open Championship at Saucon Valley Country Club in Bethlehem, PA from June 23-26, 2022.
Hole-by-hole scoring can be viewed here.
US Senior Open Sectional Qualifying Results
Quixote Club, Sumter, S.C.
May 23, 2022
Pos.

Player

Affiliation

To Par

Total Score

Details

1

Gustav Ulrich (p)

Whispering pines, North Carolina

-4

66

2

Todd White

Spartanburg, South Carolina

-1

69

The following players did not make the cut

CUT

Brad Jones

Augusta, Georgia

E

70

First Alternate

CUT

Scott Roberts

Lancaster, South Carolina

E

70

Second Alternate

CUT

Ron Clontz

Greer, South Carolina

1

71

CUT

Clint Avret (p)

Jacksonville beach, Florida

1

71

CUT

Joe Jaspers

Huntersville, North Carolina

2

72

CUT

Patrick Sheehan (p)

Oviedo, Florida

2

72

CUT

Burke Cromer (p)

Columbia, South Carolina

2

72

CUT

Mark Spencer

Jacksonville, Florida

3

73

CUT

Brian Quackenbush

Aiken, South Carolina

3

73

CUT

Marion Dantzler (p)

Orangeburg, South Carolina

3

73

CUT

Tee Burton

Shelby, North Carolina

4

74

CUT

John Obrien

Columbia, South Carolina

4

74

CUT

Jerry Haas (p)

Winston salem, North Carolina

4

74

CUT

Hank Smith (p)

Johns island, South Carolina

5

75

CUT

Robert Dargan

Columbia, South Carolina

5

75

CUT

JC Anderson (p)

Bonita springs, Florida

5

75

CUT

Geno Berchiatti

Greenville, South Carolina

5

75

CUT

Tim Dunlavey

Spartanburg, South Carolina

5

75

CUT

Chris Locker

Chapin, South Carolina

5

75

CUT

Freddy Henriquez

Blythewood, South Carolina

5

75

CUT

Scott Sperber

Pawleys island, South Carolina

6

76

CUT

John Belicka

Mount pleasant, South Carolina

6

76

CUT

Pat Thompson

Asheville, North Carolina

6

76

CUT

Todd Deeds (p)

Fort mill, South Carolina

6

76

CUT

Mims Liner

Irmo, South Carolina

6

76

CUT

Jay Blackburn

Harlem, Georgia

6

76

CUT

Mike Ramsden (p)

Mount pleasant, South Carolina

7

77

CUT

John Ogden (p)

Bluffton, South Carolina

7

77

CUT

Walker Taylor

Wrightsville beach, North Carolina

7

77

CUT

Chris Haarlow (p)

Greensboro, North Carolina

7

77

CUT

Ken Mattiace (p)

Jacksonville, Florida

7

77

CUT

Gil Feagin (p)

Myrtle beach, South Carolina

7

77

CUT

Yancey Johnson

Simpsonville, South Carolina

7

77

CUT

Jeffrey Peck (p)

Charlotte, North Carolina

8

78

CUT

Bubba Aughtry

Concord, North Carolina

9

79

CUT

Philip Geiger

Mooresville, North Carolina

9

79

CUT

Lee Pitt

Sumter, South Carolina

9

79

CUT

Brad Rollinson (p)

Ponte vedra beach, Florida

9

79

CUT

Todd Hendley

Columbus, North Carolina

9

79

CUT

Doug Hanzel

Savannah, Georgia

9

79

CUT

Anthony Branham (p)

Elloree, South Carolina

9

79

CUT

Brooks Blackburn (p)

Aiken, South Carolina

9

79

CUT

Andrew Rice (p)

Bluffton, South Carolina

9

79

CUT

Bob Merryman (p)

Summerville, South Carolina

9

79

CUT

Paul Gooden (p)

Savannah, Georgia

9

79

CUT

Ken Knowles

Mooresville, North Carolina

10

80

CUT

Jeff Pinckney (p)

St helena island, South Carolina

10

80

CUT

Dirk Ayers (p)

Jacksonville, Florida

10

80

CUT

Pete Etters

Wilmington, North Carolina

10

80

CUT

Toshi Hirata

Pooler, Georgia

10

80

CUT

Will Hutter (p)

San francisco, California

11

81

CUT

John Dobbins

Richmond hill, Georgia

11

81

CUT

Tim Clepper

Sumter, South Carolina

11

81

CUT

Peter Melvin

Pinehurst, North Carolina

11

81

CUT

Chris Watson

Jacksonville, Florida

11

81

CUT

Rusty Shepard

Johns island, South Carolina

12

82

CUT

William (deebo) Kelly

Camden, South Carolina

12

82

CUT

Richard Lee

Charlotte, North Carolina

12

82

CUT

James Hackenberg (p)

Easley, South Carolina

12

82

CUT

David Winesette

Waxhaw, North Carolina

13

83

CUT

Jeff Helms

Monroe, North Carolina

13

83

CUT

Andy Zondervan (p)

Fort mill, South Carolina

13

83

CUT

Donald Miller

Alpharetta, Georgia

14

84

CUT

David Foster

Charleston, South Carolina

14

84

CUT

Gettys Glaze

Charleston, South Carolina

14

84

CUT

Robert Andrews

Nevada, Missouri

15

85

CUT

Lenin Lezcano

Hilton head island, South Carolina

15

85

CUT

Jimmy Hyams

Charleston, South Carolina

17

87

WD

Michael Girard (p)

Lady lake, Florida

-

WD

WD

James Kiely

Alpharetta, Georgia

-

WD

WD

Rob Pilewski (p)

Durham, North Carolina

-

WD

WD

Joey Davis

Cornelius, North Carolina

-

WD

WD

Bill McDonald (p)

Columbia, South Carolina

-

WD

WD

Thomas Cregg

St Augustine, Florida

-

WD

NC

Chad Frye

Landis, North Carolina

-

NC

DNF

Eric Pellegrino

Charlotte, North Carolina

-

DNF

NS

Scott Patnode

Belmont, North Carolina

-

NS

NS

Raymond Vigeant

Melbourne, Florida

-

NS