US Girls' Junior Qualifying - Spring Valley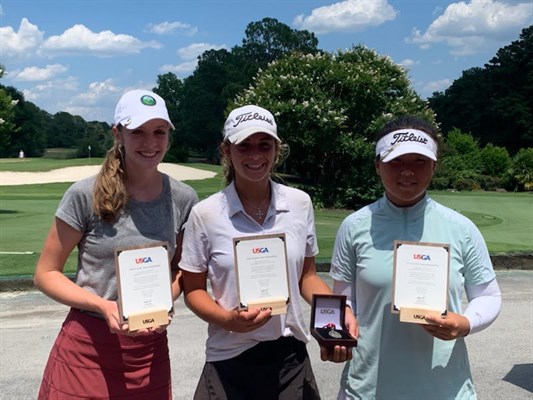 COLUMBIA, S.C. (June 13, 2022) -- Final results from U.S. Girls' Junior Qualifying at Spring Valley Country Club in Columbia, S.C. on Monday, June 13, 2022. (6,224 yards, par 36-36--72).
Three qualifying spots and two alternate spots were available at this qualifying site.
Alexia Siehl of Fort Mill, S.C. and Mi Li of Winter Garden, FL shared medalist honors rounds of four-under-par 68. Adrian Anderson of Murrells Inlet, S.C. shot two-under-par 70 to claim the third and final qualifying position. Sydney Roberts of Chesnee, S.C. and Madison Messimer of Myrtle Beach, S.C. shot rounds of one-under-par 71 and needed a playoff to decide the order of the alternates. Roberts made birdie on the first playoff hole to earn the first alternate position and Messimer will be the second alternate.
The qualifiers will advance to the 73rd U.S. Girls' Junior at The Club at Olde Stone, in Bowling Green, KY from July 18-23, 2022.
Hole-by-hole scoring can be viewed here.
US Girls' Junior Sectional Qualifying Results
Spring Valley Country Club, Columbia, S.C.
June 13, 2022
Pos.

Player

Affiliation

To Par

Total Score

Details

T1

Alexia Siehl

Fort Mill, South Carolina

-4

68

T1

Mi Li

Winter Garden, Florida

-4

68

3

Adrian Anderson

Murrells Inlet, South Carolina

-2

70

The following players did not make the cut

CUT

Sydney Roberts

Chesnee, South Carolina

-1

71

1st Alternate

CUT

Madison Messimer

Myrtle Beach, South Carolina

-1

71

2nd Alternate

CUT

Isabella Rawl

Lexington, South Carolina

E

72

CUT

Skye Two Hawks Skenandore

Aiken, South Carolina

1

73

CUT

Kiera Bartholomew

Wake forest, North Carolina

1

73

CUT

Anne Fernandez

Bluffton, South Carolina

1

73

CUT

Sophie Lauture

Concord, North Carolina

2

74

CUT

Elizabeth Rudisill

Charlotte, North Carolina

2

74

CUT

Alisa Pressley

Hoschton, Georgia

3

75

CUT

Mia Gray

Conway, South Carolina

4

76

CUT

Caroline Hawkins

Columbia, South Carolina

4

76

CUT

Olivia Pellerin

Greenville, South Carolina

5

77

CUT

Hannah Altman

Lake city, South Carolina

5

77

CUT

Bridget Wilkie

Bluffton, South Carolina

6

78

CUT

Katherine Brictson

Raleigh, North Carolina

6

78

CUT

Abby Franks

Roebuck, South Carolina

8

80

CUT

Madilyn Saxton

Guyton, Georgia

9

81

CUT

Ella Stalvey

Blythewood, South Carolina

10

82

CUT

Olivia Wilkie

Bluffton, South Carolina

11

83

CUT

Olivia Ireland

Inman, South Carolina

11

83

CUT

Sarah Devers

Murrells inlet, South Carolina

11

83

CUT

Robbin Zetrouer

Bluffton, South Carolina

11

83

CUT

Taylor Sargent

Milton, West Virginia

12

84

CUT

Emilyn Davis

Honea path, South Carolina

16

88

CUT

Jasmine Yeung

Waxhaw, North Carolina

17

89

CUT

Victoria Fan

Charlotte, North Carolina

19

91

CUT

McKenna Williams

Canton, North Carolina

20

92