Edwards Wins NC Junior Girls' Championship on 18th Hole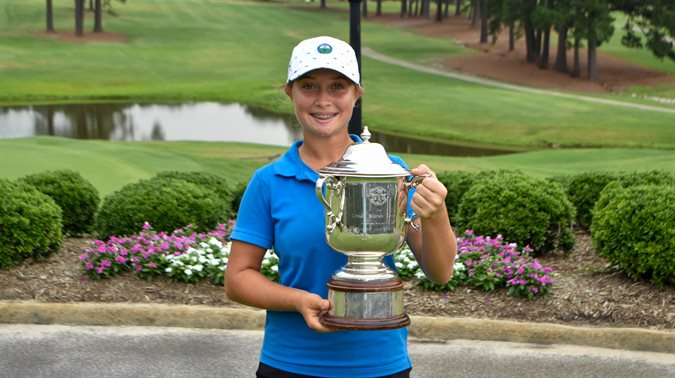 ROCKY MOUNT, N.C. (June 16, 2022) -- Semifinal and final match results of the 26th North Carolina Junior Girls' Championship at Benvenue Country Club in Rocky Mount, N.C. from June 13 - 16, 2022. The field competed in the same division and played from 5,785 yards.

Related: Championship Web Site | Full Field of Players | Starting Times | History | Photos

After 111 holes of golf and five victorious matches, Leah Edwards of Greensboro, N.C. won the 26th North Carolina Junior Girls' Championship at Benvenue Country Club defeating Nicole Nash of Charlotte, N.C. in the championship match 1 up.

The four, long hot days of golf in Rocky Mount, N.C. were the ultimate test to determine the state champion. Edwards proved herself worthy, prevailing on the 18th hole of the final match by sinking a three-foot putt to win the hole with a par.

"It feels great to have all the hard work that I've put in pay off," said Edwards. "I can't believe that I won, it hasn't even registered yet. It feels really good to be able to know that I can finish out on top."
To first advance to the championship match, Edwards had to take care of business in her semifinal match earlier the same day. She came out of the gates swinging, capturing the first two holes over Ellie Hildreth of Wrightsville Beach, N.C. Edwards extended her lead on the sixth hole before Hildreth fought back to 1 down heading into the back nine. Edwards didn't look back from there, winning the 10th and 14th hole en route to capturing a 3 & 2 victory.
In the other semifinal match, Karsyn Roberts of Pikeville, N.C. jumped out to an early lead over Nash winning two of the first three holes. Nash fought back to tie the match after winning holes six and seven, but Roberts quickly regained her lead winning the next two holes. Roberts remained 2 up until the 14th hole. That's when Nash made her move, claiming four of the last five holes to win the match 2 up.
Following their victories, Edwards and Nash advanced to face off in the championship.
The final match was back-and-forth with neither player going more than 1 up over the other. It started out relatively quiet with Edwards winning the par-3, 3rd and Nash winning the par-4, 6th. The other seven holes were halved. Heading into the back nine all-square, Edwards was the first to strike with a birdie on the 10th hole. After a birdie by Nash on 15, the match was once again tied, and it would remain that way until Edwards pulled through on the 18th and final hole.
Edwards displayed an incredible short game throughout the day, which proved to be crucial in such a tense match.
"Coming in and making a bunch of putts that I needed to was huge," said Edwards. "I made a couple 10 footers downhill and 5 to 6 footer breakers that I work on in my putting, so it was nice to see that pay off."
Becoming the North Carolina Junior Girls Champion doesn't just mean hitting good shots. It also requires managing your will and stamina throughout all four days of competition.
"I tried to make sure that I wasn't using too much energy throughout the week, by only taking one practice swing and limiting how fast I was walking," said Edwards. "I just really had to conserve my energy, and it worked out. I feel like my stamina throughout the week was good."
Edwards attacked the week perfectly, and can finally say that she is a CGA champion. A title that is very well deserved for such a hard worker and humble player.

The Carolinas Golf Association would like to extend our appreciation to the members and staff at Benvenue Country Club, especially Head Golf Professional Ryan Keeter, Assistant Golf Professional Weeks Worsley and Golf Course Superintendent David Jacob.
Championship Match Results
No. 2 seed Leah Edwards of Greensboro def. No. 9 seed Nicole Nash of Charlotte, 1 up

Semifinal Match Results
No. 9 seed Nicole Nash of Charlotte def. No. 13 seed Karsyn Roberts of Pikeville, 2 up
No. 2 seed Leah Edwards of Greensboro def. No. 3 seed Ellie Hildreth of Wrightsville Beach, 3 & 2

About the Carolinas Golf Association (CGA)
The CGA is a 501(c)(3) not-for-profit educational organization that was founded in 1909 to promote and to protect the game of golf in the Carolinas by providing competitions, education, support and benefits to golf clubs and golfers. The CGA is the second largest golf association in the country with over 700 member clubs represented by nearly 150,000 individuals.
The CGA annually conducts 48 championships and five team match competitions for men, women, juniors, and seniors. It also runs over 150 One-Day (net and gross) events as well as qualifying for USGA national championships. The CGA serves golf in the Carolinas with numerous programs such as: the USGA Handicap System; tournament management software and support; course measuring and course/slope ratings; agronomy consultation; answers about the Rules of Golf, Rules of Amateur Status, and Handicapping; Carolinas Golf Magazine; Interclub series; Tarheel Youth Golf Association; Carolinas Golf Hall of Fame; expense assistance for USGA Junior and Girls' Junior qualifiers from the Carolinas; and the Carolinas Golf Foundation (CGF). The CGF has distributed nearly $2,000,000 since 1977 to benefit Carolinas' golf initiatives including junior and women's programs.
For more information about the CGA, visit our website.
##30##