US Junior Amateur Qualifying - Lonnie Poole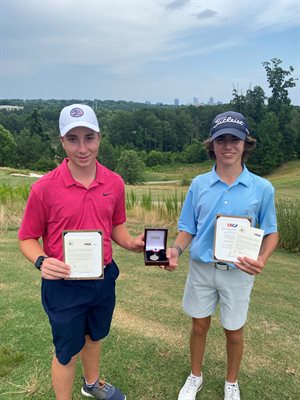 RALEIGH, N.C. (June 16, 2022) -- Final results from U.S. Junior Amateur Qualifying at Lonnie Poole Golf Course in Raleigh, N.C. on Thursday, June 16, 2022. (6,928 yards, par 36-36--72).
Five qualifying spots and two alternate spots were available at this qualifying site.
Jack Crousore of Bluffton, S.C. and Aiden McCall of Mooresville, N.C. shot rounds of one-under-par 71 to share medalist honors. Five players shot even-par 72 and went to a playoff to determine the finishing positions. Bryan Fang of Raleigh, N.C. and Ethan Boyette of Wilson, N.C. punched their ticket to the championship with birdies on the first playoff hole. William Love of Atlanta, GA won the fifth and final qualifying position on the second playoff hole. Charlie Coe of Morrisville, N.C. earned the first alternate position and Sihan Sandhu of Pinehurst, N.C.
The qualifiers will advance to the 74th U.S. Junior Amateur at Bandon Dunes Golf Resort, in Bandon, Oregon from July 25-30, 2022.
Hole-by-hole scoring can be viewed here.
US Junior Amateur Qualifying Results
Lonnie Poole Golf Course, Raleigh N.C.
June 16, 2022
Pos.

Player

Affiliation

To Par

Total Score

Details

T1

Jack Crousore

Bluffton, South Carolina

-1

71

T1

Aiden McCall

Mooresville, North Carolina

-1

71

T3

Bryan Fang

Raleigh, North Carolina

E

72

Qualified on 1st Playoff Hole

T3

Ethan Boyette

Wilson, North Carolina

E

72

Qualified on 1st Playoff Hole

5

William Love

Atlanta, Georgia

E

72

Qualified on 2nd Playoff Hole

The following players did not make the cut

CUT

Charlie Coe

Morrisville, North Carolina

E

72

1st Alternate

CUT

Sihan Sandhu

Pinehurst, North Carolina

E

72

2nd Alternate

CUT

Morgan Riley

Raleigh, North Carolina

1

73

CUT

Michael Snyder

Lillington, North Carolina

1

73

CUT

Alan Van Asch

Raleigh, North Carolina

1

73

CUT

Jack Wiley

Raleigh, North Carolina

2

74

CUT

Gray Mitchum

Winterville, North Carolina

2

74

CUT

Nick Goellner

Holly springs, North Carolina

2

74

CUT

Cole Rouse

Kernersville, North Carolina

2

74

CUT

Peter Myers

Pinehurst, North Carolina

2

74

CUT

Owen Kose

Holly springs, North Carolina

3

75

CUT

Christian Conway

Raleigh, North Carolina

3

75

CUT

Andrew Sevene

Cary, North Carolina

4

76

CUT

CJ Peterson

Wake forest, North Carolina

4

76

CUT

Jake Lewis

Cary, North Carolina

4

76

CUT

William Davis

Wilmington, North Carolina

4

76

CUT

Will Brown

Fayetteville, North Carolina

5

77

CUT

Hunter Justice

Cornelius, North Carolina

5

77

CUT

Zach Kupiec

Greensboro, North Carolina

5

77

CUT

Hudson Griffin

Pinehurst, North Carolina

5

77

CUT

Robert Gefaell III

Winston-salem, North Carolina

5

77

CUT

Jude Aliah

Wilmington, North Carolina

6

78

CUT

Max Martin

Pinehurst, North Carolina

6

78

CUT

Cayden Bryner

Winston salem, North Carolina

6

78

CUT

Carson Etters

Kure beach, North Carolina

6

78

CUT

Taylor Kuehn

Asheville, North Carolina

6

78

CUT

Robert Bergevin

Washington, North Carolina

6

78

CUT

Shlok Jain

Cary, North Carolina

6

78

CUT

Myles Patterson

Apex, North Carolina

6

78

CUT

Luke Mueller

Wake forest, North Carolina

6

78

CUT

Jackson West

Greenville, North Carolina

7

79

CUT

Jack McCarthy

Bermuda run, North Carolina

7

79

CUT

Seamus Bogan

Clover, South Carolina

7

79

CUT

Maddux Cook

Wilmington, North Carolina

7

79

CUT

Sam Hopkins

Hilton head isand, South Carolina

7

79

CUT

Preston Hage

Raleigh, North Carolina

7

79

CUT

Matthew McCarthy

Cary, North Carolina

7

79

CUT

Stephen Chiavetta

Wilmington, North Carolina

8

80

CUT

Connor Wolfe

Blythewood, South Carolina

8

80

CUT

Iszac Bertagnole

Pinehurst, North Carolina

8

80

CUT

Christos Katsoudas

Whitsett, North Carolina

8

80

CUT

Joel Cunningham

Halifax, Virginia

9

81

CUT

Matthew Richardson

Lake waccamaw, North Carolina

9

81

CUT

Liam Harris

Wake forest, North Carolina

9

81

CUT

Luke Mosley

Greenville, North Carolina

9

81

CUT

Noah Snyder

Greensboro, North Carolina

9

81

CUT

Shawn Benson

Morehead city, North Carolina

10

82

CUT

Andrew Bartlett

Greensboro, North Carolina

10

82

CUT

Will Guidry

Winterville, North Carolina

10

82

CUT

Cam Baker

Tega cay, South Carolina

10

82

CUT

Atley Gabriel

Claremont, North Carolina

10

82

CUT

Jack Halloran

Pinehurst, North Carolina

11

83

CUT

Dylan Workman

Wilmington, North Carolina

11

83

CUT

Lake Williams

Greenville, North Carolina

12

84

CUT

Sutton Dreier

Fayetteville, North Carolina

12

84

CUT

Charlie Price

Raleigh, North Carolina

12

84

CUT

Harris Camp

Roanoke, Virginia

13

85

CUT

Lucas Cron

Waxhaw, North Carolina

13

85

CUT

Braeden Gillen

Holly springs, North Carolina

14

86

CUT

Drew Yeagley

Waxhaw, North Carolina

15

87

CUT

Gavin Deibler

Winston-salem, North Carolina

15

87

CUT

Henry Brown

Charlotte, North Carolina

15

87

CUT

Nathan Moss

Atlanta, Georgia

17

89

CUT

Owen Setters

Pinehurst, North Carolina

18

90

CUT

Stephen Overbey

Trent woods, North Carolina

19

91

CUT

Colin Phelps

Wilkesboro, North Carolina

22

94

CUT

Aaron Sabodish

Holly springs, North Carolina

29

101

WD

Cole Wright

Wake forest, North Carolina

-

WD