US Junior Amateur Qualifying - Cabarrus CC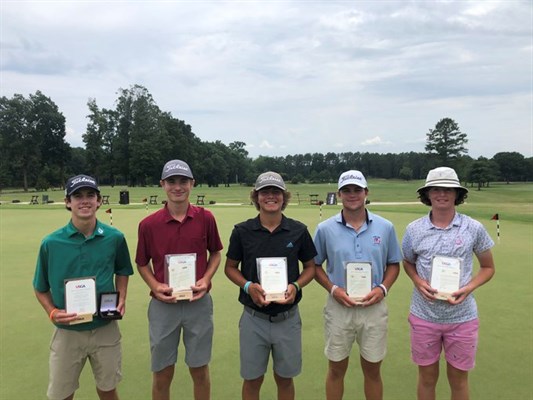 CONCORD, N.C. (June 27, 2022) -- Final results from U.S. Junior Amateur Qualifying at Cabarrus Country Club in Concord, N.C. on Monday, June 27, 2022. (6,983 yards, par 36-36--72).
Five qualifying spots and two alternate spots were available at this qualifying site.
Colin Salema of Matthews, N.C. won medalist honors with a round of six-under-par 66. Talan Harrison of Kannapolis, N.C., Ethan Paschal of Fayetteville, N.C., Andrew Gregory of Inman, S.C., and Mason Kucia of Indian Land, S.C. each shot rounds of three-under-par 69 to claim the other qualifying positions. James Rico of Cary, N.C. and Daniel McBrien of Holly Springs, N.C. each shot rounds of one-under-par 71 and headed to a playoff to determine the qualifying positions which was won by Rico on the first playoff hole.
The qualifiers will advance to the 74th U.S. Junior Amateur at Bandon Dunes Golf Resort, in Bandon, Oregon from July 25-30, 2022.
Hole-by-hole scoring can be viewed here.
US Junior Amateur Qualifying Results
Cabarrus Country Club, Concord, N.C.
June 27, 2022
Pos.

Player

Affiliation

To Par

Total Score

Details

1

Colin Salema

Matthews, North Carolina

-6

66

T2

Talan Harrison

Kannapolis, North Carolina

-3

69

T2

Ethan Paschal

Fayetteville, North Carolina

-3

69

T2

Andrew Gregory

Inman, South Carolina

-3

69

T2

Mason Kucia

Indian land, South Carolina

-3

69

The following players did not make the cut

CUT

James Rico

Cary, North Carolina

-1

71

First Alternate

CUT

Daniel McBrien

Holly springs, North Carolina

-1

71

Second Alternate

CUT

Smith Summerlin

Raleigh, North Carolina

E

72

CUT

Kyle Haas

Winston salem, North Carolina

E

72

CUT

Calvin Hawkins

Lexington, North Carolina

E

72

CUT

Tyler Jones

Jacksonville, North Carolina

E

72

CUT

William Cooper

Charlotte, North Carolina

E

72

CUT

Mack Edwards

Charlotte, North Carolina

E

72

CUT

Hampton Roberts

Cary, North Carolina

E

72

CUT

Freddy Ortmann

Greensboro, North Carolina

1

73

CUT

Samir Davidov

Roanoke, Virginia

1

73

CUT

Jack Boyer

Greensboro, North Carolina

1

73

CUT

Cooper Burris

Kannapolis, North Carolina

1

73

CUT

Matthew McDougall

Waxhaw, North Carolina

1

73

CUT

Ryan Masterton

Concord, North Carolina

1

73

CUT

Thomas Horne

Fayetteville, North Carolina

2

74

CUT

Will Tharin

Rocky mount, North Carolina

2

74

CUT

Ben Jordan

Greensboro, North Carolina

2

74

CUT

Davis DeLille

High point, North Carolina

2

74

CUT

Tyler Dorsey

Charlotte, North Carolina

2

74

CUT

Fisher Kennedy

Winston salem, North Carolina

2

74

CUT

Aidan Browning

Charlotte, North Carolina

2

74

CUT

Vincent Porras

Southern pines, North Carolina

2

74

CUT

John McCoy

Salisbury, North Carolina

2

74

CUT

Major Lenning

Simpsonville, South Carolina

2

74

CUT

Gavin Drose

Fayetteville, North Carolina

2

74

CUT

Cornell Beans

Charlotte, North Carolina

3

75

CUT

Alex Bock

Morganton, North Carolina

3

75

CUT

Tip Price

Greenville, South Carolina

3

75

CUT

Jonathan Honeywell

Whispering pines, North Carolina

3

75

CUT

Carter Sayman

Charlotte, North Carolina

4

76

CUT

Matteo Blanchfield

Charlotte, North Carolina

4

76

CUT

Hank Johnson

Newland, North Carolina

4

76

CUT

Landon Hawley

Charlotte, North Carolina

4

76

CUT

Jackson Tedder

Cherryville, North Carolina

4

76

CUT

Davis Sayman

Charlotte, North Carolina

4

76

CUT

Adam Hunt

Columbia, South Carolina

5

77

CUT

Dylan Takenaga

Durham, North Carolina

5

77

CUT

Preston Howe

Winston salem, North Carolina

5

77

CUT

Aston Lee

Charlotte, North Carolina

5

77

CUT

Luke Guthrie

Charlotte, North Carolina

5

77

CUT

Holland Giles

Pinehurst, North Carolina

5

77

CUT

Benjamin Mills

Fort mill, South Carolina

5

77

CUT

Aedan Barnes

Charlotte, North Carolina

5

77

CUT

Jack Wieler

Waxhaw, North Carolina

5

77

CUT

Charlie Fetter

Charlotte, North Carolina

6

78

CUT

Drew Coppin

Denver, North Carolina

6

78

CUT

Kunakorn Kai Wen Tang

Raleigh, North Carolina

6

78

CUT

Jeremy Voigt

Waxhaw, North Carolina

6

78

CUT

Bizzell Pate

Pinehurst, North Carolina

6

78

CUT

John Beskid

Raleigh, North Carolina

6

78

CUT

Owen Pearce

Winston salem, North Carolina

6

78

CUT

Jack LaPiana

Charlotte, North Carolina

7

79

CUT

Matthew Utz

Davidson, North Carolina

7

79

CUT

Connor Warren

Spruce pine, North Carolina

7

79

CUT

Benjamin Chase

Charlotte, North Carolina

7

79

CUT

Deaton Reed

Lancaster, South Carolina

8

80

CUT

Graden Lomax

China grove, North Carolina

8

80

CUT

Joachim Poivre D Arvor

Paris

8

80

CUT

Caed Albertyn

Monroe, North Carolina

8

80

CUT

Barek Cardell

Shelby, North Carolina

8

80

CUT

Jonathon Jones

Denver, North Carolina

9

81

CUT

JamesPaul Wagner

Cary, North Carolina

9

81

CUT

Chase McEvoy

Waxhaw, North Carolina

9

81

CUT

Landon Merrell

Salisbury, North Carolina

9

81

CUT

Ryan Dunn

Waxhaw, North Carolina

9

81

CUT

Ryan Curran

Waxhaw, North Carolina

9

81

CUT

Henry Pate

Pinehurst, North Carolina

10

82

CUT

Jeremy Edmunds

Charlotte, North Carolina

11

83

CUT

Daniel Boone

Fuquay varina, North Carolina

12

84

CUT

King Carter

Waxhaw, North Carolina

12

84

CUT

Bennett Brewer

Raleigh, North Carolina

14

86

CUT

Steven Mills

Etowah, North Carolina

15

87

CUT

Kyle Gregory

Cary, North Carolina

15

87

CUT

Will Guthrie

Charlotte, North Carolina

-

DNF

CUT

Ethan Wooten

High point, North Carolina

-

DNF