Santospago Wins NC 14u In Crazy Playoff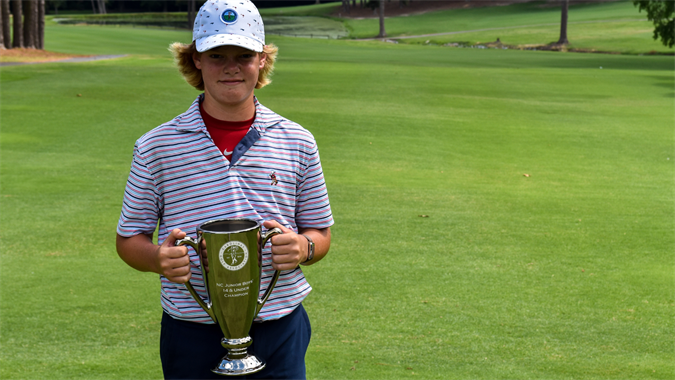 ASHEBORO, N.C. (July 6, 2022) -- Final round results of the 25th North Carolina Junior Boys' 14 and Under Championship at Asheboro City Golf Course in Asheboro, N.C. from July 5-6, 2022. The field competed at 5,954 yards, which was a par-70.
Related: Championship Web Site | Full Field of Players | Starting Times | History | Results | Photos
John John Santospago of Charlotte, N.C. was crowned the 25th North Carolina Junior Boys' 14 and Under Champion. He had to do it the hard way though, winning in a sudden-death playoff that lasted seven holes over Hank Johnson of Newland, N.C.
Santospago, who is 13 years old and finished second in the same event a year ago, came out looking for revenge this time around. The win marked the first CGA win of his career.
"My driver was really good," Santospago said. "I also putted the ball well for the most part today."
Asheboro City Golf Course, which is an original Donald Ross design, proved to be a challenge for the players both days. After the first round Santospago led the field by one stroke after opening with a 2-over-par, 72.
On the first nine holes of the final round, Santospago held steady, making nine pars in a row, which extended his lead to three shots. Around this time is where things got a little hectic in Asheboro.
Johnson had a great chip-in for birdie on No. 12 to put some pressure on Santospago. Then a double-bogey by Santospago on No. 14 after hitting his tee shot into a bush and a bogey on No. 16 gave Johnson the lead with two to play.
Santospago battled back with a birdie No. 17, and forced his way into a playoff against Johnson. Both players finished at 4-over-par, 144. Little did the pair know that their golf round was not ending anytime soon.
Playing Nos. 1 and 9 repeatedly, the two went shot-for-shot for five consecutive holes. On the fifth hole, Santospago hit his approach shot to just a couple feet away. With Santospago in gimme range, Johnson knew he had to make his 30 foot putt. That is unbelievably what he did, to keep his championship hopes alive.
The playoff now moved to No. 2, where both players made pars to move to the seventh playoff hole on No. 3, a par-4 that ultimately decided the championship. Johnson hit his tee shot right, and was forced to pitch out into the fairway before sending his third shot over the green. Ultimately, Santospago had a eight-foot par putt to close the deal, and drained it to end the playoff.
"It felt like the playoff would never end," Santospago said. "I was just happy to make that putt and end the tournament how I wanted to."
Jackson Bryce of Cary, N.C. finished in third just one stroke shy of the playoff at 5-over-par, 145. His final round of even par, 70 was the lowest of the tournament. In fourth place was Caedmon Albertyn of Monroe, N.C. at 7-over-par, 147.
The Carolinas Golf Association would like to extend our appreciation to the members and staff at Asheboro Municipal Golf Course, especially Head Golf Professional Andy Nelson.
Final Round Results