The Millers Earn Their Long-Awaited Parent-Child Title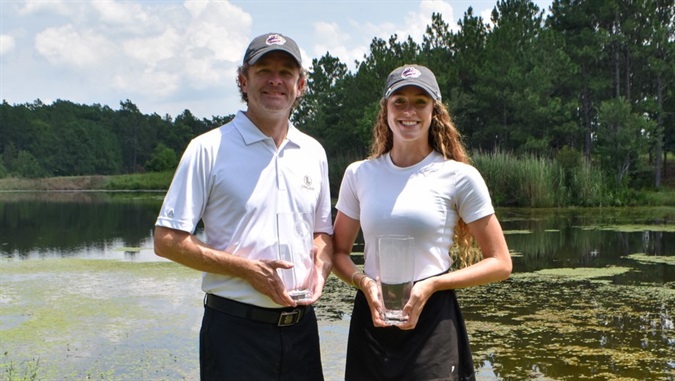 PINEHURST, N.C. (July 22, 2022) -- Results of the 25th Carolinas Parent-Child Championship at Foxfire Resort & Golf (Grey), Legacy Golf Links and Southern Pines Golf Club in the Pinehurst, N.C. area on July 22, 2022.
Related: Championship Web Site | Full Field of Players | Starting Times | Scoring | History | Photos

It was quite the comeback story this morning at Legacy Golf Links as Sadler and Kevin Miller of Clayton, N.C. won the 25th Carolinas Parent-Child Championship by one stroke over Macie and Jeff Burcham of Greensboro, N.C., the same duo they lost to last year.

"It felt so good to win it all this year knowing that we were so close last year," said Sadler with her father nodding in agreement. "We've wanted to win this tournament together for a long time, and I'm so happy we finally did it."

The Millers came in this year with vengeance on their mind, and it showed with their hot start. On their first hole of the day, Sadler drove the green of the 345-yard par-4 10th to set up her father with an eagle putt that he rolled in the hole with ease.

"I think our distance off the tee gave us an advantage over the field," said Kevin, referencing his daughter's incredible driving ability. "We were able to shorten the par-4s and par-5s which gave us smaller numbers coming in and allowed us to attack the pins."

Attack the pins they did. After starting their round 2-under-par through the first hole, the father-daughter duo fired six birdies and only one bogey to finish their round at 7-under-par, 65. Their most important birdie, though, didn't come until the 8th hole, their second-to-last of the day.

After Kevin left his approach shot about 20 yards past the pin, Sadler hit her downhill putt to perfection as it trickled in to put Miller at 7-under, one stroke ahead of the Burchams who had already finished their round and were on the practice green in preparation for a playoff.

That clutch birdie putt by Sadler proved to be just enough to give the Millers their first CGA Championship along with some long-desired revenge.

The Burchams finished in solo second earning runners-up at 6-under-par, 66. One stroke behind the defending champions in a tie for third at 5-under-par, 67 were Kathryn and Tom Carson of Mooresville, N.C. and Maya and Louis Beasley of Pinehurst, N.C. Marcy Newton and Reece Hart of Winston-Salem, N.C. captured the Pro-Am Division at 6-under, 66.
25th Carolinas Parent-Child Championship Leaderboards
About the Carolinas Golf Association (CGA)

The CGA is a 501(c)(3) not-for-profit educational organization that was founded in 1909 to promote and to protect the game of golf in the Carolinas by providing competitions, education, support and benefits to golf clubs and golfers. The CGA is the second largest golf association in the country with over 700 member clubs represented by nearly 150,000 individuals.
The CGA annually conducts 48 championships and five team match competitions for men, women, juniors, and seniors. It also runs over 150 One-Day (net and gross) events as well as qualifying for USGA national championships. The CGA serves golf in the Carolinas with numerous programs such as: the USGA Handicap System; tournament management software and support; course measuring and course/slope ratings; agronomy consultation; answers about the Rules of Golf, Rules of Amateur Status, and Handicapping; Carolinas Golf Magazine; Interclub series; Tarheel Youth Golf Association; Carolinas Golf Hall of Fame; expense assistance for USGA Junior and Girls' Junior qualifiers from the Carolinas; and the Carolinas Golf Foundation (CGF). The CGF has distributed nearly $2,000,000 since 1977 to benefit Carolinas' golf initiatives including junior and women's programs.
For more information about the CGA, visit our website.
##30##