US Amateur Qualifying - Benvenue CC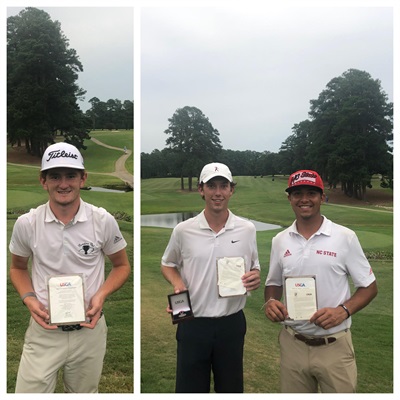 ROCKY MOUNT, N.C. (July 25, 2022) -- Final results from U.S. Amateur Qualifying at Benvenue Country Club in Rocky Mount, N.C. on Monday, July 25, 2022. (6,525 yards, par 72).
Three qualifying spots and two alternate spots were available at this qualifying site.
Jackson Van Paris of Pinehurst, N.C. won medalist honors with a two-round total of ten-under-par 134 with rounds of 69 and 65. Spencer Oxendine of Fayetteville, N.C. shot rounds of 72 and 65 to finish at seven-under-par 137 and claim the second qualifying spot. Daniel Boone of Fuquay Varina, N.C. and Kyle Kushnir of Raleigh, N.C. finished at five-under-par 139 and went to a playoff to decide the final qualifying position. Boone made par on the first playoff hole to claim the spot and Kushnir will be the first alternate. William Webb of Raleigh, N.C. finished at four-under-par 140 and will be the second alternate.
The qualifiers will advance to the 122nd U.S. Amateur Championship at The Ridgewood Country Club in Paramus, N.J. from August 15-21, 2022.
Hole-by-hole scoring can be viewed here.
US Amateur Qualifying Results
Benvenue Country Club, Rocky Mount, N.C.
July 25, 2022
Pos.

Player

Affiliation

To Par

R1

R2

Total

Details

1

Jackson Van Paris

Pinehurst, North Carolina

-10

69

65

134

2

Spencer Oxendine

Fayetteville, North Carolina

-7

72

65

137

3

Daniel Boone

Fuquay Varina, North Carolina

-5

67

72

139

The following players did not make the cut

CUT

Kyle Kushnir

Raleigh, North Carolina

-5

68

71

139

First Alternate

CUT

William Webb

Raleigh, North Carolina

-4

73

67

140

Second Alternate

CUT

Nicolas Brown

Wendell, North Carolina

-3

70

71

141

CUT

Harry Bolton

Canberra, Australia

-2

72

70

142

CUT

Wesley Ballance

Rocky mount, North Carolina

-2

71

71

142

CUT

Michael La Sasso

Raleigh, North Carolina

-1

72

71

143

CUT

Logan Harrell

Huntersville, North Carolina

-1

70

73

143

CUT

Cameron Hardison

Greenville, North Carolina

-1

70

73

143

CUT

Symon Balbin

Pinehurst, North Carolina

-1

72

71

143

CUT

Cyrus Stewart

Raleigh, North Carolina

-1

73

70

143

CUT

Maxwell White

Tampa, Florida

E

71

73

144

CUT

Whitten Meares

Charleston, South Carolina

E

73

71

144

CUT

Ryan Baucom

Charlotte, North Carolina

E

74

70

144

CUT

Smith Summerlin

Raleigh, North Carolina

E

70

74

144

CUT

Daniel Adkins

Holly springs, North Carolina

1

72

73

145

CUT

Will Long

Charlotte, North Carolina

2

75

71

146

CUT

Mack Edwards

Charlotte, North Carolina

2

76

70

146

CUT

Daniel Keddie

Charleston, South Carolina

3

72

75

147

CUT

Carlo Pizzano

Pinehurst, Maryland

3

73

74

147

CUT

Rachata Winwon

Buies creek, North Carolina

3

75

72

147

CUT

Charles Collings

Jacksonville, Florida

4

72

76

148

CUT

Oliwer Persson Toiminen

Helsingborg

4

74

74

148

CUT

Matias La Grutta

Cary, North Carolina

5

74

75

149

CUT

Harrison Wierse

Wilmington, North Carolina

5

75

74

149

CUT

Kris Jackson

Greenville, North Carolina

5

73

76

149

CUT

Tyler Dechellis

Clayton, North Carolina

5

77

72

149

CUT

Charles Warren

Huntsville, Alabama

5

74

75

149

CUT

Clayson Good

Durham, North Carolina

5

71

78

149

CUT

Grayson Wotnosky

Wake forest, North Carolina

6

76

74

150

CUT

Garrett Clark

Mebane, North Carolina

6

76

74

150

CUT

Stephen Lavenets

Willow spring, North Carolina

6

74

76

150

CUT

Nathan Miller

Dallas, Texas

6

78

72

150

CUT

Trevor Elliott

Wilmington, North Carolina

6

77

73

150

CUT

Drew Greene

Greenville, North Carolina

6

74

76

150

CUT

Campbell Skelly

Charleston, South Carolina

7

74

77

151

CUT

Garrett Cooper

Cowpens, South Carolina

7

77

74

151

CUT

Preston Howe

Winston salem, North Carolina

7

79

72

151

CUT

Ben O'Geary

Raleigh, North Carolina

7

75

76

151

CUT

Cade Hancock

Elizabethtown, North Carolina

7

75

76

151

CUT

Tyler Jones

Jacksonville, North Carolina

7

72

79

151

CUT

Connery Meyer

Marietta, Georgia

8

74

78

152

CUT

Josh Neal

Raleigh, North Carolina

10

79

75

154

CUT

Daniel McBrien

Holly springs, North Carolina

10

79

75

154

CUT

Jackson Bode

Pinehurst, North Carolina

10

72

82

154

CUT

Matthew Richardson

Lake waccamaw, North Carolina

10

74

80

154

CUT

Timmy Gannon

Charlotte, North Carolina

11

78

77

155

CUT

Nick Goellner

Holly springs, North Carolina

11

79

76

155

CUT

Stephen Harward

Durham, North Carolina

11

76

79

155

CUT

Korky Kemp

Greensboro, North Carolina

12

77

79

156

CUT

Will Tharin

Rocky mount, North Carolina

12

78

78

156

CUT

Maddox Whittington

Lenoir, North Carolina

12

77

79

156

CUT

William Mitchell

Hurdle mills, North Carolina

12

80

76

156

CUT

Wells Armes

Raleigh, North Carolina

12

76

80

156

CUT

Parker Shimp

Charlotte, North Carolina

13

77

80

157

CUT

Turner Edwards

Charlotte, North Carolina

13

77

80

157

CUT

Christian Bailey

Matthews, North Carolina

13

79

78

157

CUT

Matthew Coltren

Wallace, North Carolina

15

77

82

159

CUT

Justin Poole

Wendell, North Carolina

15

76

83

159

CUT

Ian Fryar

Rocky mount, North Carolina

16

78

82

160

CUT

Kareem Elkassem

Raleigh, North Carolina

16

87

73

160

CUT

Miles Svoboda

Bluffton, South Carolina

23

86

81

167

CUT

David Kite

Waxhaw, North Carolina

32

90

86

176

CUT

Tucker Simon

Awendaw, South Carolina

35

85

94

179

NC

Jon Weiss Jr.

Florence, South Carolina

-

71

NC

NC

NC

Tracy Vallandingham

California, Maryland

-

73

NC

NC

NC

Pierce Fox

Greenville, South Carolina

-

75

NC

NC

NC

Kris Patton

Scottsdale, Arizona

-

77

NC

NC

NC

Caleb Click

Little river, South Carolina

-

77

NC

NC

NC

Ethan Hall

Morehead city, North Carolina

-

79

NC

NC

NC

Walker Taylor

Wrightsville beach, North Carolina

-

80

NC

NC

NC

Luke Coates

Florence, South Carolina

-

80

NC

NC

NC

Damon Postal

Charlotte, North Carolina

-

83

NC

NC

NC

Joshua Buxbaum

Wake forest, North Carolina

-

83

NC

NC