Team Carolinas Storm Back In Junior Team Matches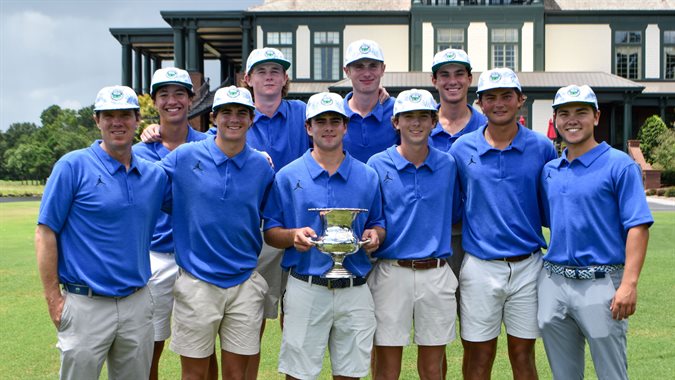 WALLACE, N.C. (August 7, 2022) -- Final results of the 40th Carolinas-Virginias Junior Boys' Team Matches at River Landing (River Course) in Wallace, N.C. from August 6 - 7, 2022. The course played at 7,003 yards (par 36-36--72).
Related: Championship Website | Full Field | Starting Times | Scoring | History | Photos

It didn't take long to realize that this year's Carolinas Junior Boys' team was special. Coming into the week, the players weren't too familiar with each other, but instantly, the eight young men formed a unique bond. And so, it was only fitting for the competition to end in a special way.
Rallying from a two match deficit going into Sunday, the Carolinas boys' won six of the eight singles matches to defeat Team Virginias 9-7 and defend home turf in the 40th Carolinas-Virginias Junior Boys' Team Matches at River Landing in Wallace, N.C.
"I don't think we could've had a better group of guys to compete this week," said James Rico of Cary, N.C. "The chemistry that we had and the way we interacted with each other both on and off the golf course was special. I'm thankful to have had the opportunity to compete with those guys and come out on top."
The weekend of competition began with four-ball match play. The Carolinas and Virginas split those four matches with Davis Sayman, of Charlotte, N.C., and Lucas Acevedo, of Charleston, S.C. winning 2 & 1 and Rico and Owen Kose of Holly Springs, N.C. winning 4 & 3.
That was followed by four matches of alternate shot where Team Carolinas weren't as fortunate. Gray Mitchum of Winterville, N.C. and Drew Jeffords of Florence, S.C. captured the only victory of the afternoon, giving Team Virginias a 5-3 match lead heading into Sunday's singles matches.
The Carolinas' boys knew that they had a lot of work to do if they were going to keep the trophy in their possession.
Following the coat-and-tie dinner banquet at the River Landing Clubhouse Saturday night, the boys reconvened in the hotel lobby for some involuntary team bonding. It is unsure what those boys said to each other to hype them up for their singles matches, but it certainly worked.
Team Carolinas jumped out of the gates firing in nearly all eight matches, and a glimpse of hope began to emerge for the home team.
Mason Kucia of Indian Land, S.C. was the first to close out his match with a 1 up victory, thanks to a clutch up-and-down on No. 17 to halve the hole and keep his one hole lead heading to No. 18. Sayman was the next to strike as he also carried a lead into the 18th where he matched his opponents birdie with class to win 1 up.
The next two players to claim victory didn't need the full 18 holes to close out their matches as Mitchum and Kose cruised to 4 & 3 and 5 & 4 victories, respectively. All of a sudden, Team Carolinas took the lead over Team Virginias for the first time since the beginning of the weekend.
Jeffords rode that momentum into a 3 & 1 victory to give his team its eighth match win, and suddenly, the fate of the match came down to Jack Wieler of Waxhaw, N.C. who saw the updated score and knew that a tie would win it for Team Carolinas. With the match tied on No. 17, Wieler sank a six-foot par putt to go 1 up and ensure the overall victory. He would go on to win 1 up, and Team Carolinas' astonishing comeback was completed.

The 2022 Carolinas' squad won for the second year in a row to extend their overall series lead at 23 wins to Virignias' 17 wins.

To view the full results from four-ball match play, alternate shot, singles match play, and the team points summary, click this link.

About the Carolinas Golf Association (CGA)

The CGA is a 501(c)(3) not-for-profit educational organization that was founded in 1909 to promote and to protect the game of golf in the Carolinas by providing competitions, education, support and benefits to golf clubs and golfers. The CGA is the second largest golf association in the country with over 700 member clubs represented by nearly 150,000 individuals.
The CGA annually conducts 48 championships and five team match competitions for men, women, juniors, and seniors. It also runs over 150 One-Day (net and gross) events as well as qualifying for USGA national championships. The CGA serves golf in the Carolinas with numerous programs such as: the USGA Handicap System; tournament management software and support; course measuring and course/slope ratings; agronomy consultation; answers about the Rules of Golf, Rules of Amateur Status, and Handicapping; Carolinas Golf Magazine; Interclub series; Tarheel Youth Golf Association; Carolinas Golf Hall of Fame; expense assistance for USGA Junior and Girls' Junior qualifiers from the Carolinas; and the Carolinas Golf Foundation (CGF). The CGF has distributed nearly $2,000,000 since 1977 to benefit Carolinas' golf initiatives including junior and women's programs.
For more information about the CGA, visit our website.
##30##