Six Champions Claim the Carolinas Net Amateur Title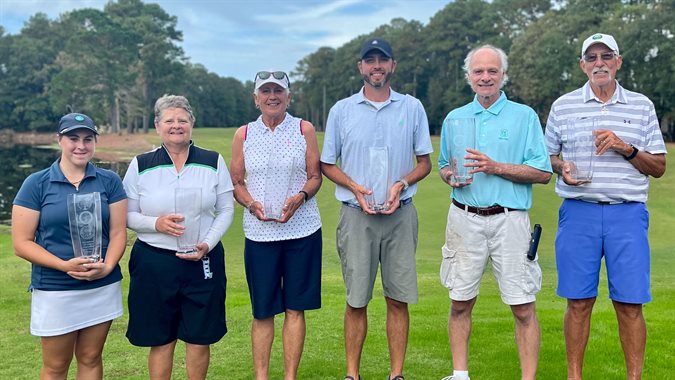 MURRELLS INLET, S.C. (November 6, 2022) -- Final results of the 12th Carolinas Net Amateur Championship at Blackmoor Golf Club in Murrells Inlet, S.C. on November 6, 2022.


Related: Championship Website | Starting Times | Scoring | History | Photos


Blackmoor Golf Club set a beautiful, yet challenging stage for two days of net stroke play at the 12th Carolinas Net Amateur Championship.


Jessica Martinho-Stansbury of Raleigh, N.C. won the women's division for the third year in a row after an intense playoff against runner-up Taylor Grace Strickland of Georgetown, S.C. Martinho-Stansbury and Strickland both finished at 2-under-par, 140, but the defending champion captured the title on the third playoff hole.


Tim Dupree of Lexington, S.C. took the men's division by storm and won by five strokes at 1-under-par, 141 overall. Patrick Piner of Beaufort, N.C. jumped up from fourth position after the opening round to runner-up after an impressive final round of 2-under-par, 69.


Debra Martin of Columbia, S.C. earned the senior women's division title at 1-over-par, 143. Notably she was the only player to card a round under par in this division with a final round of 1-under-par, 70. Patti Trzcinski of Sumter, S.C. earned runner-up at 7-over-par, 149.


In the senior men's division, Dennis Guerriero of Lexington, S.C. fired off the two lowest rounds of the championship with rounds of 62 and 63 to claim the championship title at 17-under-par, 125. Ted Kulp of Murrells Inlet, S.C. claimed runner-up at 5-under-par, 137.


Jackie Edmunds of Greensboro, N.C. was victorious in the super senior women's division with a 3-over-par, 145 finish. Libby Lewallen of Pinehurst, N.C. took home the runner-up title at 8-over-par, 150.


The super senior men's division showcased a tight race with Michael Burdick of McLeansville, N.C. coming out on top at even par, 142. Walt Wysk of Myrtle Beach, S.C. finished just one stroke back to claim runner-up at 1-over-par, 143.


The Carolinas Net Amateur Championship, hosted in collaboration with the Carolinas Golf Association, South Carolina Golf Association, and Women's South Carolina Golf Association, consisted of 36 holes of net stroke play using 100% of player's course handicaps. Players were placed into flights within their division for the final round.


12th Carolinas Net Amateur Championship
Blackmoor Golf Club, Murrells Inlet, S.C.
Final Results
About the Carolinas Golf Association (CGA)
The CGA is a 501(c)(3) not-for-profit educational organization that was founded in 1909 to promote and to protect the game of golf in the Carolinas by providing competitions, education, support and benefits to golf clubs and golfers. The CGA is the third largest golf association in the country with over 700 member clubs represented by over 185,000 individuals.
The CGA annually conducts 48 championships and five team match competitions for men, women, juniors, and seniors. It also runs over 150 One-Day (net and gross) events as well as qualifying for USGA national championships. The CGA serves golf in the Carolinas with numerous programs such as: the USGA Handicap System; tournament management software and support; course measuring and course/slope ratings; agronomy consultation; answers about the Rules of Golf, Rules of Amateur Status, and Handicapping; Carolinas Golf Magazine; Interclub series; Tarheel Youth Golf Association; Carolinas Golf Hall of Fame; expense assistance for USGA Junior and Girls' Junior qualifiers from the Carolinas; and the Carolinas Golf Foundation (CGF). The CGF has distributed nearly $2,000,000 since 1977 to benefit Carolinas' golf initiatives including junior and women's programs.
For more information about the CGA, visit our website.
##30##