Tega Cay Takes the 25th Carolinas Interclub Title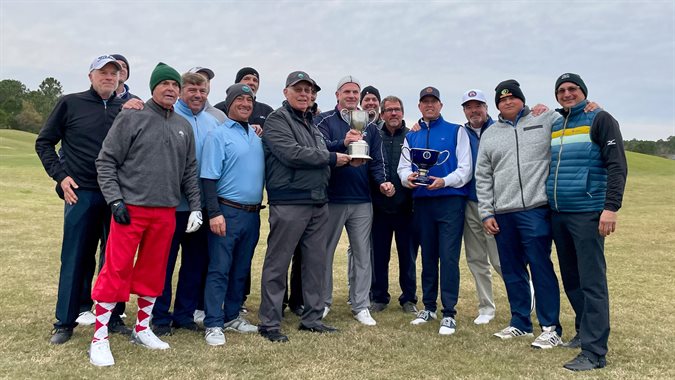 MYRTLE BEACH, S.C. (November 20, 2022) – Final results of the 25th Carolinas Interclub Final Four at Legends Golf Resort in Myrtle Beach, S.C. on November 20, 2022.

Related: Championship Website | Final Results | Photos

2022 has turned out to be a victorious year for South Carolina clubs. Just two weeks after Daniel Island Club 1 captured the 7th Senior Interclub Championship, Tega Cay - Grand View were able to claim the 25th Carolinas Interclub Championship after defeating a resilient UNC Finley, 41.50 - 40.50 after two playoff holes, and the eighth playoff hole for the Finley team over the weekend.

Tega Cay held a lead for a majority of the match, but UNC Finley, like they did in the Semifinals, fought their way back to claim a late lead during yesterday's matches. However a big 6 & 5 win for Tega Cay, and a clinching birdie putt on the second playoff hole by Cleve Coldwater, were the weighing factors in their first Interclub Championship victory.

In the first match, Kyle Matthias and Bill Hall of the Tega Cay team took an early 3 up lead through four holes over Erik Breuhaus and Tyler Davis of UNC FInley. After sealing the deal upon completion of the 13th hole, the Tega Cay duo were able to finish with 14.5 points, which would later become crucial in the final result.

The second match of the day saw Tega Cay's Brian Curtis and Kenneth Walker take on Phil Bick and Daniel Roush of UNC Finley. The duo from UNC jumped out to a hot start and claimed two of the first three holes. A big birdie putt on the par-5, 11th by Roush would get the teammates to a comfortable 3 up. Bick and Roush went on to close out the match 3 & 2, earning 12.5 points for UNC Finley.

The third match of the day was the only match to finish in a tie. Tom Cannarozzo and Justin Sutton of Tega Cay were paired against UNC Finley's captain Aaron York and Terevor Krawchuk. The duo representing UNC never held the lead once, but never gave up as they knew how important an even split in points would be. A huge birdie on the short par-4, No. 9 by Sutton put the Tega Cay duo 2 up headed into the back nine. Krawchuk sunk two big par putts on Nos. 12 and 14 to get himself and York back to tied for the match, and would ultimately split the points, 10 - 10.

In the anchor match, the Tega Cay team of Cleve Coldwater and Billy Hall squared off against Connor Moran and Britt Mitchell of UNC Finley. Coldwater and Hall both made birdies on No. 2 to take an early lead, but the Finley boys would win No. 4 to tie things up. Birdies by both Moran and Mitchell on No. 9 would give the side the momentum they needed heading into the back nine. They won the first two holes on that side and secured a big 3 & 2 victory to force a playoff after Mitchell made a nerve-wracking par putt on No. 18.

The first playoff hole was tied with pars from both sides, after Coldwater's birdie putt lipped out and both Finley players barely missed their birdie looks. A fantastic second shot by Coldwater on the second playoff hole set himself up for a 7-foot putt for birdie, while the Finley players needed to sink their third shots from off of the green to extend the match. After Coldwater's winning putt dropped, the spectating Tega Cay players and captain let out a big cheer and rushed onto the green to congratulate their teammates.

Tega Cay Captain Neil Kelker was beyond thrilled and even emotional after his team prevailed as daylight faded on the Parkland Course at Legends Resort. "I've been doing this for eight years now," said Kelker, "To finally be in the winner's circle is such an incredible feeling not only for myself but all of the guys on this team."

With 92 teams kicking off the regular season, 58 teams would qualify for the playoffs and a chance to win the 25th Carolinas Interclub Championship. Tega Cay will see their name engraved on the Ben Payne trophy, named for the CGA Volunteer Official Ben Payne who helped start the program after moving here from southern California over 25 years ago.

The CGA wishes to thank the members and staff of Legends Golf Resort for hosting this year's Final Four.

25th Carolinas Interclub Final Four
Legends Golf Resort, Myrtle Beach, S.C.
Semifinals Results
Tega Cay - Grand View def. Raintree Country Club, 46 - 34
UNC Finley def. Umstead Pines Golf & Country Club, 43.5 - 42.5 (6th playoff hole)

Final Results
Tega Cay- Grand View def. UNC Finley, 41.5 - 40.5 (2nd playoff hole)
About the Carolinas Golf Association (CGA)

The CGA is a 501(c)(3) not-for-profit educational organization that was founded in 1909 to promote and to protect the game of golf in the Carolinas by providing competitions, education, support and benefits to golf clubs and golfers. The CGA is the second largest golf association in the country with over 700 member clubs represented by nearly 150,000 individuals.
The CGA annually conducts 48 championships and five team match competitions for men, women, juniors, and seniors. It also runs over 150 One-Day (net and gross) events as well as qualifying for USGA national championships. The CGA serves golf in the Carolinas with numerous programs such as: the USGA Handicap System; tournament management software and support; course measuring and course/slope ratings; agronomy consultation; answers about the Rules of Golf, Rules of Amateur Status, and Handicapping; Carolinas Golf Magazine; Interclub series; Tarheel Youth Golf Association; Carolinas Golf Hall of Fame; expense assistance for USGA Junior and Girls' Junior qualifiers from the Carolinas; and the Carolinas Golf Foundation (CGF). The CGF has distributed nearly $2,000,000 since 1977 to benefit Carolinas' golf initiatives including junior and women's programs.
For more information about the CGA, visit our website.

##30##