A Successful 2022 Carolinas Golf Night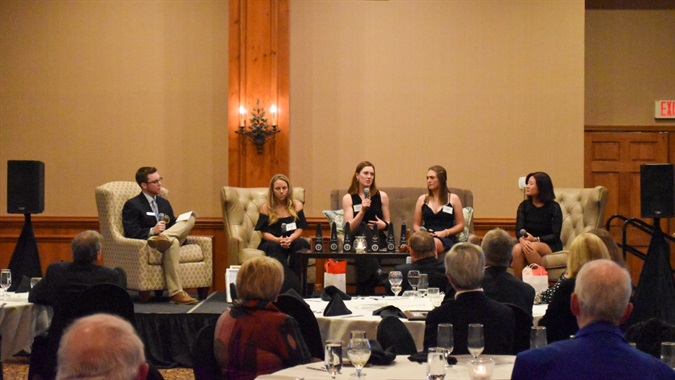 SOUTHERN PINES, N.C. (February 17, 2022) -- On Saturday, February 12, 2022, the Carolinas Golf Association's annual meeting was hosted by Pine Needles Lodge & Golf Club at Knollwood Hall in Southern Pines, N.C. The CGA's annual meeting was held in conjunction with Carolinas Golf Night, which recognizes the CGA's year-end award winners, champions, and volunteers.

Related: Photo Gallery | Players of the Year

Annual Meeting

Mr. Mike Smith of Greenville, S.C. was elected to a two-year term as the 58th president of the Association. Smith, a member of Greenville Country Club, has served on the CGA Executive Committee since 2011. He was elected secretary in 2018 and vice president in 2020.

Officers elected to continue their service on the CGA Executive Committee are: Vice President Rick Riddle of Charlotte, N.C.; Secretary Rion Moore of Pawleys Island, S.C., Treasurer Lawrence Hicks of Greensboro, N.C.; and General Counsel Charles E. Lynch, Jr. of High Point, N.C. Greg Norris of Wilmington, N.C., serves as the Immediate Past-President.

Re-elected Carolinas Golf Association Executive Committee members to serve four-year terms are Dr. Richard Dosek of Advance, N.C.; Frank Golden of Wilmington, N.C.; Michael Sims of Lexington, S.C.

The other CGA Executive Committee members continuing their service are Vicki DiSantis of Pinehurst, N.C.; Joe Hackler of Myrtle Beach, S.C.; Michelle Jarman of Wilmington, N.C.; Gregg Jones of Florence S.C.; Whitten Meares of Charleston, S.C.; Kelly Miller of Southern Pines, N.C.; Dana Halliday of Spartanburg, S.C.; and Tom Thorpe of Clemmons, N.C. Joining the Executive Committee as a new member is Russell Coleman of Florence, S.C. Coleman was elected to fill the unexpired terms of Rion Moore.

Also honored at Carolinas Golf Night were Jensen Castle of West Columbia, S.C., Rachel Kuehn of Asheville, N.C., Gina Kim of Durham, N.C., and Emilia Migliaccio of Cary, N.C. All four represented the United States and the Carolinas on the international stage at the 2021 playing of the Curtis Cup in Conwy, Wales.

Annual Awards

The Carolinas Golf Association established the Charles E. Lynch, Jr. Distinguished Service Award at its 2016 Annual Meeting to honor an individual or group whose actions have shown a commitment to the CGA and the game of golf by going above and beyond the call to make the CGA and golf better in the Carolinas.

Ben Maffitt of Charlotte, N.C., became the fifth recipient of the award. Maffitt is a member of the Carolina Golf Club and the Palmetto Golf Club. He first volunteered with the CGA in 2004 as a course rater. In the next 12 years Maffitt would rate every single golf course within a 50-mile radius of Charlotte. In 2010 he began volunteering as a CGA rules official, and by 2014 scored high enough on the USGA rules exam to achieve "Expert" status. He has maintained that status every year for the past eight years.

Maffitt served as Co-Chairman of the United States Mid-Amateur hosted by Charlotte Country Club in 2018, and in addition to volunteering with the CGA also lends his time as a rules official with the North Carolina High School Athletic Association, Peggy Kirk Bell Junior Girls, AJGA, and numerous collegiate events.

The top amateur golfers in the Carolinas were recognized as the Richard S. Tufts Players of the Year. Matthew Sharpstene of Charlotte, N.C. claimed his first Men's Player of the Year award. Jensen Castle of West Columbia,S.C. won Women's honors. Jayne Pardus of Mount Pleasant,S.C. received her third consecutive Senior Women's award. Eddie Hargett of Blythewood, S.C. accepted the Senior Men's Player of the Year, while Paul Simson of Raleigh, N.C. accepted his third Super Senior Men's Player of the Year award. Macy Pate of Winston-Salem,N.C. and Caleb Surratt of Mathews, N.C. claimed Junior Girls' and Junior Boys' honors, respectively. Mason Tucker of Lancaster, S.C. and Sydney Bowes of Bluffton, S.C. earned the David Parrott Awards for their sportsmanship, ability, and academic excellence.

About the Carolinas Golf Association (CGA)
The CGA is a 501(c)(3) not-for-profit educational organization that was founded in 1909 to promote and to protect the game of golf in the Carolinas by providing competitions, education, support and benefits to golf clubs and golfers. The CGA is the second largest golf association in the country with over 700 member clubs represented by nearly 150,000 individuals.
The CGA annually conducts 48 championships and five team match competitions for men, women, juniors, and seniors. It also runs over 150 One-Day (net and gross) events as well as qualifying for USGA national championships. The CGA serves golf in the Carolinas with numerous programs such as: the USGA Handicap System; tournament management software and support; course measuring and course/slope ratings; agronomy consultation; answers about the Rules of Golf, Rules of Amateur Status, and Handicapping; Carolinas Golf Magazine; Interclub series; Tarheel Youth Golf Association; Carolinas Golf Hall of Fame; expense assistance for USGA Junior and Girls' Junior qualifiers from the Carolinas; and the Carolinas Golf Foundation (CGF). The CGF has distributed nearly $2,000,000 since 1977 to benefit Carolinas' golf initiatives including junior and women's programs.
For more information about the CGA, visit our website.
##30##