Jones Clinches HV3 Title in Dramatic Playoff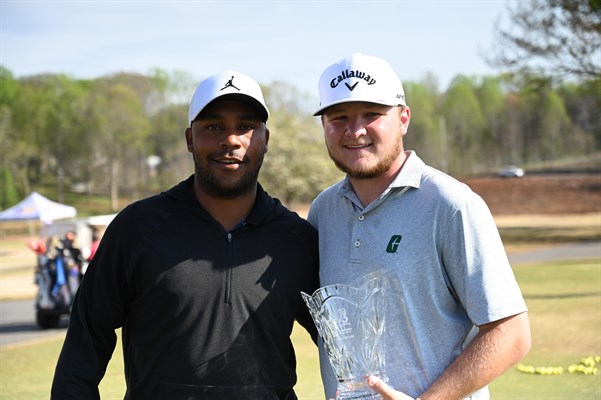 GASTONIA, N.C. (March 26, 2023) -- Final results of the 4th HV3 Invitational at Cramer Mountain Club in Cramerton, N.C. and Gaston Country Club in Gastonia, N.C. on March 26, 2022. The field competed at 6,486 yards, par 72 at Cramer Mountain Club and 6,600 yards, par 71 (No. 1 plays as a par 4) at Gaston Country Club.
Links: Championship Web Site | Starting Times | Scoring | Photos
The first day of the 4th HV3 Invitational brought stellar play showcasing seven players in the red numbers, with Cramer Mountain Club and Gaston Country Club playing host roles.
Jamal Hutchison (Fletcher, NC) and Garret Fader (Hilton Head Island, SC) each fired 4-under par rounds during Saturday's first round, with Hutchinson's 68 coming at Cramer Mountain Club and Fader recording his 67 at Gaston Country Club. Hutchison recorded seven birdies on his opening 18, while Wills added six to his card to open the Championship tied atop the leaderboard.
Sunday proved to be quite a different story, with the lead changing hands countless times as players moved up and down the pack. Eventually, after mother nature threw varying weather conditions at the boys, Tyler Jones (Jacksonville, NC) and Shlok Jain (Cary, NC) would elevate themselves from the group in a tie for first at 1-under, forcing extra holes.
With HV3 himself looking on, Jones would prevail on the second playoff hole at Gaston and clinch the 4th HV Invitational title. Jones fired a strong 69 at Gaston Country Club today, including birdies on 13, 14 and 15. Jain recorded four birdies on his final round and shot a 70 at Cramer.
"I want to thank Harold and the HV3 Foundation and the CGA for always running a great tournament", said an emotional Jones. "I also want to thank my parents, my buddies and all the guys playing in the tournament."
Jackson Scaletta (Belton, SC) and Carson Etters (Kure Beach, NC) tied for third after firing even par after both rounds. David Gee (Hickory, NC), Isar Joshi (Charlotte, NC), Tyler Brand (Richmond, VA), and Cade Kriscunas (Hilton Head Island, SC) all finished at 1-over for the tournament and tied for fifth. The low round of the weekend went to John McCoy (Salisbury, NC), who recorded a fantastic 6-under (66) today at Cramer.
The CGA would like to thank the members and staff of Cramer Mountain Club and Gaston Country Club for their hospitality in hosting the 4th HV3 Invitational. Most importantly, we would like to thank Harold Varner III and the HV3 Foundation for supporting this event.
About the Carolinas Golf Association (CGA)
The CGA is a 501(c)(3) not-for-profit educational organization founded in 1909 to promote and protect the game of golf in the Carolinas by providing competitions, education, support and benefits to golf clubs and golfers. The CGA is the second largest golf association in the country with over 700 member clubs represented by nearly 150,000 individuals.
The CGA annually conducts 48 championships and five team match competitions for men, women, juniors, and seniors. It also runs over 150 One-Day (net and gross) events and qualifying for USGA national championships. The CGA serves golf in the Carolinas with numerous programs such as: the USGA Handicap System; tournament management software and support; course measuring and course/slope ratings; agronomy consultation; answers about the Rules of Golf, Rules of Amateur Status, and Handicapping; Carolinas Golf Magazine; Interclub series; Tarheel Youth Golf Association; Carolinas Golf Hall of Fame; expense assistance for USGA Junior and Girls' Junior qualifiers from the Carolinas; and the Carolinas Golf Foundation (CGF). The CGF has distributed nearly $2,000,000 since 1977 to benefit Carolinas' golf initiatives, including junior and women's programs.
For more information about the CGA, visit our website and follow us on social @CGAgolf1909
About HV3 Foundation
The HV3 Foundation launched in January 2019 to give back to less fortunate kids that could greatly benefit from increased access and opportunity in sport. Unfortunately, equipment, proper coaching, and access have become very expensive and unaffordable to many.
The mission of the HV3 Foundation is to bring awareness to the rising cost of entry and access to sports. In addition, the foundation will provide financial assistance for equipment, after school programs, instruction, camps, and various other avenues where an athlete can cultivate their passion.
About the Courses
Cramer Mountain Club was designed in 1985 by the Maples family. The rolling topography of the property allowed Dan Maples to create a hidden gem in the Charlotte area. Gaston Country Club, founded in 1919, has been a staple of the Charlotte area ever since. Famed designer Ellis Maples was hired in 1956 to design a brand-new 18-Hole Championship golf course.