Glabicki and Jamieson Win Carolinas Senior Four-Ball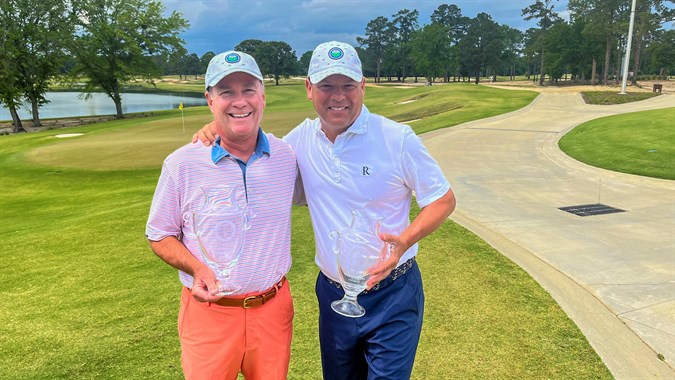 Sumter, S.C. (April 26, 2022) -- Final results of the 55th Carolinas Senior Four-Ball Championship at Quixote Club in Sumter, S.C. on April 26, 2023. The field played at 6,628 yards (par 35-35--70).
Related: Championship Web Site | Full Field | Scoring | History | Photos


Quixote Club provided the beautiful backdrop for a strong performance by David Glabicki and Jeff Jamieson, both of Cary, N.C., to win the 55th Carolinas Senior Four-Ball Championship.
"We played good solid golf," said Jamieson. "We finally ran into some adversity in today's round after some early bogeys, but then we got the ship righted, we turned it around and got it in the right direction."
Solid and self-titled 'uneventful' two rounds of 67 and 64 led the field into today's final round. After a few bogeys on the front, they regained their composure to make six birdies and finished at -11 (199 total), two shots better than the team of Duff Wagner (Taylors, S.C.) and Yancey Johnson (Simpsonville, S.C.), who had exceptional scores of 69, and back-to-back 66's (201 total).
Even more remarkable is the pair were playing together for the first time. They were both in need of a partner, and a mutual friend connected them. "That golf course is a great golf course, well kept, and to go bogey free in the first two rounds was really something," said Glabicki. "We both just played very positive, very have similar games, both good putters, both good short games, and neither one of us was ever out of the hole; it was low stress."
Walker Taylor (Wilmington, N.C.) and Dale Fuller (Raleigh, N.C.) took third place with strong rounds of 67, 66, and 69 (202 total).
The CGA would like to thank the members and staff of Quiote Club, owners Greg and Lewis Thompson, Head Professional Eric Pederson, Golf Course Superintendent Chuck Green, and Director of Member Services Errika Jones.
55th Carolinas Senior Four-Ball Championship
Quixote Club, Sumter, S.C.
About the Carolinas Golf Association (CGA)
The CGA is a 501(c)(3) not-for-profit educational organization that was founded in 1909 to promote and protect the game of golf in the Carolinas by providing competitions, education, support, and benefits to golf clubs and golfers. The CGA is the second largest golf association in the country, with over 700 member clubs represented by nearly 180,000 individuals.
The CGA annually conducts 48 championships and five team match competitions for men, women, juniors, and seniors. It also runs over 150 One-Day (net and gross) events as well as qualifying for USGA national championships. The CGA serves golf in the Carolinas with numerous programs such as: the USGA Handicap System; tournament management software and support; course measuring and course/slope ratings; agronomy consultation; answers about the Rules of Golf, Rules of Amateur Status, and Handicapping; Carolinas Golf Magazine; Interclub series; Tarheel Youth Golf Association; Carolinas Golf Hall of Fame; expense assistance for USGA Junior and Girls' Junior qualifiers from the Carolinas; and the Carolinas Golf Foundation (CGF). The CGF has distributed nearly $2,000,000 since 1977 to benefit Carolinas' golf initiatives, including junior and women's programs.
For more information about the CGA, visit our website.
##30##