Boyette Wins His First CGA Title at Carolinian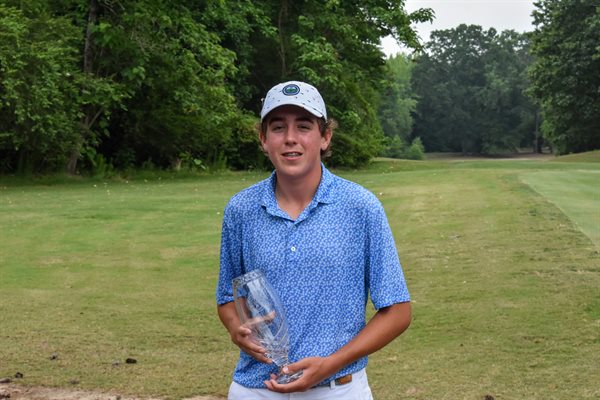 Event: 8th Carolinian Amateur Championship
Host Site: Keith Hills Golf Club (Orange-Black), Buies Creek, N.C.
Playing Dates: May 19 - 21, 2023
Social Media: @CGAgolf1909

BUIES CREEK, N.C. – Ethan Boyette of Wilson, N.C., captured the 8th Carolinian Amateur Championship at Keith Hills Golf Club in Buies Creek, N.C., on Sunday afternoon. To secure his first Carolinas Golf Association championship, Boyette finished 8-under-par, 74-67-67 (208 total).
Heading into the final round, Nathan O'Neal of Wilson, N.C., led the pack with a score of five-under after the second round, with Layne Lambert of Matthews, N.C., close behind. Boyette would easily birdie 17 after his tee shot came to rest just two feet from the pin and give himself breathing room. His birdie on 18 brought out back-to-back fist bumps and would seal the deal.
"My ball striking really went well today. I hit it close and just made the putts that I needed to make," said Boyette. "In the first round, my game was slightly off due to the weather. On the second and third days, I used the soft conditions to help me and place it where I wanted to."
With opening rounds of two-over 74, and 5-under 68, Boyette focused on having solid contact and playing a challenging course to his benefit. "It's about knowing how the weather will affect the grounds and playing the soft spots to your benefit," remarked Boyette. Nevertheless, the leader persevered through harsh conditions to bring home the championship.
Boyette just finished his junior year at Fike High School in Wilson, N.C., and is committed to the University of North Carolina at Wilmington, where he intends to continue his golf career. He has been competing in golf tournaments and was thrilled to become a CGA champion on Sunday.
In second, Lambert finished 5-under-par, 72-68-71, after shooting one-under on the final round. O'Neal took the sole possession of third place, finishing three-under, as Eric Nord of Blythewood, S.C. and Dallas Johnson of Mount Pleasant, S.C. tied for fourth with a score of two-under.
The Carolinas Golf Association would like to thank Keith Hills Golf Club and all of its staff, especially Director of Golf Martha Sutton, Golf Course Superintendent Spencer Thomas, and General Manager Dawn Jones, for graciously hosting the 8th Carolinian Amateur Championship.
About the Carolinas Golf Association (CGA)
The CGA is a 501(c)(3) not-for-profit educational organization founded in 1909 to promote and protect the game of golf in the Carolinas by providing competitions, education, support and benefits to golf clubs and golfers. The CGA is the second largest golf association in the country with over 700 member clubs represented by nearly 150,000 individuals.
The CGA annually conducts 48 championships and five team match competitions for men, women, juniors, and seniors. It also runs over 150 One-Day (net and gross) events as well as qualifying for USGA national championships. The CGA serves golf in the Carolinas with numerous programs such as: the USGA Handicap System; tournament management software and support; course measuring and course/slope ratings; agronomy consultation; answers about the Rules of Golf, Rules of Amateur Status, and Handicapping; Carolinas Golf Magazine; Interclub series; Tarheel Youth Golf Association; Carolinas Golf Hall of Fame; expense assistance for USGA Junior and Girls' Junior qualifiers from the Carolinas; and the Carolinas Golf Foundation (CGF). The CGF has distributed nearly $2,000,000 since 1977 to benefit Carolinas' golf initiatives, including junior and women's programs.
For more information about the Carolinas Golf Association, follow @cgagolf1909 on Instagram, Twitter, Facebook, and TikTok, or visit our website www.carolinasgolf.org/
#30#