US Women's Open Qualifying - Starmount Forest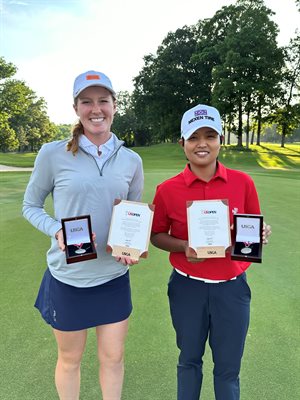 GREENSBORO, N.C. (May 31, 2023) -- Final results from U.S. Women's Open Qualifying at Starmount Forest Country Club in Greensboro, N.C. on Wednesday, May 31, 2023. (6,362 yards, par 72).
Two qualifying spots and two alternate spots were available at this qualifying site.
Haurkyo Nomura of Mapleton, Utah won medalist honors with a two-round total of 13-under-par 131. She shot 66 in the morning and followed it up with a 65 in the afternoon, highlighted by a hole-in-one on the par 3 17th. Emilia Migliaccio of Cary, N.C. claimed the second qualifying spot and the low amateur medal. She shot rounds of 7-under-par 65 and four-under-par 68 to finish at eleven-under-par 133. Megan Schofill of Monticello, FL finished at eight-under-par 136 and will be the first alternate. Alice Duan of Frisco, Texas and Erica Shepherd of Greenwood, IN finished at five-under-par 139 and played off for the second alternate position with Duan winning the spot.
The qualifiers will advance to play in the championship at Pebble Beach Golf Links from July 6-9.
Hole-by-hole scoring can be viewed here.
US Women's Open Qualifying Results
Starmount Forest Country Club, Greensboro, N.C.
May 31, 2023
Pos.

Player

Hometown

Total To Par

R1

R2

Total Score

Details

1

Harukyo Nomura (p)

Mapleton, Utah

-13

66

65

131

2

Emilia Migliaccio

Cary, North Carolina

-11

65

68

133

The following players did not make the cut

CUT

Megan Schofill

Monticello, Florida

-8

68

68

136

1st Alternate

CUT

Alice Duan (p)

Frisco, Texas

-5

71

68

139

2nd Alternate

CUT

Erica Shepherd

Greenwood, Indiana

-5

70

69

139

CUT

Katherine Hamski (p)

Durham, North Carolina

-4

68

72

140

CUT

Isabel Amezcua

Raleigh, North Carolina

-3

70

71

141

CUT

Rachel Kuehn

Asheville, North Carolina

-3

72

69

141

CUT

Allison Emrey (p)

Charlotte, North Carolina

-3

74

67

141

CUT

Jessica Peng (p)

Cumming, Georgia

-3

73

68

141

CUT

Ho Yu An (p)

Taoyuan

-2

72

70

142

CUT

Anna Morgan

Spartanburg, South Carolina

-1

69

74

143

CUT

Samantha Vodry (p)

Little Elm, Texas

-1

72

71

143

CUT

Catie Craig

Sautee Nacoochee, Georgia

-1

71

72

143

CUT

Caroline Craig

Sautee Nacoochee, Georgia

-1

71

72

143

CUT

Siyun Liu (p)

Winston-salem, North Carolina

-1

74

69

143

CUT

Ji Eun Baik (p)

Cumming, Georgia

E

72

72

144

CUT

Emma Schimpf

Charleston, South Carolina

1

72

73

145

CUT

Morgan Ketchum

Winston Salem, North Carolina

1

75

70

145

CUT

Grace Holcomb

Wilmington, North Carolina

2

76

70

146

CUT

Lauren Walsh

Kildare

2

74

72

146

CUT

Nicole Nash

Charlotte, North Carolina

3

76

71

147

CUT

Riley Hamilton

Reidsville, North Carolina

3

73

74

147

CUT

Isabella Rawl

Lexington, South Carolina

3

72

75

147

CUT

Allie Knight (p)

Knoxville, Tennessee

3

74

73

147

CUT

Anna Howerton

Winston-salem, North Carolina

4

77

71

148

CUT

Kara Carter

Kingsport, Tennessee

4

75

73

148

CUT

Sydney Hackett

Ashburn, Virginia

5

76

73

149

CUT

Louise Olsson Campbell (p)

Riverview, Florida

6

78

72

150

CUT

Symone Henriques

Blacksburg, Virginia

6

75

75

150

CUT

Madison Moosa (p)

Charlotte, North Carolina

6

75

75

150

CUT

Julia Herzberg

Aberdeen, North Carolina

6

77

73

150

CUT

Madison Barnett (p)

Mableton, Georgia

7

73

78

151

CUT

Ella Perna

Durham, North Carolina

7

74

77

151

CUT

Thienna Huynh

Lilburn, Georgia

8

74

78

152

CUT

Gabriela Cruz

High Point, North Carolina

8

80

72

152

CUT

Pin Hsuan Chen

New Taipei City

8

77

75

152

CUT

Mallory Fobes

East Bend, North Carolina

8

79

73

152

CUT

Megan Robb (p)

Hickory, North Carolina

8

78

74

152

CUT

Heather Appelson

Wake Forest, North Carolina

8

77

75

152

CUT

Caroline Ellington

Raleigh, North Carolina

8

77

75

152

CUT

Jordyn Hodgson

Kissimmee, Florida

8

74

78

152

CUT

Ava Romfo

Charleston, South Carolina

9

77

76

153

CUT

Anne Chen

Sugar Land, Texas

9

77

76

153

CUT

Kasey Mcilvaine

Raleigh, North Carolina

9

75

78

153

CUT

Jenna Kim

Raleigh, North Carolina

10

75

79

154

CUT

Ella Stalvey

Blythewood, South Carolina

10

77

77

154

CUT

Jessica Spicer

Norfolk, Virginia

11

78

77

155

CUT

Leah Edwards

Greensboro, North Carolina

11

80

75

155

CUT

Mariah Hopkins

Danville, Virginia

11

79

76

155

CUT

Lauren Martin

Harmony, North Carolina

12

78

78

156

CUT

Emily Mathews

Mebane, North Carolina

12

77

79

156

CUT

Lauren Lightfritz (p)

Suwanee, Georgia

13

79

78

157

CUT

Jillian Drinkard

Appomattox, Virginia

13

79

78

157

CUT

Caroline Johnson

Mooresville, North Carolina

15

78

81

159

CUT

Maddie May

University, Mississippi

15

81

78

159

CUT

Olivia Salonek

Roseville, Minnesota

15

80

79

159

CUT

Katherine Brictson

Raleigh, North Carolina

16

80

80

160

CUT

Amelia Rae Greenlee

Lenoir, North Carolina

16

79

81

160

CUT

Ashnoor Kaur

Roanoke, Virginia

16

80

80

160

CUT

Maria Isabella Errichetto

Southern Pines, North Carolina

17

77

84

161

CUT

Becca Connolly

Winston-salem, North Carolina

18

78

84

162

CUT

Jayden Ford

Pinehurst, North Carolina

18

80

82

162

CUT

Kayla Bartemeyer

Mount Pleasnt, South Carolina

19

82

81

163

CUT

Grace Ridenour

Raleigh, North Carolina

19

84

79

163

CUT

Kennedy Ramsey (p)

Huntersville, North Carolina

20

85

79

164

CUT

Hui Chong Dofflemyer

Pikeville, North Carolina

24

83

85

168

CUT

Sloane Spessard

Raleigh, North Carolina

24

84

84

168

CUT

Joan Gossett Oates

Collierville, Tennessee

29

90

83

173

CUT

Bella Harris (p)

Greenville, South Carolina

29

88

85

173

CUT

Sara Belger (p)

Thomasville, North Carolina

29

88

85

173

NS

Layla Meric

Wesley Chapel, North Carolina

-

NS

NS

NS