Romfo + Burnette, Penman + Rutan Take Carolinas Women's Four-Ball Hardware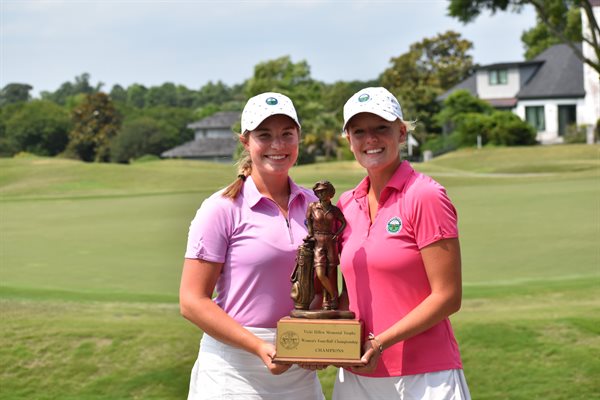 Event: 46th Carolinas Women's Four-Ball Championship
Host Site: Country Club of Landfall (DYE), Wilmington, N.C.
Playing Dates: June 5-6, 2023
Social Media: @CGAgolf1909
WILMINGTON, N.C. – It was a beautiful two days at the Country Club of Landfall for the 46th Carolinas Women's Four-Ball Championship. Congratulations to Ava Romfo + Eleanor Burnette, winners of the Championship Division at 9-under-par, and Judy Penman + Kerry Rutan, winners of the Senior Division also at 9-under-par.
Romfo of Charleston, SC and Burnette of Wrightsville Beach, NC posted a 69-66 for a total score of 135 to claim the title and have their names added to the Vicki Hillen Memorial Trophy. As a team, they carded 10 birdies throughout the two rounds. When discussing what the team did well, Burnette said "anytime one player was out of position, the other one would clutch up and hit a really good shot or make a putt that would keep us in it." Even though this pair has never played together before, they felt that they played really good partner golf. They "encouraged one another, tried not to put too much pressure on each other, helped read putts, and helped pick clubs" Romfo said.
Romfo and Burnette loved playing in a team event and really enjoyed having one another as partners. "We're both really competitive, so we fed off that energy with each other," Burnette said. She also shared that four-ball "forces you to focus on every shot. If you're playing with a partner you have to be there for them". That's exactly what Romfo and Burnette did throughout the tournament to stay positive and ultimately take home the trophies.
The Championship Division was extremely competitive, with many teams vying for the top of the leaderboard. Romfo and Burnette were paired with Macie Burcham of Greensboro, NC and Grace Holcomb of Wilmington, NC in the final round, making for an exciting group to watch. Burcham and Holcomb came in second place of the Championship Division, shooting a 70-67 for a total score of 137.
Judy Penman of Pinehurst, NC and Kerry Rutan of Daniel Island, SC carded a 68-67 for a total score of 135 to come out on top of the Senior Division. This team played an impressive two rounds of golf, coming in with a two-day score matching the Championship Division. They started with three birdies within the first four holes of the final round, giving them confidence and energy right from the start. They said that they were focused in the final round and "really got into a rhythm".
These two enjoyed playing in a team format because "when you mess up, you have backup" they said. Rutan explained that "sometimes you don't take the chances in an individual round that you would when playing with a partner", which allowed them to be more aggressive throughout the tournament. They took chances in going for the green on Par 5's and not leaving putts short.
Patty Moore of Pinehurst, NC and Kim Briele of New Bern, NC were fierce competition this week and played with Penman and Rutan on the final day. Moore and Briele took second place by shooting a 70-68 for a total score of 138.
Thank you to Jason Cherry, Director of Golf, Jeff Mack, Director of Golf Courses and Grounds Maintenance, and Scott Pollard, Course Superintendent at the Country Club of Landfall for helping us host such a great tournament.
About the Carolinas Golf Association (CGA)
The CGA is a 501(c)(3) not-for-profit educational organization founded in 1909 to promote and protect the game of golf in the Carolinas by providing competitions, education, support and benefits to golf clubs and golfers. The CGA is the second largest golf association in the country with over 700 member clubs represented by nearly 150,000 individuals.
The CGA annually conducts 48 championships and five team match competitions for men, women, juniors, and seniors. It also runs over 150 One-Day (net and gross) events and qualifying for USGA national championships. The CGA serves golf in the Carolinas with numerous programs such as: the USGA Handicap System; tournament management software and support; course measuring and course/slope ratings; agronomy consultation; answers about the Rules of Golf, Rules of Amateur Status, and Handicapping; Carolinas Golf Magazine; Interclub series; Tarheel Youth Golf Association; Carolinas Golf Hall of Fame; expense assistance for USGA Junior and Girls' Junior qualifiers from the Carolinas; and the Carolinas Golf Foundation (CGF). The CGF has distributed nearly $2,000,000 since 1977 to benefit Carolinas' golf initiatives including junior and women's programs.
For more information about the Carolinas Golf Association, follow @cgagolf1909 on Instagram, Twitter, Facebook, and TikTok or visit our website www.carolinasgolf.org/
#30#