US Senior Open Qualifying - Mill Creek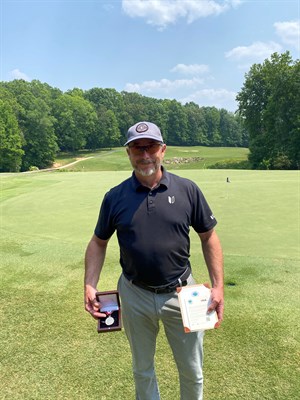 MEBANE, N.C. (June 8, 2023) -- Final results from U.S. Senior Open Qualifying at Mill Creek Golf Club in Mebane, N.C. on Thursday, June 8, 2023. (6,893 yards, par 72).
Two qualifying spots and two alternate spots were available at this qualifying site.
Jason Widener of Chapel Hill, N.C. won medalist honors with a round of five-under-par 67. Roger Rowland of Brandon, FL and Burke Cromer of Irmo, S.C. each shot four-under-par 68 and went to a playoff to determine the final qualifying spot and the first alternate spot. Rowland won the spot on the third playoff and qualified for the championship. Cromer will be the first alternate. Mikael Hogberg of Greensboro, N.C. shot three-under-par 69 to claim the second alternate position.
The qualifiers will advance to play in the championship at SentryWorld in Stevens Point, Wisconsin from June 29 to July 2.
Hole-by-hole scoring can be viewed here.
US Senior Open Qualifying Results
Mill Creek Golf Club, Mebane, N.C.
June 8, 2023
Pos.

Player

Hometown

To Par

Total Score

Details

1

Jason Widener (p)

Chapel Hill, North Carolina

-5

67

2

Roger Rowland (p)

Brandon, Florida

-4

68

The following players did not make the cut

CUT

Burke Cromer (p)

Irmo, South Carolina

-4

68

First Alternate

CUT

Mikael Hogberg (p)

Greensboro, North Carolina

-3

69

Second Alternate

CUT

Todd White

Spartanburg, South Carolina

-2

70

CUT

James Bohn

Cary, North Carolina

-2

70

CUT

Brian Mull

Wilmington, North Carolina

-2

70

CUT

Ricky Morton (p)

Jacksonville, North Carolina

-1

71

CUT

Jeff Jamieson

Cary, North Carolina

-1

71

CUT

Dustin Phillips (p)

Apex, North Carolina

E

72

CUT

Chris Haarlow (p)

Greensboro, North Carolina

E

72

CUT

Chris Cassetta

High Point, North Carolina

E

72

CUT

Larry George (p)

Wallace, North Carolina

1

73

CUT

Scott Park

Charlotte, North Carolina

1

73

CUT

Jon Corliss (p)

Virginia Beach, Virginia

2

74

CUT

Walker Taylor

Wrightsville Beach, North Carolina

2

74

CUT

Dan O'boyle (p)

Grandy, North Carolina

3

75

CUT

Uly Grisette (p)

Bermuda Run, North Carolina

3

75

CUT

Jeremy Valler

Norwood, North Carolina

4

76

CUT

David Wettlaufer (p)

Southern Pines, North Carolina

4

76

CUT

Kevin Mccallister (p)

Oak Ridge, North Carolina

4

76

CUT

Keith Grassing (p)

Somerville, New Jersey

4

76

CUT

Tom Cullen

Hickory, North Carolina

5

77

CUT

Bradley Deal

Mebane, North Carolina

5

77

CUT

Todd Sagmoe

Charlotte, North Carolina

5

77

CUT

Mark Hodges

Belmont, North Carolina

5

77

CUT

Michael Thornburg

Indian Land, South Carolina

6

78

CUT

Klas Tenmark (p)

Molndal

6

78

CUT

John Nieporte (p)

Boca Raton, Florida

6

78

CUT

Kenny Stewart

Lillington, North Carolina

7

79

CUT

Mike Aversano

Wilmington, North Carolina

7

79

CUT

Scott Patnode

Belmont, North Carolina

7

79

CUT

Rick Bronson (p)

Vass, North Carolina

7

79

CUT

Emos Korblah (p)

Durham, North Carolina

7

79

CUT

Melvin Barnes

Hillsborough, North Carolina

7

79

CUT

Jim Cillo

Aiken, South Carolina

8

80

CUT

David Cauthen (p)

Huntersville, North Carolina

8

80

CUT

David Winesette

Waxhaw, North Carolina

8

80

CUT

Terry Hatch (p)

Pottsville, Pennsylvania

8

80

CUT

Keith Bishop

Southern Pines, North Carolina

8

80

CUT

Dan Constantino

Greer, South Carolina

9

81

CUT

Hank Smith (p)

Johns Island, South Carolina

9

81

CUT

Albert Oh

Raleigh, North Carolina

9

81

CUT

Carey Hodsden (p)

Suffolk, Virginia

9

81

CUT

Mo Guttman (p)

Sarasota, Florida

10

82

CUT

Francis R Debois Jr (p)

Spring Lake, North Carolina

10

82

CUT

John Drohen

Cranston, Rhode Island

10

82

CUT

Abdelhadi Lahbabi

Charlotte, North Carolina

11

83

CUT

John Marino (p)

Chapel Hill, North Carolina

11

83

CUT

Chris Burr

Newton, North Carolina

12

84

CUT

Michael Garner

Darnestown, Maryland

12

84

CUT

Kenny Flynn

Winston Salem, North Carolina

12

84

CUT

Park Williams

Kernersville, North Carolina

13

85

CUT

Michael Long (p)

Burlington, North Carolina

14

86

CUT

Wiley Fogleman

Hillsborough, North Carolina

15

87

CUT

Michael Marinello

Wilmington, North Carolina

16

88

CUT

Kent Sonnefeld (p)

Huntersville, North Carolina

19

91

CUT

Ben Bowers

Burlington, North Carolina

-

DNF

CUT

William Baker (p)

West End, North Carolina

-

DNF

NS

Richard Lee

Charlotte, North Carolina

-

NS