Hannant Captures NC Junior Girls Championship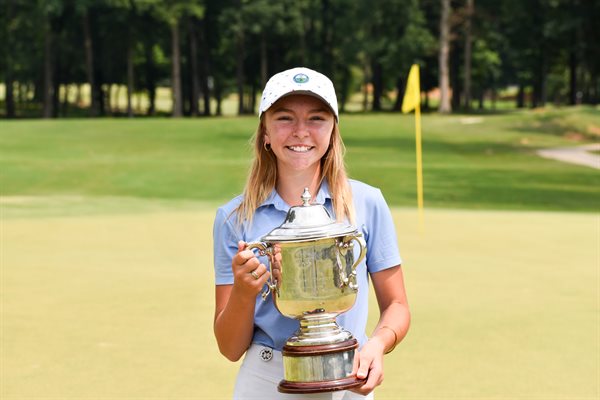 STATESVILLE, N.C. (June 15, 2023) -- Semi-final and final match results of the 27th North Carolina Junior Girls' Championship at Statesville Country Club in Statesville, N.C. from June 12 - 15, 2023. The field competed in the same division and played from 5,742 yards par 72.
A grueling week of competition through two rounds of qualifying stroke play and five rounds of match play was wrapped up today from Statesville Country Club. Ella June Hannant of Pikeville, NC, emerged victorious through her matches after persevering through high winds and heat to capture the 27th North Carolina Junior Girls' Championship. Hannant defeated Anna Howerton in the championship match with a match score of 3 & 1.
After the sixth hole, Hannant held the lead for the remainder of the round. Hannant mentioned how your preparation for such a tournament was key.
"I do special training just for tournaments like this with a lot of strength and endurance training so you can keep up the good play throughout and get better as you go, and that was huge for me. All of the preparation and training paid off with this last round," said Hannant.
To advance to the championship match, Hannant took care of business in her semi-final match against Malerie Lague of Huntersville earlier the same day with a score of 5&3.
The semi-final match-up between Anna Howerton and Karsyn Roberts of Pikeville went down to the wire, with Howerton coming out on top with a score of 2 & 1.
The championship match was tied through the first six holes until Hannant took control of the remainder of the round. Hannant's putts helped her get ahead and stay in the lead with a 15-foot putt to keep her at three up with five to play.
"I definitely think yesterday's round prepared me for today. I do not play match play a lot, so after yesterday's rounds, I felt confident coming into today's rounds," stated Hannant. Becoming the North Carolina Junior Girls Champion means more than hitting good shots. It also requires managing your will and stamina throughout all four days of competition," added Hannant.
The Carolinas Golf Association would like to thank the members and staff at Statesville Country Club, Director of Golf Andy Zachowicz, Food and Beverage Manager Bria Argett, and Director of Grounds Shane Harrelson.
Championship Match Results
No. 2 seed Ella June Hannant of Pikeville def. No. 4 seed Anna Howerton of Winston-Salem, 3 & 1
Semi-final Match Results
No. 4 seed Anna Howerton of Winston-Salem def. No. 1 seed Karsyn Roberts of Pikeville, 2 & 1
No. 2 seed Ella June Hannant of Pikeville def. No. 11 seed Malerie Lague of Huntersville, 5 & 3
About the Carolinas Golf Association (CGA)
The CGA is a 501(c)(3) not-for-profit educational organization that was founded in 1909 to promote and to protect the game of golf in the Carolinas by providing competitions, education, support and benefits to golf clubs and golfers. The CGA is the second largest golf association in the country with over 700 member clubs represented by nearly 150,000 individuals.
The CGA annually conducts 48 championships and five team match competitions for men, women, juniors, and seniors. It also runs over 150 One-Day (net and gross) events as well as qualifying for USGA national championships. The CGA serves golf in the Carolinas with numerous programs such as: the USGA Handicap System; tournament management software and support; course measuring and course/slope ratings; agronomy consultation; answers about the Rules of Golf, Rules of Amateur Status, and Handicapping; Carolinas Golf Magazine; Interclub series; Tarheel Youth Golf Association; Carolinas Golf Hall of Fame; expense assistance for USGA Junior and Girls' Junior qualifiers from the Carolinas; and the Carolinas Golf Foundation (CGF). The CGF has distributed nearly $2,000,000 since 1977 to benefit Carolinas' golf initiatives including junior and women's programs.
For more information about the CGA, follow @cgagolf1909 on Instagram, Twitter, Facebook, and TikTok or visit our website www.carolinasgolf.org/
##30##