Doyal Seals First CGA Win at the 51st South Carolina Amateur Match Play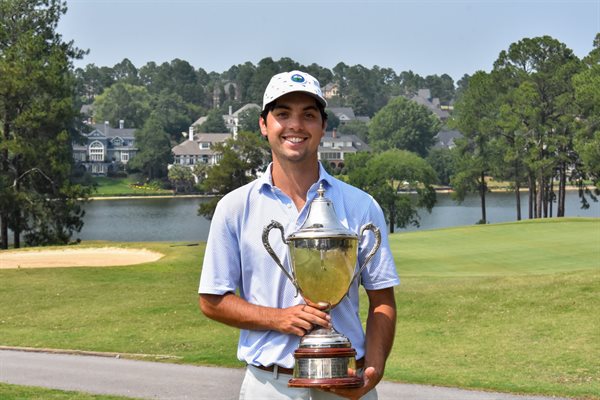 Event: 51st South Carolina Amateur Match Play
Host Site: The WildeWood Club, Columbia, S.C.
Playing Dates: June 14-17, 2023
Social Media: @CGAgolf1909
LOCATION – Columbia, S.C.
Congratulations to Connor Doyal of Charleston, S.C., the 51st South Carolina Amateur Match Play Champion! It was an exciting week of golf at the WildeWood Club as players fought to advance to the next phase of the tournament and keep competing.
Doyal won the Championship Match 3 & 1 against Defending Champion Nick Mayfield of Rock Hill, S.C. Doyal and Mayfield were tied through the first three holes, but after Doyal sank a birdie putt on the fourth hole to go one up, he remained up throughout the rest of the match.
"The best part of my game this week was my ball striking with my irons. I didn't miss a single green with an iron in my hand." This allowed Doyal to give himself opportunities at multiple birdie putts to give him the lead. During the Championship match, Doyal made five birdies and even an eagle on the 10th hole, which Mayfield also eagled.
The week was not an easy battle, however. Doyal explained, "it's a really tight course and there's out of bounds right and left on every single hole, so it's stressful to hit each shot."
After four days of golf and over 100 holes of golf played, Doyal shared that his motto this week was "always stay present". He went on to say, "I had to remind myself to eat a lot and to stay in the moment. There's so many roller coasters in match play, so just think of each shot as a new challenge and don't let your mind get ahead of you."
In his Semifinal match, Doyal played against Michael Wilson of Elgin, S.C., whose home course is the WildeWood Club. Doyal won the match 5 & 4 to advance to the Championship match. Doyal had an impressive round during his Quarterfinal match against Eric Nord of Blythewood, S.C., carding five birdies and winning the match 4 & 3 to advance to the Semifinals.
"I love match play. It's fun because you get to play a 1v1 match and you get to adjust your strategy a little bit. The big blow-up holes don't mean anything, it's only one hole," says Doyal.
Doyal just recently moved down to the Carolinas at the beginning of March, and this is Doyal's first CGA tournament and first CGA win. When asked what this win means to him, Doyal said "it's really exciting. Playing against the college kids is really difficult. Once you graduate college, get a job, and open a new chapter of your life, you just have different priorities and I just can't play golf as much as these other kids can. Just being able to go out there and show that I still have it, it's really exciting; it's exhilarating".
The Carolinas Golf Association would like to thank Kyle Gregory, General Manager/Director of Golf, Kyle Matthias, Superintendent, Chad Davenport, Food and Beverage Manager, and the rest of the staff at the WildeWood Club for helping us host a great tournament for our players.
About the Carolinas Golf Association (CGA)
The CGA is a 501(c)(3) not-for-profit educational organization founded in 1909 to promote and protect the game of golf in the Carolinas by providing competitions, education, support and benefits to golf clubs and golfers. The CGA is the second largest golf association in the country with over 700 member clubs represented by nearly 150,000 individuals.
The CGA annually conducts 48 championships and five team match competitions for men, women, juniors, and seniors. It also runs over 150 One-Day (net and gross) events and qualifying for USGA national championships. The CGA serves golf in the Carolinas with numerous programs such as: the USGA Handicap System; tournament management software and support; course measuring and course/slope ratings; agronomy consultation; answers about the Rules of Golf, Rules of Amateur Status, and Handicapping; Carolinas Golf Magazine; Interclub series; Tarheel Youth Golf Association; Carolinas Golf Hall of Fame; expense assistance for USGA Junior and Girls' Junior qualifiers from the Carolinas; and the Carolinas Golf Foundation (CGF). The CGF has distributed nearly $2,000,000 since 1977 to benefit Carolinas' golf initiatives including junior and women's programs.
For more information about the Carolinas Golf Association, follow @cgagolf1909 on Instagram, Twitter, Facebook, and TikTok or visit our website www.carolinasgolf.org/
#30#