Cook Secures First CGA Win at NC Junior Boys'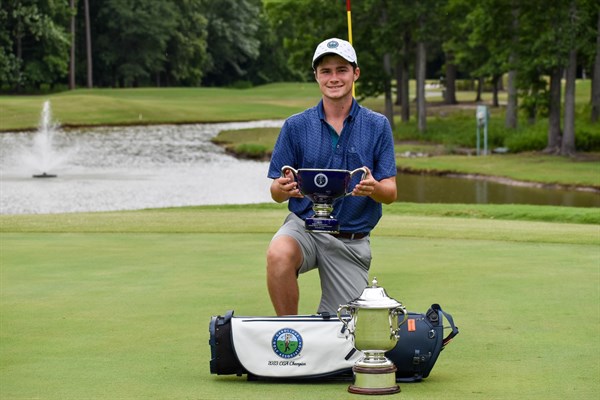 Event: 56th North Carolina Junior Boys' Championship
Host Site: Ironwood Country Club, Greenville, N.C.
Playing Dates: June 20- 23, 2023
Social Media: @CGAgolf1909
Related: Championship Website | Scoring | Photos
GREENVILLE, N.C. - After four days of golf and over 100 holes played, Maddux Cook of Wilmington, N.C., won the 56th North Carolina Junior Boys' Championship on Friday afternoon. Cook defeated Washington, N.C. native. Rob Bergevin, 2 up. Despite Bergevin's comeback run, Cook's birdie chip on 18 sealed the win.
"This win is huge. This is my first multi-day tournament and CGA win, so it is just massive," said Cook when asked what this win means to him.
In his quarterfinal match, Cook played against the number one seed, Will Guthrie of Charlotte, N.C. Cook forced a playoff after winning back-to-back holes. After one extra hole, Cook advanced to the semifinals where he faced Winterville, N.C. native, Will Guidry. In his match with Guidry, Cook won the match 2 up before the finals.
Cook shared that his mindset this week was to,"play consistently and not hit too many bad shots and think my way around the course." He said, "I was trying to play it one shot at a time and take my time with everything."
On Cook's first day of the tourney, he shot a 75 (+3) to secure his spot in the first round of match play. Cook's short game helped him make par on three of his last four holes and ended on a birdie to seal the title. Bergevin made a valiant effort winning by 14,16, and 17 shifting the pressure on Cook to finish on 18.
The Carolinas Golf Association would like to extend our appreciation to the members and staff at Ironwood Country Club, especially, General Manager, John LaMonica, Head Pro, Jon Rucker, Superintendent, Danny Britt, and food and Membership Director and Event Coordinator, Jenna Doyle for graciously hosting the 56th North Carolina Junior Boys' Championship.
About the Carolinas Golf Association (CGA)
The CGA is a 501(c)(3) not-for-profit educational organization that was founded in 1909 to promote and to protect the game of golf in the Carolinas by providing competitions, education, support and benefits to golf clubs and golfers. The CGA is the second largest golf association in the country with over 700 member clubs represented by nearly 150,000 individuals.
The CGA annually conducts 48 championships and five team match competitions for men, women, juniors, and seniors. It also runs over 150 One-Day (net and gross) events as well as qualifying for USGA national championships. The CGA serves golf in the Carolinas with numerous programs such as: the USGA Handicap System; tournament management software and support; course measuring and course/slope ratings; agronomy consultation; answers about the Rules of Golf, Rules of Amateur Status, and Handicapping; Carolinas Golf Magazine; Interclub series; Tarheel Youth Golf Association; Carolinas Golf Hall of Fame; expense assistance for USGA Junior and Girls' Junior qualifiers from the Carolinas; and the Carolinas Golf Foundation (CGF). The CGF has distributed nearly $2,000,000 since 1977 to benefit Carolinas' golf initiatives including junior and women's programs.
For more information about the Carolinas Golf Association follow @cgagolf1909 on Instagram, Twitter, Facebook, and TikTok or visit our website www.carolinasgolf.org/
#30#