Kuehn Goes Low to Win the 74th Carolinas Junior Boys' Championship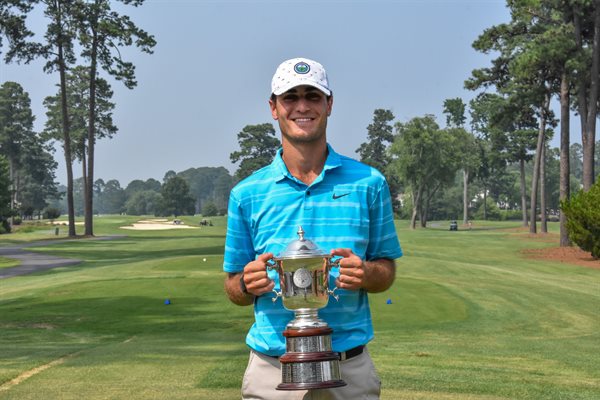 Event: 74th Carolinas Junior Boys' Championship
Host Site: Prestonwood Country Club, Cary, N.C.
Playing Dates: June 27-29, 2023
Social Media: @CGAgolf1909
LOCATION – Cary, N.C.
Congratulations to Taylor Kuehn of Asheville, N.C., winner of the 74th Carolinas Junior Boys' Championship at Prestonwood Country Club in Cary, N.C. this week. Kuehn went 72-69-65 for a total score of 206 to seal the win.
Kuehn shot even par for Round 1 to start the week in a good position. Kuehn came in with a bogey-free scorecard and three birdies after Round 2 for a score of 3-under-par, making the cut and earning the opportunity to play the Final Round on Thursday.
Kuehn had an extremely impressive Final Round with seven birdies and an eagle, carding a 65 for the day to put him at a total of -10 at the top of the leaderboard.
"I felt like I was just extremely comfortable over the golf ball today. I just felt really at peace and felt like I had control over my swing, my putting, my chipping."
On the back nine, Kuehn birdied holes 10 and 11, and then made three more birdies in a row on holes 13, 14, and 15. On hole 16, after going out of bounds on his tee shot, he made a great putt to save bogey and go into the last two holes still in the lead.
When asked how he stayed mentally strong as he was finishing his round, he said "I was trying to stay in each individual shot. My mom always preaches to me that you can't be looking too much ahead." Regarding his mindset after the bogey, "it happens; it's golf. I was just trying to stay level-headed" Kuehn said.
The Kuehn family has been hard to miss this summer, playing incredible golf and bringing home lots of wins already this season. Brenda Kuehn, Taylor's mom, watched him play all 54 holes this week at Prestonwood CC. When asked what it means to have his mom there supporting him, he said "it's so cool. My mom is my biggest supporter and she's a mentor for me; she's someone I look up to on and off the golf course. Just to have her here for my second CGA win means the world to me. I don't know where I'd be without her."
Luke Mosley of Greenville, N.C., and Defending Champion Jack Wieler of Waxhaw, N.C. tied for second place at 9-under-par. Mosley and Wieler played three days of incredible golf, both scoring 70-68-69 for a total score of 207.
The Carolinas Golf Association would like to thank Director of Golf Operations Jeff Holden, Assistant Golf Professional Brian Burgwyn, Head Golf Professional Louie Matroni, Director of Course Maintenance Lee Hancock, Highlands Course Superintendent Scott Clawson, General Manager Larry Conner, and the rest of the Prestonwood Country Club staff for helping us host a wonderful tournament for the 74th Carolinas Junior Boys' Championship.
About the Carolinas Golf Association (CGA)
The CGA is a 501(c)(3) not-for-profit educational organization founded in 1909 to promote and protect the game of golf in the Carolinas by providing competitions, education, support and benefits to golf clubs and golfers. The CGA is the second largest golf association in the country with over 700 member clubs represented by nearly 150,000 individuals.
The CGA annually conducts 48 championships and five team match competitions for men, women, juniors, and seniors. It also runs over 150 One-Day (net and gross) events and qualifying for USGA national championships. The CGA serves golf in the Carolinas with numerous programs such as: the USGA Handicap System; tournament management software and support; course measuring and course/slope ratings; agronomy consultation; answers about the Rules of Golf, Rules of Amateur Status, and Handicapping; Carolinas Golf Magazine; Interclub series; Tarheel Youth Golf Association; Carolinas Golf Hall of Fame; expense assistance for USGA Junior and Girls' Junior qualifiers from the Carolinas; and the Carolinas Golf Foundation (CGF). The CGF has distributed nearly $2,000,000 since 1977 to benefit Carolinas' golf initiatives including junior and women's programs.
For more information about the Carolinas Golf Association, follow @cgagolf1909 on Instagram, Twitter, Facebook, and TikTok or visit our website www.carolinasgolf.org/
#30#