Howerton Wins Close to Home at the 19th Dogwood State Junior Girls' Championship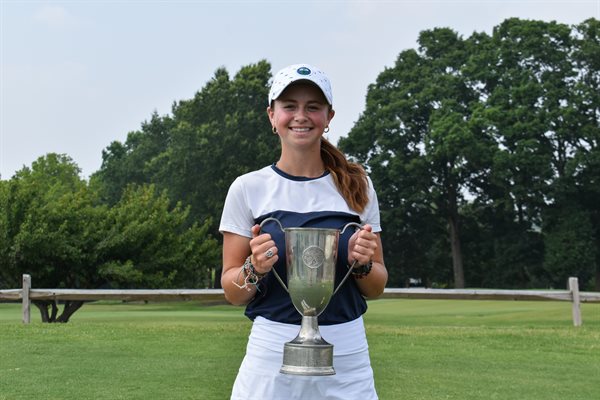 Event: 19th Dogwood State Junior Girls' Championship
Host Site: Colonial Country Club, Thomasville, N.C.
Playing Dates: June 27- 29, 2023
Social Media: @CGAgolf1909
Related: Championship Website | Scoring | History | Photos
THOMASVILLE, N.C. - After three days of play, Anna Howerton of Winston-Salem, N.C. captured the 19th Dogwood State Junior Girls' title at Colonial Country Club in Thomasville, N.C. Howerton finished six-over-par, 71-76-72, over 54 holes to capture the title.
In the final group, Howerton, Sophie Lauture of Concord, N.C. and Lila Smith of Raleigh, N.C. started the day in the lead at five-over-par. During the final round, Charlotte, N.C. native, Madison Park, was two-under-par on the day going into the final five holes, but finished at runner-up.
After Round 1, Howerton and Ellie Hildreth were tied for the lead after shooting par (71). The duo separated themselves from the pack as they took a three shot lead over Rachel Joyce of Pinehurst, N.C. and Smith who were tied for third at the end of Round 1.
Howerton just finished her senior year at Reagan High School and is continuing her golf career at High Point University. She has been competing in golf tournaments and was thrilled to add this win to her resume.
"This win means a lot to me since it's so close to home. Just playing in a field where there's good players, younger players, but still good players and knowing that I can beat some of the best players in North and South Carolina" said Howerton. "I hit the ball really well. I had a really good chance of making either par or birdie."
In second, Park finished eight-over-par, 75-73-73, after shooting two-over on the final round. Lauture took possession of third place, finishing nine-over-par, as Annalee Caveney of Raleigh, N.C. and Hildreth tied for fourth with a score of 10-over-par.
The Carolinas Golf Association would like to thank the members and staff at Colonial Country Club, especially, General Manager, Mike Riddle, and Course Superintendent, Addison Scott, for graciously hosting the 19th Dogwood State Junior Girls' Championship.
About the Carolinas Golf Association (CGA)
The CGA is a 501(c)(3) not-for-profit educational organization that was founded in 1909 to promote and to protect the game of golf in the Carolinas by providing competitions, education, support and benefits to golf clubs and golfers. The CGA is the second largest golf association in the country with over 700 member clubs represented by nearly 150,000 individuals.
The CGA annually conducts 48 championships and five team match competitions for men, women, juniors, and seniors. It also runs over 150 One-Day (net and gross) events as well as qualifying for USGA national championships. The CGA serves golf in the Carolinas with numerous programs such as: the USGA Handicap System; tournament management software and support; course measuring and course/slope ratings; agronomy consultation; answers about the Rules of Golf, Rules of Amateur Status, and Handicapping; Carolinas Golf Magazine; Interclub series; Tarheel Youth Golf Association; Carolinas Golf Hall of Fame; expense assistance for USGA Junior and Girls' Junior qualifiers from the Carolinas; and the Carolinas Golf Foundation (CGF). The CGF has distributed nearly $2,000,000 since 1977 to benefit Carolinas' golf initiatives including junior and women's programs.
For more information about the Carolinas Golf Association follow @cgagolf1909 on Instagram, Twitter, Facebook, and TikTok or visit our website www.carolinasgolf.org/
#30#