Lemonds Wins First CGA Title at South Carolina Junior Match Play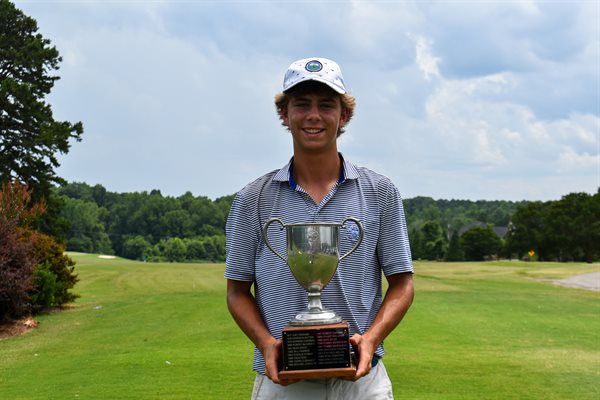 Event: South Carolina Junior Match Play Championship
Host Site: Cherokee National Golf Club, Gaffney, S.C.
Playing Dates: July 11- 14, 2023
Social Media: @CGAgolf1909
Related: Championship Website | Scoring | History | Photos
GAFFNEY, S.C. - Through four days and over 115 holes of golf played, Hugh Lemonds of Spartanburg, S.C. claimed the 2023 South Carolina Junior Match Play champion title on Friday afternoon at Cherokee National Golf Club. Lemonds defeated Moore, S.C. native, Will Ruth, 1 up. Lemonds was able to outlast Ruth as he won three of the last six holes to comeback from Ruth's two hole lead.
In the championship match, Ruth took an early lead as he sank a long birdie putt to set the tone. Lemonds then came back to take a lead after winning back-to-back holes on No. 4 and No. 5; Ruth would go on a run of his own to regain the lead just before the turn. On the back nine, Ruth took a two-hole lead after making par on No. 12. Lemonds then came from behind to secure the win as he made crucial putts on the final holes.
"I made a lot of putts and I got up and down from a lot of very, very hard places," stated Lemonds. "Match play is really different. No matter what you shot the first day, no matter how good you are, you can always get beat."
Lemonds just finished his junior year at Spartanburg High School in Spartanburg, S.C. He has been competing in golf tournaments and was thrilled to become a CGA champion for the first time on Friday.
In his semifinal match, Lemonds played his close friend, Richard Anaclareo, of Aiken, S.C. In similar fashion to his championship winning match, Lemonds and Andrews played all 18 holes before Lemonds ultimately won 2 up to advance to the finals. Lemonds sank six putts for birdie to secure his place in the championship match.
On Lemonds' first day of the tourney, he was tied for second as he shot a 70 (-2) to secure his spot in the first round of match play. Lemonds' short game helped him make critical putts to shift the pressure onto his opponent over the span of the tournament.
The Carolinas Golf Association would like to thank the members and staff at Cherokee National Golf Club, especially, Head Golf Professional, Danny Agapion, and Course Superintendent, Todd Roberson, for graciously hosting the South Carolina Junior Match Play Championship.
About the Carolinas Golf Association (CGA)
The CGA is a 501(c)(3) not-for-profit educational organization that was founded in 1909 to promote and to protect the game of golf in the Carolinas by providing competitions, education, support and benefits to golf clubs and golfers. The CGA is the second largest golf association in the country with over 700 member clubs represented by nearly 150,000 individuals.
The CGA annually conducts 48 championships and five team match competitions for men, women, juniors, and seniors. It also runs over 150 One-Day (net and gross) events as well as qualifying for USGA national championships. The CGA serves golf in the Carolinas with numerous programs such as: the USGA Handicap System; tournament management software and support; course measuring and course/slope ratings; agronomy consultation; answers about the Rules of Golf, Rules of Amateur Status, and Handicapping; Carolinas Golf Magazine; Interclub series; Tarheel Youth Golf Association; Carolinas Golf Hall of Fame; expense assistance for USGA Junior and Girls' Junior qualifiers from the Carolinas; and the Carolinas Golf Foundation (CGF). The CGF has distributed nearly $2,000,000 since 1977 to benefit Carolinas' golf initiatives including junior and women's programs.
For more information about the Carolinas Golf Association follow @cgagolf1909 on Instagram, Twitter, Facebook, and TikTok or visit our website www.carolinasgolf.org/
#30#