Risner Takes Carolinas Am on Second Playoff Hole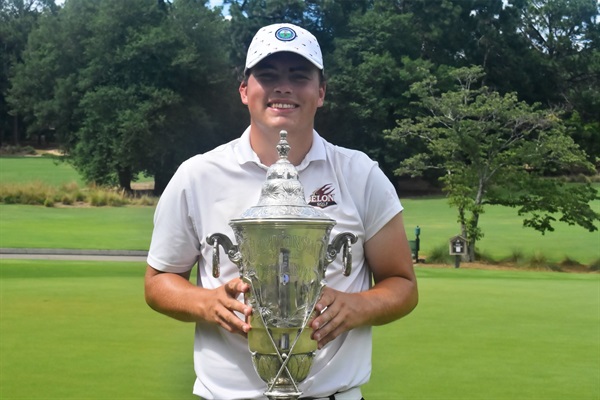 Event: 109th Carolinas Amateur Championship
Host Site: Pine Needles
Playing Dates: July 12-15
Social Media: @CGAgolf1909
LOCATION – Southern Pines, N.C.
Congratulations to Garrett Risner of Holly Springs, N.C., on winning the 109th Carolinas Amateur Championship at Pine Needles. He shot 71-69-66-68 over the four days for a total score of 274, 6-under. Risner won the championship in the second playoff hole against Kevin O'Connell of Apex, N.C., the leader after days two and three.
Risner played a consistent Round One, shooting 1-over (71) to start the tournament on Wednesday. During Round 2, Risner added more birdies to his scorecard, registering a 1-under (69) and making the cut, going into the second half of the tournament at even par.
Risner came in with five birdies after Round 3, shooting an impressive 5-under (66) for the day and overall leading into the Final Round. This would earn him a spot in the final group on Saturday, playing with O'Connell and Jack Wieler of Waxhaw, N.C., the leader after round one.
The Final Round was a battle, and the competition was tight throughout the entire day, and would see the lead change hands multiple times. Risner played a quietly consistent round on Saturday, remaining in contention as players rose and fell on the leaderboard.
As the final group came down 18, Risner and O'Connell were deadlocked at 6-under, and similar pars for both on the last hole set things up for a playoff. The match would end on the second playoff hole when Risner dropped a seven-foot birdie to claim the prestigious championship.
"Staying in the moment. Remember not to get ahead of myself and start thinking about what I need to do, and just try to hit the target I was hitting at," Risner said when discussing his biggest challenge on the course during the Final Round.
When asked if the playoff added pressure and how he stayed focused, Risner said, "I just stuck to my game plan, sometimes took a moment to just collect myself, take deep breaths, remind myself that I'm just trying to hit some targets. If I win, great, if not, I did the right thing."
When asked what this win means to him, Risner says, "I can't even begin to tell you how it feels to actually win this event to be honest. I've always looked at it as just a great event to make the cut in and get Top 30 so I can come back again next year. Everything fell into place this week, and it's a wonderful feeling."
The Carolinas Golf Association would like to thank Pine Needles President Kelly Miller, General Manager/Director of Golf Graham Gilmore, Head Golf Professional Tyler Yancey, Director of Golf Course Maintenance David Fruchte, Golf Course Superintendent Chris Mitmer, Southern Pines Clubhouse Manager Blair Miller, and the rest of the staff at Pine Needles for helping us host an incredible tournament for our players.
2023 Frank F. Capers Cup
Starting in 1913, the Frank F. Capers Cup team competition was held during rounds one and two of the Carolinas Amateur Championship. Three or four bona fide members from the same club comprise a team. The low three scores count each round. The winner is the team posting the lowest 36-hole score. Co-champions are declared in the event of a tie. Trophies are awarded to the team winners. 12 clubs, including host Pine Needles, vied for this year's title.
CC of Charleston won first place with a total score of 8-over (217-211, two-day total of 428).
Heritage GC and Club at 12 Oaks tied for second place with a total score of 9-over (two-day total of 429).
Notes and Quotes:
7000 yards / Par 70

Began in 1910 and is the flagship championship in the Carolinas

From 1910-2009 the Championship was Match Play

72 holes of stroke play

After 36 holes, the field was cut to the low 60 scores and ties

Players Under Par By Round: 1st-19 / 2nd-21 / 3rd-11 / 4th-13

Hole 1 played as a par 4 in rounds 1&2 and as a par 5 in rounds 3&4

Hole 15 played as a par 5 in rounds 1&2 and as a par 4 in rounds 3&4

Round 3 experienced a 35min storm delay

Lowest Round: 64 - Jack Wieler, Kevin O'Connell
After Round 1:
What did you do well today? "Just smart play. I drove it well, hit about every fairway, and just hit it in really good spots. Once you're in really good spots, you have opportunities to make some putts and I had a lot of opportunities and took advantage of them today." - Jack Wieler, leader after Round 1 at 6-under

What did you do well today? "That eagle on 10 really helped me and got me going." - Jack Wieler, leader after Round 1 at 6-under
After Round 2:
What did you do well today? "I hit it great today. I think looking back I missed one fairway and one green, so my ball striking was great. " - Nic Brown, defending champ

As the defending champion, does that add any pressure this week as you're competing? "I think I feel less pressure now that I've got one. It's kind of freed me up, so I'm just trying to compete and see if we can do it again." - Nic Brown, defending champ

What will it take for you to go low Friday and Saturday? "My putter's been really hot, it's gotta continue to stay hot." - Kevin O'Connell, leader after Round 2 at 9-under

What was your strategy "It was one of those days where I was kind of just trying to put one foot in front of the other, keep the ball in play. I knew my putter was hot so I was just trying to give myself as many chances as I could." - Kevin O'Connell, leader after Round 2 at 9-under

"I've been here before. The key is just taking it one shot at a time." - Kevin O'Connell, leader after Round 2 at 9-under
After Round 3:
How are you feeling heading into the Final Round tomorrow? "I was feeling a lot better after yesterday. Today was a little bit of a grind. My putter is still reasonably hot, I'm gonna need that to remain the same tomorrow, but I'll be ready." - Kevin O'Connell, leader after Round 3 at 6-under

Did the weather delay impact your game at all today? "I would say it helped. I came out and birdied the hole after we got called off. I had bogeyed 13 and 14 and then we got stopped, and I came out and birdied 15." - Kevin O'Connell, leader after Round 3 at 6-under
About the Carolinas Golf Association (CGA)
The CGA is a 501(c)(3) not-for-profit educational organization founded in 1909 to promote and protect the game of golf in the Carolinas by providing competitions, education, support, and benefits to golf clubs and golfers. The CGA is the second largest golf association in the country with over 700 member clubs represented by nearly 150,000 individuals.
The CGA annually conducts 48 championships and five team match competitions for men, women, juniors, and seniors. It also runs over 150 One-Day (net and gross) events and qualifying for USGA national championships. The CGA serves golf in the Carolinas with numerous programs such as: the USGA Handicap System; tournament management software and support; course measuring and course/slope ratings; agronomy consultation; answers about the Rules of Golf, Rules of Amateur Status, and Handicapping; Carolinas Golf Magazine; Interclub series; Tarheel Youth Golf Association; Carolinas Golf Hall of Fame; expense assistance for USGA Junior and Girls' Junior qualifiers from the Carolinas; and the Carolinas Golf Foundation (CGF). The CGF has distributed nearly $2,000,000 since 1977 to benefit Carolinas' golf initiatives including junior and women's programs.
For more information about the Carolinas Golf Association, follow @cgagolf1909 on Instagram, Twitter, Facebook, and TikTok or visit our website www.carolinasgolf.org/
#30#