Anglin and Warren Capture 17th Carolinas Pro-Junior Championship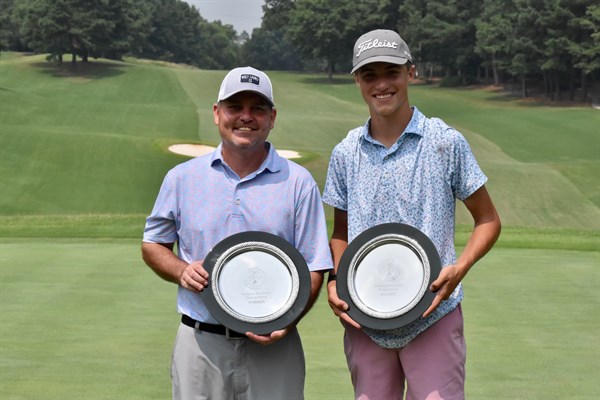 Event: 17th Carolinas Pro-Junior Championship
Host Site: The Country Club at Wakefield Plantation, Raleigh, N.C.
Playing Dates: July 17, 2023
Social Media: @CGAgolf1909
RALEIGH, N.C. (July 17, 2023) -- Results of the 17th Carolinas Pro-Junior Championship at The Country Club at Wakefield Plantation in Raleigh, N.C. on July 17, 2023.
Bobby Anglin of Mars Hill, N.C., and Connor Warren of Spruce Pine, N.C., turned a dream into reality today at The Country Club at Wakefield Plantation after one round of stroke play in the 17th Carolinas Pro-Junior Championship. They ended the tournament with an overall score of 5 under-par, 66, eventually securing the win in a one-hole playoff.
"Connor and I have been working together for the past six or seven years. Winning this tournament has been a goal of ours for the past couple of years. It is a good feeling to win this one," remarked Anglin.
The key to Anglin and Warren's round was staying consistent and patient. The pair kept the ball in play and were able to get up and down. Anglin and Warren started the round off strong with a birdie. They maintained the momentum throughout the round with four more birdies and 13 pars.
"Both of us kept the ball in play and stayed patient. We had some putts that did not go in early, but we stayed patient and focused on hitting quality shots which we did," stated Anglin.
This win and tournament was very special for the duo as they've been working together for several years and working hard to capture the championship. Anglin and Warren came up short last year as they tied for fifth with a score of 3-under-par, 69. In addition, this is also Anglin's first win with the CGA.
"We came up short last year, but we got ready and practiced more. Having Bobby as a really good partner helped, and it means a lot to win with him," stated Warren.
In a one-hole playoff, Anglin and Warren defeated Matt McCord of Holly Springs, N.C., and Dylan Takenaga of Durham, N.C.. The runner-up duo carded six birdies, 11 pars, and one bogey on the round to also finish at five-under-par, 66.
Tied for third, both sides with a score of four-under-par, 67, were Kasey McIlvaine of Raleigh, N.C. and Nick Zurowski of Apex, N.C., along with Andy Zachowicz of Statesville, N.C., and Riley Naylor of Mooresville, N.C.
The Carolinas Golf Association would like to thank the members and staff of the Country Club at Wakefield Plantation for hosting us, especially General Manager Michael Thomas, Director of Golf Rocky Brooks, Head Pro Paul Dickens, Food and Beverage Director Courtney Tatum, and Course Superintendent Todd Lawrence.
About the Carolinas Golf Association (CGA)
The CGA is a 501(c)(3) not-for-profit educational organization founded in 1909 to promote and protect the game of golf in the Carolinas by providing competitions, education, support and benefits to golf clubs and golfers. The CGA is the second largest golf association in the country, with over 700 member clubs represented by nearly 150,000 individuals.
The CGA annually conducts 48 championships and five team match competitions for men, women, juniors, and seniors. It also runs over 150 One-Day (net and gross) events and qualifying for USGA national championships. The CGA serves golf in the Carolinas with numerous programs such as: the USGA Handicap System; tournament management software and support; course measuring and course/slope ratings; agronomy consultation; answers about the Rules of Golf, Rules of Amateur Status, and Handicapping; Carolinas Golf Magazine; Interclub series; Tarheel Youth Golf Association; Carolinas Golf Hall of Fame; expense assistance for USGA Junior and Girls' Junior qualifiers from the Carolinas; and the Carolinas Golf Foundation (CGF). The CGF has distributed nearly $2,000,000 since 1977 to benefit Carolinas' golf initiatives, including junior and women's programs.
For more information about the CGA, follow @cgagolf1909 on Instagram, Twitter, Facebook, and TikTok, or visit our website www.carolinasgolf.org/