Boone Shoots Low to Win the 19th Dogwood State Junior Boys' After Five-Hole Playoff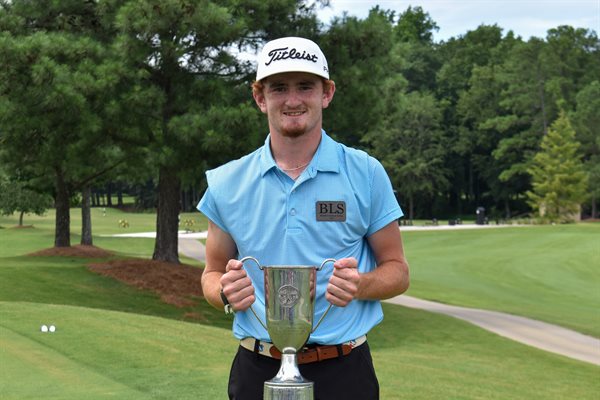 Event: 19th Dogwood State Junior Boys' Championship
Host Site: Bentwinds Country Club, Fuquay-Varina, N.C.
Playing Dates: July 18- 20, 2023
Social Media: @CGAgolf1909
Related: Championship Website | Scoring | History | Photos
FUQUAY-VARINA, N.C. - After five playoff holes, Fuquay-Varina, N.C. native, Daniel Boone, won the 19th Dogwood State Junior Boys' Championship title at Bentwinds Country Club in Fuquay-Varina, N.C. Boone finished six-under-par, 67-76-67, after shooting five-under-par on the final day to secure a spot in the playoff.
Heading into the final day, Alex Bock of Morganton, N.C. led after 36 holes by sinking three birdies and one eagle shot with Iszac Bertagnole of Pinehurst, N.C. at runner-up. Bock, Bertagnole, and Matthew McDougall of Waxhaw, N.C. were in the final group as they were just a few strokes between each other.
"This win means the world to me to win the Dogwood at my home course. I played my first Dogwood when I was 12 at Duke, so I've played in quite a few. To win this one here at my home course was pretty awesome," said Boone
Boone just finished his senior year at Fuquay-Varina High School and is committed to the University of North Carolina at Charlotte where he intends to continue his golf career. He has been competing in golf tournaments for years and was thrilled to add to the trophy collection on Thursday afternoon.
"My game plan coming into today was just to not worry about the score and just trying to hit each shot the best I can," stated Boone. "I knew that this is my home course. I'm familiar with it and I had all those people out there rooting me on. It was calming to know that I had that support."
In second, Bock finished six-under-par, 68-70-72, after recording 12 birdies and one eagle during the entire tourney. Connor Warren of Spruce Pine, N.C., the previous Dogwood State Junior Boys' winner, took sole possession of third place, finishing five-under-par after shooting a 67 on the final day.
The Carolinas Golf Association would like to thank the members and staff at Bentwinds Golf Club, especially, Head Golf Professional, Evelyn Walter, Head Golf Course Superintendent, Keith Roberson, and General Manager, Erin Brooks, for graciously hosting the 19th Dogwood State Junior Boys' Championship.
About the Carolinas Golf Association (CGA)
The CGA is a 501(c)(3) not-for-profit educational organization that was founded in 1909 to promote and to protect the game of golf in the Carolinas by providing competitions, education, support and benefits to golf clubs and golfers. The CGA is the second largest golf association in the country with over 700 member clubs represented by nearly 150,000 individuals.
The CGA annually conducts 48 championships and five team match competitions for men, women, juniors, and seniors. It also runs over 150 One-Day (net and gross) events as well as qualifying for USGA national championships. The CGA serves golf in the Carolinas with numerous programs such as: the USGA Handicap System; tournament management software and support; course measuring and course/slope ratings; agronomy consultation; answers about the Rules of Golf, Rules of Amateur Status, and Handicapping; Carolinas Golf Magazine; Interclub series; Tarheel Youth Golf Association; Carolinas Golf Hall of Fame; expense assistance for USGA Junior and Girls' Junior qualifiers from the Carolinas; and the Carolinas Golf Foundation (CGF). The CGF has distributed nearly $2,000,000 since 1977 to benefit Carolinas' golf initiatives including junior and women's programs.
For more information about the Carolinas Golf Association follow @cgagolf1909 on Instagram, Twitter, Facebook, and TikTok or visit our website www.carolinasgolf.org/
#30#