Burchams Earn Second Win Together at the Parent-Child Championship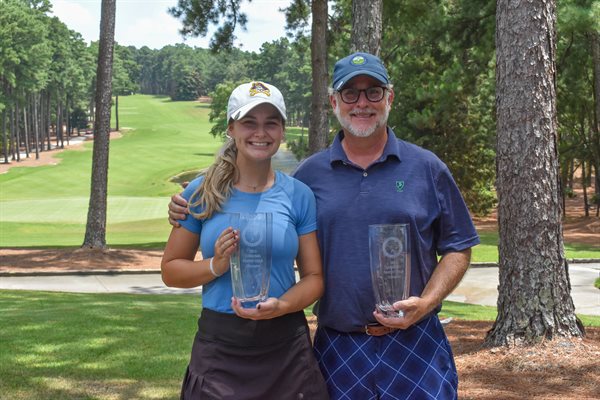 Event: 26th Carolinas Parent-Child Championship
Host Site: Pinewild Country Club, Pinehurst, N.C.
Playing Dates: July 21, 2023
Social Media: @CGAgolf1909
LOCATION – Pinehurst, N.C.
Congratulations to Jeff Burcham + Macie Burcham of Greensboro, N.C. on winning the 26th Carolinas Parent-Child Championship at Pinewild Country Club! The Burchams shot 5-under, 67 to earn the title.
The Burchams played a bogey-free round, which really helped to set them apart. They had two birdies on the front nine, three birdies on the back nine, and zero bogeys to put them at the top of the leaderboard.
"We kept our composure. We hit a lot of shots today that weren't up to our standards, and instead of getting upset or down, we kept a very positive attitude," Jeff said regarding what they did well together as a team. "It was definitely patience and positivity that kept us in it," Macie said.
Regarding the team dynamic, Jeff said Macie was "being very positive today. She's the one that kept pushing me to keep a positive, upbeat attitude and stay patient and let the putts start dropping."
The Burchams have played together in this tournament nearly 10 times, and this is their second time winning the Parent-Child Championship.
Macie said, "I think we balanced each other out really well, and we know each other's swings really well too, so whenever someone would hit a bad shot we could correct each other and kind of keep each other accountable".
The Burchams won the Parent-Child Championship back in 2019, and they said the win this year "feels great. The last time we won, it was right before I left for college, so I think we've known that me going to college and getting better and him getting older and getting better was going to make for a good team in the next few years. We really thought we had it last year, so it stung a little bit, so this feels really good." Jeff adds, "we feel like this is our era to be in contention".
The Burchams explained their excitement for this tournament each year, saying "all summer we're always working for this tournament. This tournament is the highlight of our summer, so we really mark this on the calendar and make sure that we're always available for this. There's a world father-daughter invitational in Ireland every year, but it's always the same time as the Parent-Child, and we choose this every year."
Ron Fobes + Mallory Fobes of East Bend, N.C. ended in second place at 4-under, 68 right behind the Burchams. Three teams finished at 3-under, 69: Laura Parziale + Eric Parziale of Pinehurst & Southern Pines, N.C., William Carter + Carleigh Carter of Laurinburg, N.C., and Kevin Miller + Sadler Miller of Clayton, N.C.
The Carolinas Golf Association would like to thank the members and staff at each of the courses today for helping us put on a great tournament for all of our players:
Pinewild Country Club
Legacy Golf Links
Seven Lakes Country Club
Mid Pines Inn & Golf Club
Longleaf Golf & Family Club
Mid South Club
About the Carolinas Golf Association (CGA)
The CGA is a 501(c)(3) not-for-profit educational organization founded in 1909 to promote and protect the game of golf in the Carolinas by providing competitions, education, support and benefits to golf clubs and golfers. The CGA is the second largest golf association in the country with over 700 member clubs represented by nearly 150,000 individuals.
The CGA annually conducts 48 championships and five team match competitions for men, women, juniors, and seniors. It also runs over 150 One-Day (net and gross) events and qualifying for USGA national championships. The CGA serves golf in the Carolinas with numerous programs such as: the USGA Handicap System; tournament management software and support; course measuring and course/slope ratings; agronomy consultation; answers about the Rules of Golf, Rules of Amateur Status, and Handicapping; Carolinas Golf Magazine; Interclub series; Tarheel Youth Golf Association; Carolinas Golf Hall of Fame; expense assistance for USGA Junior and Girls' Junior qualifiers from the Carolinas; and the Carolinas Golf Foundation (CGF). The CGF has distributed nearly $2,000,000 since 1977 to benefit Carolinas' golf initiatives including junior and women's programs.
For more information about the Carolinas Golf Association, follow @cgagolf1909 on Instagram, Twitter, Facebook, and TikTok or visit our website www.carolinasgolf.org/
#30#