Kim Wins Again, Captures Carolinas Junior Girls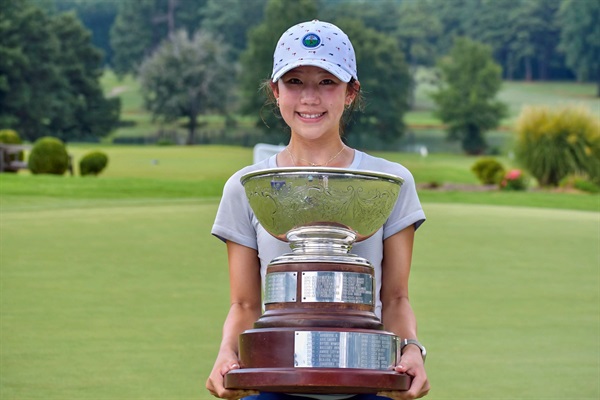 Event: 67th Carolinas Junior Girls' Championship
Host Site: Rock Hill Country Club, Rock Hill, S.C.
Playing Dates: July 27, 2023
Social Media: @CGAgolf1909
ROCK HILL, S.C. (July 27, 2023) -- Results of the 67th Carolinas Junior Girls' Championship at Rock Hill Country Club in Rock Hill, S.C. on July 27, 2023. The field competed at 6154 yards (par 36-36--72).
Jenna Kim took home her second CGA championship within the past month today at Rock Hill Country Club in Rock Hill, S.C. The 14-year-old Raleigh, N.C. local captured the 67th Carolinas Junior Girls' Championship after 54 holes with a score of 3-over par, 219. Kim has been on a roll since claiming the 97th Carolinas Women's Amateur Championship at North Ridge Country Club at the end of June.
"Here recently, I have had some really good tournaments and some bad tournaments. Knowing that my practice is paying off and learning from my mistakes helped me win this week," stated Kim.
Kim carded rounds of 70-76-73 for a 219 total, with eight birdies and 38 pars throughout the tournament.
"After that (the Carolinas Women's Amateur Championship), I still had a lot of tournaments. Playing more tournaments helped me gain more experience, which helped me come into this tournament ready to win," remarked Kim.
The lead changed several times throughout the tournament. After the first round, Kim and Leah Edwards of Greensboro, N.C., were tied for first at 2-under par. During the second round, Kim took an early lead. Kim would birdie no.18 during the second round to maintain the lead by one stroke over defending champ Caroline Hawkins. Hawkins won the Carolinas Junior Girls' Championship last year at Forsyth Country Club.
The final round was challenging for Kim, with Edwards starting very strong to tie Kim at 4-over par. Through the first eight holes, Edwards had two birdies and six pars to tie for the lead at that point. Kim answered quickly, sinking a long putt for par on the ninth hole to regain a solo lead that she would hold the rest of the round.
The competition throughout the tournament was intense between Kim, Edwards, and Hawkins. For rounds two and three, the group was paired together and knew when leads were changing.
The tournament consisted of 54 holes, and Kim knew carrying momentum from round to round was imperative. "I stayed calm this week throughout the tournament. Even with a couple of bad holes, I was able to calm myself down and move on by telling myself it was going to be okay," stated Kim.
Kim focused on hitting quality shots and playing her own game for the duration of the tournament. She was confident in her tee shots, and they kept her in the game. "Throughout the round, my drives were good and consistent," remarked Kim.
The championship came down to the wire, with Kim securing the title by only four strokes over Leah Edwards. Edwards played consistently throughout the tournament, carding rounds of 70-80-73 for a 223 total. Previous champ Caroline Hawkins of Columbia, S.C., came in third with rounds of 72-75-80 for the week.
The Carolinas Golf Association would like to thank the Rock Hill Country Club staff and members, especially the head golf professional Nick Stafford and course superintendent Bobby Savour.
About the Carolinas Golf Association (CGA)

The CGA is a 501(c)(3) not-for-profit educational organization founded in 1909 to promote and protect the game of golf in the Carolinas by providing competitions, education, support, and benefits to golf clubs and golfers. The CGA is the second largest golf association in the country, with over 700 member clubs represented by nearly 150,000 individuals.
The CGA annually conducts 48 championships and five team match competitions for men, women, juniors, and seniors. It also runs over 150 One-Day (net and gross) events and qualifying for USGA national championships. The CGA serves golf in the Carolinas with numerous programs such as: the USGA Handicap System; tournament management software and support; course measuring and course/slope ratings; agronomy consultation; answers about the Rules of Golf, Rules of Amateur Status, and Handicapping; Carolinas Golf Magazine; Interclub series; Tarheel Youth Golf Association; Carolinas Golf Hall of Fame; expense assistance for USGA Junior and Girls' Junior qualifiers from the Carolinas; and the Carolinas Golf Foundation (CGF). The CGF has distributed nearly $2,000,000 since 1977 to benefit Carolinas' golf initiatives including junior and women's programs.
For more information about the CGA, follow @cgagolf1909 on Instagram, Twitter, Facebook, and TikTok or visit our website www.carolinasgolf.org/
#30#