Virginia-Maryland Team Takes Home Mid-Atlantic Challenge Matches After Seven Years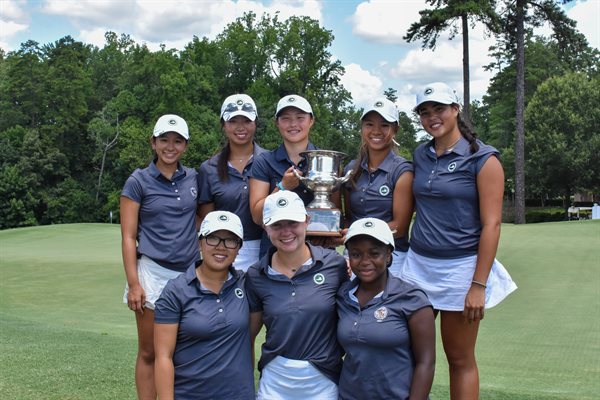 Event: 22nd Girls' Mid-Atlantic Challenge Matches
Host Site: Duke University Golf Club
Playing Dates: July 29-30, 2023
Social Media: @CGAgolf1909
LOCATION – Durham, N.C.
Congratulations to the Virginia-Maryland Team on winning the 22nd Girls' Mid-Atlantic Challenge Matches at Duke University Golf Club in Durham, N.C. The Virginia-Maryland Team won with 7.5 total points against the Carolinas Team's 4.5 total points.
This event is an annual team match competition conducted by the Carolinas Golf Association in conjunction with the Virginia and Maryland State Golf Associations. This invitation-only event puts some of the best players from North Carolina and South Carolina against a team from Virginia and Maryland.
Round 1 is a four-ball match play format, and the Final Round is singles matches, with a total of 12 points up for grabs throughout the weekend. After Round 1, the Virginia-Maryland Team had 2.5 points, and the Carolinas Team secured 1.5 points. Helen Yeung of Beltsville, MD, + Riley Kim of Aldie, VA, had the biggest win in their match against Anna Howerton of Kernersville, NC, + Emerson B. Dever of Durham, NC, at 4 & 3. On the Carolinas Team, Grace Ridenour of Cary, NC, + Saia Rampersaud of Durham, NC, won their match to earn a point for the team 1 up.
Heading into the Final Round on Sunday, it was still anyone's game, with the Carolinas Team needing six total points to retain the cup while the Virginia-Maryland Team needed 6.5 total points to win the cup.
For the Virginia-Maryland team, the Yeung sisters both had the biggest win in their singles matches, each topping their opponents 6 & 5. Irene Kim of Woodstock, MD, also had a solid win over Mia Carles of Clinton, SC, at 5 & 4.
From the Carolinas Team, a notable win was Ella June Hannant of Pikeville, NC, who went back and forth with her opponent Katie Vu of Fairfax Station, VA, but continued battling until she ultimately won 2 up. Howerton won her match against Raquel Walker of Burke, VA, at an impressive 8 & 7, and Dever won her match against Joelle Johnson of Bowie, MD, 4 & 3. Each of these wins put one point on the board for the Carolinas Team.
After the Virginia-Maryland Team added five points to their total and the Carolinas Team added three points to their total, the Virginia-Maryland Team squeaked out on top with a total of 7.5 points to take back the trophy after a seven-year drought.
The Carolinas Golf Association would like to thank all of the Duke University Golf Club staff, especially Tim Miller, Rob Pilewski, Tenisha Harris, Ed Ibarguen, and Brent Bowen, for their help and hospitality in running a fabulous tournament for our junior girls this weekend.
About the Carolinas Golf Association (CGA)
The CGA is a 501(c)(3) not-for-profit educational organization founded in 1909 to promote and protect the game of golf in the Carolinas by providing competitions, education, support and benefits to golf clubs and golfers. The CGA is the second largest golf association in the country with over 700 member clubs represented by nearly 150,000 individuals.
The CGA annually conducts 48 championships and five team match competitions for men, women, juniors, and seniors. It also runs over 150 One-Day (net and gross) events and qualifying for USGA national championships. The CGA serves golf in the Carolinas with numerous programs such as: the USGA Handicap System; tournament management software and support; course measuring and course/slope ratings; agronomy consultation; answers about the Rules of Golf, Rules of Amateur Status, and Handicapping; Carolinas Golf Magazine; Interclub series; Tarheel Youth Golf Association; Carolinas Golf Hall of Fame; expense assistance for USGA Junior and Girls' Junior qualifiers from the Carolinas; and the Carolinas Golf Foundation (CGF). The CGF has distributed nearly $2,000,000 since 1977 to benefit Carolinas' golf initiatives including junior and women's programs.
For more information about the Carolinas Golf Association, follow @cgagolf1909 on Instagram, Twitter, Facebook, and TikTok or visit our website www.carolinasgolf.org
#30#