Horne & Walker Claim 6th Hope Valley Junior Invitational Titles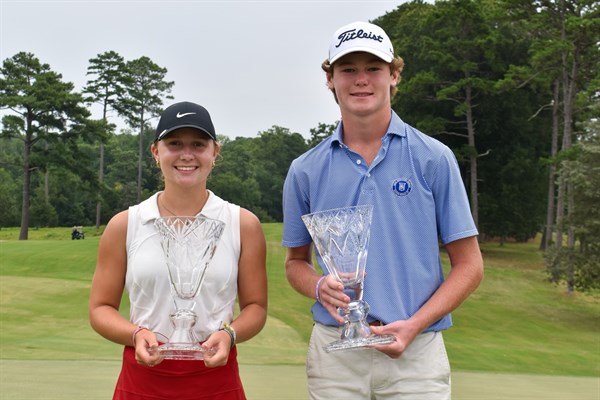 Event: 6th Hope Valley Junior Invitational
Host Site: Hope Valley Country Club, Durham, N.C.
Playing Dates: August 1- 3, 2023
Social Media: @CGAgolf1909
Related: Championship Website | Scoring | History | Photos
BOYS' DIVISION
DURHAM, N.C. - After three competitive days of golf, Thomas Horne of Fayetteville, N.C. won the 6th Hope Valley Junior Invitational at Hope Valley Country Club after overcoming a three-shot deficit heading into the final eighteen. Horne finished seven-under-par (65-72-66) after sinking an eagle shot and four birdies on the final round alone. Through the final stretch, Horne secured the title as he was three-under-par on the final nine holes of the tournament.
Going into the final day, Michael Snyder of Lillington, N.C., led the field after draining 10 birdie putts over the first thirty six holes. In the final pairing with Horne and Snyder was Maxwell VanderMolen of Richland, M.I. who sat at four-under-par through the first two rounds.
"This win means so much, to win here at Hope Valley is amazing with the layout and tough greens," said Horne. "My game plan was to just stay calm and patient and take it one shot at a time."
Horne just finished his junior year of high school at Fayetteville Terry Sanford High School. He has been competing in golf tournaments for years and was exhilarated to add to his trophy collection on Thursday afternoon.
"It was a tough round, Max and Michael played some solid golf this week so it was a battle out there," stated Horne. "(I focused on) taking deep breaths before shots and staying positive while I was out there."
In a tie for second is Harrison James of Chapin, S.C. and VanderMolen at two-under-par. James recorded nine birdies and one eagle during the entire tourney and VanderMolen finished with five birdies and two eagles of his own. Payton Schmitt of Raleigh, N.C. and Will Guthrie of Charlotte, N.C. were the final two medalists who finished tied for fourth with three-day total of 209 (-1). Guthrie had an amazing final round as he recorded three birdies and an eagle after starting the final day at three-over-par.
GIRLS' DIVISION
Final results from the Girls' Division of the 6th Hope Valley Junior Invitational at Hope Valley Country Club in Durham, N.C. on August 3, 2023. The Girls' Division competed at 5850 yards, par 70.
It was an eventful and hot week at Hope Valley Country Club for the 6th Hope Valley Junior Invitational. There was a lot of competition between the long drive competition, three days of stroke play, and a three hole playoff. Ultimately coming out on top was Raquel Walker of Burke, V.A. Walker carded rounds of 73, 70, 75 for a total 218 on the week.
"This win means a lot! When I played this event two years ago, I shot +31. To be able to come back two years later and win felt amazing," stated Walker.
The week kicked off with a long drive contest with Rachel Joyce of Pinehurst, N.C. taking home first for the girls' division with a 321 yard drive.
Through the first eighteen holes, Camilah Porras of Southern Pines, N.C. held a solo lead at even par. She tallied four birdies on her first day. Porras was in contention the rest of the week finishing within the top ten. During round two, Walker took the lead after nine and held it the rest of the round. She carded four birdies and 11 pars on the round.
Through an action packed final round, the lead changed five times. Anna Howerton of Winston Salem, N.C. parred the first nine holes to tie Walker. Lewisville, N.C. native Hallie Wilson, took matters into her own hands on the back nine with seven pars and two birdies to take the lead. Walker answered back with an eight-foot putt on No. 18 to force a playoff. Her birdie putt on No. 18 was only the second birdie on that hole for the tournament.
"My game plan today was to not choke hard. Seriously, I knew there was great competition and I learned to respect the field," remarked Walker. Walker played consistently all week and focused on hitting solid shots and staying calm. Her consistency and calmed nerves were put to the test with a three hole play off. The three-hole playoff occurred on No. 18th which is an uphill par three; all three of Walker's tee shots were within 10 feet of the pin.
"Whenever I felt pressure I would make myself take a breath and calm down a bit," remarked Walker.
The first hole of the playoff, both Walker and Wilson parred and the second hole with a bogeyed. Walker sealed the title with another eight foot birdie putt on the third playoff hole.
"This week my ball striking was great. The course was so tight and the greens were in fantastic condition. I was able to adjust my putting well. My chipping was my weakness but I learned to work around it," stated Walker.
Coming in third was Mary-Paige King of Clemmons, N.C. with a three-day total of 219 (74-74-71). Howerton, Ellie Hildreth of Wrightsville Beach, N.C., and Kennedy MacCleery of Crozet, Virginia were all tied for fourth at eleven-over-par.
The Carolinas Golf Association would like to extend its thanks to the staff and membership of Hope Valley Country Club for hosting the 6th Hope Valley Junior Invitational, especially Head Golf Professional, Bob Byrnes, Course Superintendent, Chad Buchman, Tournament Chair Allen Smith and General Manager Emzi Wewers.
About the Carolinas Golf Association (CGA)
The CGA is a 501(c)(3) not-for-profit educational organization that was founded in 1909 to promote and to protect the game of golf in the Carolinas by providing competitions, education, support and benefits to golf clubs and golfers. The CGA is the second largest golf association in the country with over 700 member clubs represented by nearly 150,000 individuals.
The CGA annually conducts 48 championships and five team match competitions for men, women, juniors, and seniors. It also runs over 150 One-Day (net and gross) events as well as qualifying for USGA national championships. The CGA serves golf in the Carolinas with numerous programs such as: the USGA Handicap System; tournament management software and support; course measuring and course/slope ratings; agronomy consultation; answers about the Rules of Golf, Rules of Amateur Status, and Handicapping; Carolinas Golf Magazine; Interclub series; Tarheel Youth Golf Association; Carolinas Golf Hall of Fame; expense assistance for USGA Junior and Girls' Junior qualifiers from the Carolinas; and the Carolinas Golf Foundation (CGF). The CGF has distributed nearly $2,000,000 since 1977 to benefit Carolinas' golf initiatives including junior and women's programs.
For more information about the Carolinas Golf Association follow @cgagolf1909 on Instagram, Twitter, Facebook, and TikTok or visit our website www.carolinasgolf.org/
#30#