Curran & Harrison Claim Daniel Meggs Memorial Junior Boys' & Girls' Titles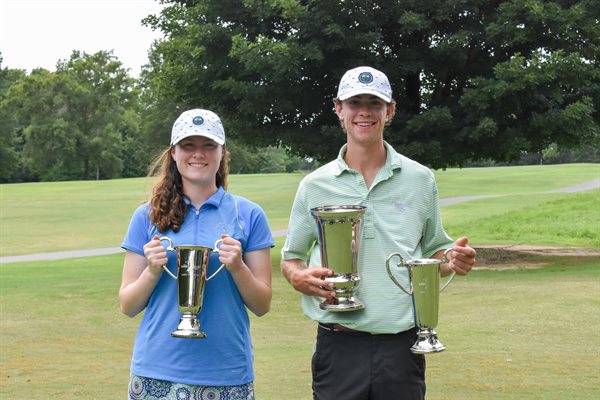 Event: 4th Daniel Meggs Junior Championship
Host Site: Catawba Creek Golf Club, Gastonia, N.C.
Playing Dates: August 7- 8, 2023
Social Media: @CGAgolf1909
Related: Championship Website | Scoring | History | Photos
GASTONIA, N.C. - Through 36 holes of golf, Ryan Curran of Waxhaw, N.C. and Mary Elizabeth Harrison of Cary, N.C. are the 4th Daniel Meggs Junior Champions at Catawba Creek Golf Club in Gastonia, N.C. Curran finished at 5-under-par for a two-day total of 135, and Harrison finished at 5-over-par for a two-day total of 145.
In the Boys' Championship Division, Curran played an impressive two days of golf. In Round 1, Curran carded four birdies and finished at 2-under to head into the Final Round on Tuesday at the top of the leaderboard. However, the leaderboard was tight as there were six players right behind him at 1-under, ready to battle it out in the Final Round.
In the Final Round, the last group to tee off included Curran, Ryan Dunn of Marvin, N.C., Tyler Taber of Mount Pleasant, S.C., and Drew Yeagley of Waxhaw, N.C. who all began within just one stroke of each other.
Curran fired another strong round, this time with five birdies on his scorecard. He was even for the day as he made the turn, and then started dropping putts for birdies on holes 10, 12, and 13. Curran finished his round by sinking a birdie putt on his 18th hole to shoot a 67 for the day and put his two-day total at 135.
Curran said he "hit the fairway, made a lot of putts, and didn't three-putt a lot," which helped him to get to the top of the leaderboard and stay there.
Michael Snyder of Lillington, N.C. and Dunn finished the tournament tied for second at 3-under-par for the week. Dunn gave Curran some tough competition as he was tied with Curran at 4-under all the way through the 15th hole of the Final Round. After a birdie on hole 11, Dunn proceeded to birdie holes 13, 14, and 15 all in a row to meet Curran at the top of the leaderboard heading into the last few holes. A bogey on hole 16 by Dunn and a birdie on hole 18 by Curran is what separated the two at the very end of the tournament.
Snyder shot 70 during Round 1 and then went low on Day 2 by carding a 67 with an incredible seven birdies. Snyder had a streak of three birdies in a row on the front nine, and then birdied hole 10 to start the back nine strong. He then had another streak of three birdies in a row on holes 13, 14, and 15 to finish the tournament on a high note.
Being the leader heading into the Final Round, Curran said his mindset was that he "didn't think about score, didn't think about anything else, but just wanted to play golf."
He said this win "means a lot. This is my first CGA win ever so it feels really great." Congrats to Curran on being added to the CGA winner's circle.
In the Girls' Championship Division, Harrison recorded six birdies over the two rounds and claimed the title as she had a seven shot lead over the runner-up. Competing with Harrison in the final pairing on Day 2 was Kelsey Sciacca of Charlotte, N.C. and Camilah Porras of Southern Pines, N.C. who both shot a 77 in Round 1.
Harrison was the leader after Round 1 with a score of 2-over, and she had three birdies throughout the day. When asked what her mindset was being the leader heading into the Final Round, she said "I just felt really confident and told myself 'I can do this'".
Harrison kept the lead of the tournament throughout the entire second day. Harrison played a second round consistent with her first, carding three birdies and finishing at 3-over for the day for a two-day total of 145.
Rachel Joyce of Pinehurst, N.C. took the runner-up position with a two-day total of 152. After shooting a 78 during Round 1, Joyce came back and shot a 74 in the Final Round by adding a few birdies to her scorecard.
Sciacca and Porras took third and fourth place respectively. Canton, N.C. native, McKenna Williams, and Landry Hamm of Charlotte, N.C. both finished tied for fifth with totals of 157.
"I feel like I did a really good job of getting it down the fairway, hitting it on the green, and then just one or two-putting to finish out the hole," Harrison said regarding what she did well this week to take home the win.
When asked what the win means to her, "it brings a lot of hope to my game. It just makes me feel really good and that I can keep going and get more wins in the future".
The Carolinas Golf Association would like to thank the HV3 Foundation, along with the staff at Catawba Creek Golf Club, especially General Manager Richard Duffy and Owner Roger Freeman for graciously hosting the 4th Daniel Meggs Junior Championship.
About the Carolinas Golf Association (CGA)
The CGA is a 501(c)(3) not-for-profit educational organization that was founded in 1909 to promote and to protect the game of golf in the Carolinas by providing competitions, education, support and benefits to golf clubs and golfers. The CGA is the second largest golf association in the country with over 700 member clubs represented by nearly 150,000 individuals.
The CGA annually conducts 48 championships and five team match competitions for men, women, juniors, and seniors. It also runs over 150 One-Day (net and gross) events as well as qualifying for USGA national championships. The CGA serves golf in the Carolinas with numerous programs such as: the USGA Handicap System; tournament management software and support; course measuring and course/slope ratings; agronomy consultation; answers about the Rules of Golf, Rules of Amateur Status, and Handicapping; Carolinas Golf Magazine; Interclub series; Tarheel Youth Golf Association; Carolinas Golf Hall of Fame; expense assistance for USGA Junior and Girls' Junior qualifiers from the Carolinas; and the Carolinas Golf Foundation (CGF). The CGF has distributed nearly $2,000,000 since 1977 to benefit Carolinas' golf initiatives including junior and women's programs.
For more information about the Carolinas Golf Association follow @cgagolf1909 on Instagram, Twitter, Facebook, and TikTok or visit our website www.carolinasgolf.org/
#30#