Cloninger and Hodges Take Home First CGA Title, Win Sr Fourball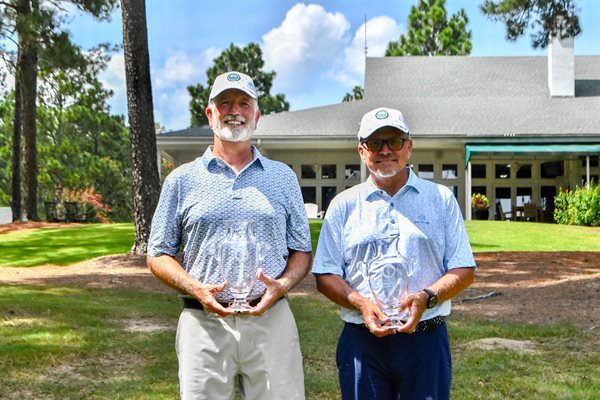 Event: 22nd North Carolina Senior Four-Ball Championship
Host Site: Pinewild Country Club
Playing Dates: August 7-9, 2023
Social Media: @CGAgolf1909
PINEHURST, N.C. - Final results from the 22nd North Carolina Senior Four-Ball at Pinewild Country Club in Pinehurst, N.C., on August 9, 2023. The field competed at 6573 yards, par 72.
It was a fun and eventful week at Pinewild Country Club for the 22nd North Carolina Senior Four-Ball Championship. After 54 holes of golf, Larry Cloninger of Gastonia, N.C., and Mark Hodges of Belmont, N.C., took home the championship. The pair led most of the tournament and finished with an impressive 17-under-par. They carded rounds of 65-65-69, with a total of 199.
"We put a lot of hard work into trying to win these tournaments. The last time we held the lead going into the final round it did not fair very well. It is very rewarding to take home this trophy this afternoon," remarked Cloninger.
This marks Cloninger and Hodges' first CGA win of their careers. Both have been playing with the CGA for many years, and it was notable for the pair to win their first together. The team has played in many tournaments together over the years and has come close to capturing championships several times.
"I have been playing in CGA stuff for 20 some years, and this is the first time I have won. This is awesome," stated Hodges. "We were having deja vu all day from previous tournaments where we held the lead going into the final round but could not finish it. Luckily today, 3-under was enough for us to get it done," remarked Hodges.
The field saw persevered through harsh conditions through the first round of play, with storms moving through the area with strong winds and heavy rain leading to a suspension of play for the rest of the day. Due to the storm, round 1 was put on hold, with several groups waiting to finish Tuesday morning. The storm Monday afternoon and light rain Tuesday evening made for rough, wet course conditions for the rest of the tournament.
Cloninger and Hodges shot back-to-back rounds of 7-under-par, 65 in the first two rounds for the three-round championship. It was nothing short of a birdie fest for the pair. Cloninger and Hodges had 20 birdies over the past three days and went bogey-less until the final round.
"We like playing boring golf. For the most part, we hit fairways and greens, then we sink putts, and it's nothing too exciting," remarked Cloninger.
Winning the North Carolina Senior Four-Ball Championship takes consistency, and Cloninger and Hodges did just that. The pairs' mindset was to play their own game and to know that they do not do this for a living, so if they mess up, it will be okay. They seemed to enjoy just being out on the golf course truly.
"It is easy when you have Larry as a partner. He never gets in any trouble. If I can help him every few holes, then we'll be in good shape," remarked Hodges. "We're a good team. We play a lot together, whether it's at home or out at tournaments. We complement each other on the course," stated Cloninger.
They were having fun and joking around every time you passed the duo. You would not know they were leading a tournament if you had not checked the leaderboard.
"We like to keep golf fun, and there is no point in stressing about it. We play in tournaments how we play every day, remarked the duo.
The leaderboard throughout the tournament saw constant changes and upsets. Everyone was hot on the trail, trying to reach the number one spot. Having finished second in several tournaments, Cloninger did not want to know what was happening within the leaderboard during the final round. He did not check the leaderboard until the 18th hole during the final round. Cloninger said, "I checked walking up to 18 green because I needed to know if I needed to make the putt or not."
The tournament finished with a five-way tie for second at 14-under-par, 202. The tie included Sherrill Britt of West End, N.C., and Daniel Neveu of Pinehurst, N.C., last year's North Carolina Senior Four-Ball Champions. The second group was Joe Jaspers of Huntersville, N.C., and Jim Aughtry of Concord, N.C. Also tied were the duo of Gary Robinson and Chris Holland of Fayetteville, N.C., the team of Patrick Brady of Reidsville, N.C., and Steve Harwell of Mooresville, N.C., and Neal Morrison and Bill Plyler of Charlotte, N.C.
The Carolinas Golf Association would like to thank the staff and membership of Pinewild Country Club, mainly General Manager Chris Little, Head Golf Professional Kyle Kirk, Director of Golf Course Maintenance Sean Giordano, and Melissa Green.
About the Carolinas Golf Association (CGA)
The CGA is a 501(c)(3) not-for-profit educational organization founded in 1909 to promote and protect the game of golf in the Carolinas by providing competitions, education, support, and benefits to golf clubs and golfers. The CGA is the second largest golf association in the country, with over 700 member clubs represented by nearly 150,000 individuals.
The CGA annually conducts 48 championships and five team match competitions for men, women, juniors, and seniors. It also runs over 150 One-Day (net and gross) events as well as qualifying for USGA national championships. The CGA serves golf in the Carolinas with numerous programs such as: the USGA Handicap System; tournament management software and support; course measuring and course/slope ratings; agronomy consultation; answers about the Rules of Golf, Rules of Amateur Status, and Handicapping; Carolinas Golf Magazine; Interclub series; Tarheel Youth Golf Association; Carolinas Golf Hall of Fame; expense assistance for USGA Junior and Girls' Junior qualifiers from the Carolinas; and the Carolinas Golf Foundation (CGF). The CGF has distributed nearly $2,000,000 since 1977 to benefit Carolinas' golf initiatives including junior and women's programs.
For more information about the Carolinas Golf Association, follow @cgagolf1909 on Instagram, Twitter, Facebook, and TikTok, or visit our website www.carolinasgolf.org/
#30#