Kaufman and Lauture Earn First CGA Wins at Mimosa Hills Junior Invitational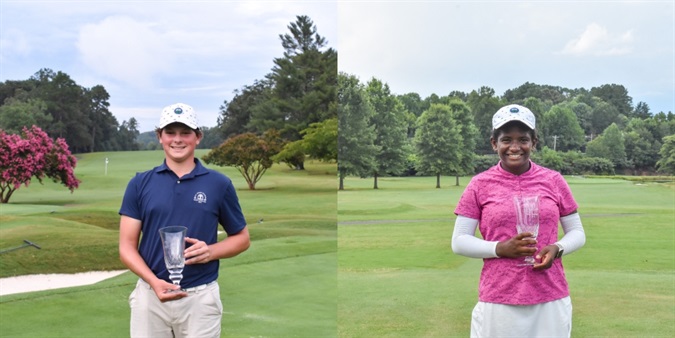 Event: 4th Mimosa Hills Junior Invitational
Host Site: Mimosa Hills Country Club
Playing Dates: August 26-27, 2023
Social Media: @CGAgolf1909
LOCATION – Morganton, N.C.
It was an eventful weekend at Mimosa Hills CC for the 4th Mimosa Hills Junior Invitational. Congratulations to Timothy Kaufman of Cary, N.C. on winning the Boys' Division with a two-day total of 134, 6-over, and to Sophie Lauture of Concord, N.C. on winning the Girls' Division with a two-day total of 145, 1-over.
Boys' Division
Kaufman played two impressive rounds of golf this weekend to take home the trophy. During Round 1, he carded three birdies to come in at 68, 2-under for the day. The leaderboard was tight after Round 1 with three players tied for first at 4-under - John John Santospago of Charlotte, N.C., Will Brown of Fayetteville, N.C., and Tag Graziano of Hilton Head Island, S.C. Kaufman, just two strokes behind the leaders, was ready to play a solid round on Sunday.
"I'd say that the game plan stayed the same all weekend actually. I told myself to be aggressive, keep my foot on the gas, but don't be reckless," Kaufman noted.
During the Final Round on Sunday, Kaufman recorded six birdies throughout the day to help him climb the leaderboard.
"I putted the ball great today. I found myself giving myself a lot of birdie opportunities. I stayed really consistent off the tees and gave myself good looks at greens and set myself up to score," Kaufman said regarding what he did well this weekend to set him apart.
In the late afternoon of the Final Round, storms rolled in and caused a weather delay. There were still a handful of boys' groups out on the course, and plenty of opportunity to make a move on the leaderboard.
When asked if the weather delay impacted his game mentally and/or physically, Kaufman explained "it really didn't to be honest. I was really hoping to get back out here because I felt that I really had a chance to win. I'd say it was a good refresher to keep myself relaxed. I saw myself towards the top of the leaderboard during the delay so I was getting eager to get back out there. I wanted to win so bad so it helped me to stay in the zone and it ended up helping".
Kaufman jumped six places on the leaderboard to make it to the top and seal the win. "I definitely felt the pressure, but I was really excited to get it done."
Regarding what this first CGA win means to him, Kaufman said "it means everything. I've been dreaming of this since I started playing in these tournaments. It's just so cool to be a part of CGA history because you guys are the biggest tournaments in the area. It's a little bit of a relief and it shows how much I've been practicing, and that hard work pays off."
Already a week and a half into his senior year, Kaufman added that "the win gives me confidence that senior year is going to be even better - this is the start of something great. I'm hoping to make a great run my senior year and hopefully win a couple more of these."
Charles McPherson of Durham, N.C., Connor Warren of Spruce Pine, N.C., and CJ Peterson of Wake Forest, N.C. all finished tied for second place at a two-day total of 135, 5-under.
Girls' Division
Lauture won the Girls' Division by shooting 70-75 for a two-day total of 145, 1-over. Lauture played an impressive day of golf during Round 1 with a score of 2-under. With five birdies on her scorecard, she was in a good spot heading into the Final Round.
"The first day my driver was really good. I was able to hit a lot of fairways and give myself a lot of opportunities," Lauture said about her game during Saturday's round.
For the Final Round on Sunday, Lauture was in the final pairing along with Xinyan Li of Waxhaw, N.C., leader after Round 1, and Ira Joshi of Pinehurst, N.C.
When asked if she felt any pressure or nerves being in the final group during the Final Round, Lauture explained "at the beginning, no. Towards the end, I took a look at the leaderboard and saw I was in first place so I was just trying to continue hitting greens and playing the way I had been."
Lauture finished strong with a birdie on 17, and then she confidently made a short putt for par on 18 to secure the title. "I did really well with my putting. I made a lot of putts. Overall, my putting and short game were the best part of my game this weekend," Lauture explained.
When asked how she beat the heat this weekend, Lauture said "a lot of towels, a lot of water, a lot of electrolytes, and just making sure I was eating enough."
This was also Lauture's first CGA championship win. Lauture said "it means a lot. I've been struggling with my game the past couple years, and I've been able to make such substantial progress these past two months. So this win is a lot of reassurance on what's to come in the future."
+
Hallie Wilson of Lewisville, N.C. came in second place after shooting rounds of 77 and 70 for a two-day total of 147, 3-over. After coming in with a 77 after Round 1, Wilson kicked it into high-gear during the Final Round to start climbing the leaderboard. With two birdies on the front nine, Wilson was ready to play a strong back nine to give herself a chance. She carded a bogey-free back nine with three birdies to shoot 70 for the day, 2-under. Because of her impressive performance on Sunday, Wilson jumped seven places up the leaderboard in the Final Round to secure her spot in second. Malerie Lague of Huntersville, N.C. finished behind her in third place with a total score of 5-over for the weekend.
The Carolinas Golf Association would like to thank Head Golf Professional Jimmy Piercy and Head Golf Course Superintendent Dan Winters, and the rest of the staff at Mimosa Hills Country Club for hosting an incredible 4th Mimosa Hills Junior Invitational.
About the Carolinas Golf Association (CGA)
The CGA is a 501(c)(3) not-for-profit educational organization founded in 1909 to promote and protect the game of golf in the Carolinas by providing competitions, education, support and benefits to golf clubs and golfers. The CGA is the second largest golf association in the country with over 700 member clubs represented by nearly 150,000 individuals.
The CGA annually conducts 48 championships and five team match competitions for men, women, juniors, and seniors. It also runs over 150 One-Day (net and gross) events and qualifying for USGA national championships. The CGA serves golf in the Carolinas with numerous programs such as: the USGA Handicap System; tournament management software and support; course measuring and course/slope ratings; agronomy consultation; answers about the Rules of Golf, Rules of Amateur Status, and Handicapping; Carolinas Golf Magazine; Interclub series; Tarheel Youth Golf Association; Carolinas Golf Hall of Fame; expense assistance for USGA Junior and Girls' Junior qualifiers from the Carolinas; and the Carolinas Golf Foundation (CGF). The CGF has distributed nearly $2,000,000 since 1977 to benefit Carolinas' golf initiatives including junior and women's programs.
For more information about the Carolinas Golf Association, follow @cgagolf1909 on Instagram, Twitter, Facebook, and TikTok or visit our website www.carolinasgolf.org/
#30#