Womble Runs Away With NC Mid-Am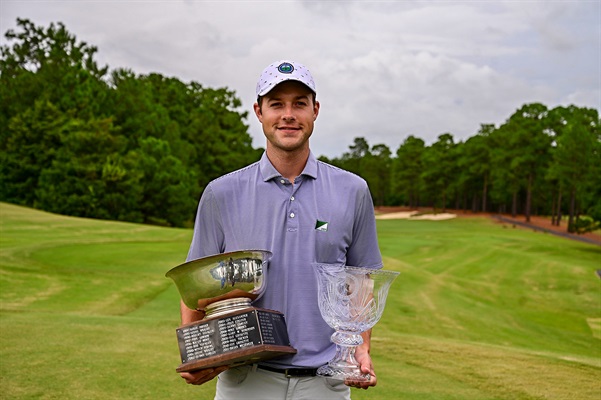 Pinehurst, N.C. (September 23, 2023) -- Final results of the 30th North Carolina Mid-Amateur Championship at Forest Creek Golf Club in Pinehurst, N.C., on September 23, 2023. The field competed at 6,978 yards (par 36-36--72).

Davis Womble of Winston-Salem, N.C., went wire-to-wire at Forest Creek Golf Club to win the 30th North Carolina Mid-Amateur Championship, finishing with a 13-under-par, 203 total. The victory came with an impressive seven-stroke lead after making nine birdies on his final fifteen holes.
"I've struggled a bit this year from a golf perspective, so it was to finish my tournament year with a wind," mentioned an elated Womble. "It gives me confidence, hopefully rolling into 2024."
Womble possessed a one-shot lead after the first round of competition over Jared Howard of Charlotte, N.C., and again coming into Saturday's third and final round. The lead quickly disappeared, however, in today's round after Womble made double bogey on holes two and three.
"Yeah, definitely a challenging start," said Womble. "After that, I was able to settle down, I made about a 25-footer on four, that really jump-started my round. The putter was red hot the rest of the day, and that catapulted me to making nine birdies on the last fifteen holes."
Womble would indeed bounce back with that beautiful birdie putt on the fourth, then catching on fire, making five birdies in a row on holes seven to eleven. He would tack on birdies for good measure on 15, 16, and 18 as well for a 31 back-nine.
Howard also stumbled at the beginning of the day, opening with a double bogey and bogey. He would steady the ship the rest of the way to finish second with a 6-under, 210 total. Joshua Martin of Pinehurst, N.C., made an eagle on 10 to move up the leaderboard and secure third place, finishing at 5-under, a 211 total.
The third lead group member, Cyrus Stewart of Raleigh, N.C., played well to begin the day but struggled down the stretch with three bogeys on his back-nine to finish at 3-under. Matt Schall of Matthews, N.C., would also shoot 3-under overall to tie Stewart.
Forest Creek was a beautiful backdrop, even as weather conditions toughed up over the final two days. The first day of Fall brought with it some chilly rain and high winds scattered throughout the third round, and the course crew worked tirelessly to give the golfers a fantastic, conditioned course.
"There's a lot of dog leg rights and driver opportunities, and I tend to hit a power fade off the tee, so I feel very comfortable out here," added Womble. "The greens were also perfect and very fast, which I like to see, just felt very comfortable all around."
The Carolinas Golf Association would like to thank the staff at Forest Creek Golf Club, especially Matt Sipple, General Manager, Mary Dutton, Clubhouse Manager, David Lee, Director of Courses and Grounds, and Hugh Matthis, Director of Golf, for graciously hosting the 30th North Carolina Mid-Amateur Championship.
Event: 30th North Carolina Mid-Amateur Championship
Host Site: Forest Creek Golf Club in Camden, S.C.
Playing Dates: September 21-23, 2023
Social Media: @CGAgolf1909
Final Results: Leaderboard
About the Carolinas Golf Association (CGA)
The CGA is a 501(c)(3) not-for-profit educational organization founded in 1909 to promote and protect the game of golf in the Carolinas by providing competitions, education, support, and benefits to golf clubs and golfers. The CGA is the second largest golf association in the country with over 700 member clubs represented by nearly 150,000 individuals.
The CGA annually conducts 48 championships and five team match competitions for men, women, juniors, and seniors. It also runs over 150 One-Day (net and gross) events and qualifying for USGA national championships. The CGA serves golf in the Carolinas with numerous programs such as: the USGA Handicap System; tournament management software and support; course measuring and course/slope ratings; agronomy consultation; answers about the Rules of Golf, Rules of Amateur Status, and Handicapping; Carolinas Golf Magazine; Interclub series; Tarheel Youth Golf Association; Carolinas Golf Hall of Fame; expense assistance for USGA Junior and Girls' Junior qualifiers from the Carolinas; and the Carolinas Golf Foundation (CGF). The CGF has distributed nearly $2,000,000 since 1977 to benefit Carolinas' golf initiatives, including junior and women's programs.
For more information about the Carolinas Golf Association, follow @cgagolf1909 on Instagram, Twitter, Facebook, and TikTok, or visit our website www.carolinasgolf.org
##30##