Wilson Brings Home Jimmy Anderson Girls' Invitational Hardware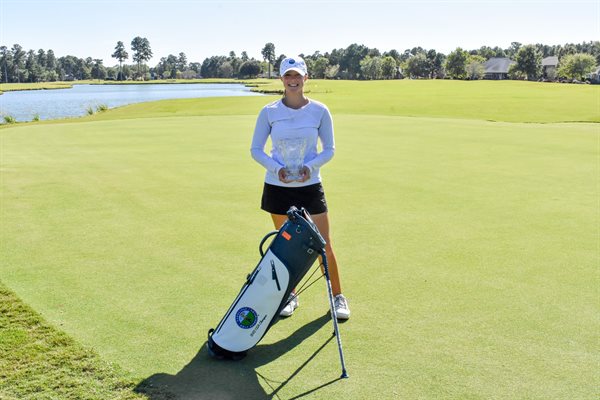 Event: 14th Jimmy Anderson Girls' Invitational
Host Site: Taberna Country Club, New Bern, N.C.
Playing Dates: October 7-8, 2023
Social Media: @CGAgolf1909
LOCATION – New Bern, N.C.
Congratulations to Hallie Wilson of Lewisville, N.C. on winning the 14th Jimmy Anderson Girls' Invitational at Taberna Country Club in New Bern, N.C. Wilson shot a 73-70 to finish at a two-day total of 143, 1-under at the top of the leaderboard.
In Round 1, the field battled through rain and wind throughout the day, with occasional patches of clouds and sun. Wilson carded four birdies for the day and finished at 73, 1-over to put her tied for third place at the end of the day. Regarding what she did well over the weekend, Wilson noted "I hit my shots where I needed to, I kept the ball safe. I putted really well this weekend and made a lot of long putts."
Heading into the Final Round on Sunday, Wilson was four strokes behind the lead. When asked how she felt going into Sunday's round, Wilson said "I knew I could come back. I was very confident in myself that I could. I woke up this morning, had a goal, and stuck to it and the result was pretty good."
In the Final Round, Wilson started the back nine strong with a birdie on 10, and then kicked it into high gear as she birdied holes 14, 15, and 16.
Talking about her mentality during the Final Round, specifically around that birdie stretch on the back nine, Wilson said "I made some birdies but then kept making some mistakes too, so I just knew the next few holes were birdie opportunities. After I birdied the hole 14, the par 3, I said 'Okay, birdie, birdie, birdie'". I just really focused on my strong points and I took riskier shots to make birdies possible."
This birdie streak widened the gap on the leaderboard and gave her a comfortable lead heading into the last couple holes. "It definitely gave me more of a stand. I felt more confident knowing my score was getting lower. I got a little nervous at the end but those birdies definitely gave me some more confidence," Wilson explained.
Many players were in and out of contention throughout the Final Round, making the leaderboard active and interesting to watch. When asked if Wilson was watching the leaderboard, she said "I didn't today. I wanted to focus more on myself and focus on playing better than yesterday. I focused on 'let me get as low as possible so no one can get close'".
Wilson's mom was out on the course all weekend supporting her. Wilson shared that it means the world to her to have her mom's support, saying "she's done a lot for me, always driving me to golf tournaments and to the golf course every day. My dad couldn't be here today but he's also been a big part of my game, helping my swing out and always being there for me. They're always there for me if I win or lose."
Wilson was close to winning the Jimmy Anderson Girls' Invitational last year, and explained that this win "means a lot. I've been close a lot this year, and it just feels really good to finally pull it off, at a special place too and especially after being so close last year."
Miraya Lurie of Raleigh, N.C. was the leader after Round 1 with a score of 3-under, and ultimately ended tied for second place with a two-day total of 145, 1-over. Tied with her for second place was Madison Rizzo of Leesbrug, VA.
The Carolinas Golf Association would like to thank Head Professional Mark Willams, Superintendent Wade Faircloth, and the rest of the staff at Taberna Country Club for helping us host a fantastic tournament this weekend.
About the Carolinas Golf Association (CGA)
The CGA is a 501(c)(3) not-for-profit educational organization founded in 1909 to promote and protect the game of golf in the Carolinas by providing competitions, education, support and benefits to golf clubs and golfers. The CGA is the second largest golf association in the country with over 700 member clubs represented by nearly 150,000 individuals.
The CGA annually conducts 48 championships and five team match competitions for men, women, juniors, and seniors. It also runs over 150 One-Day (net and gross) events and qualifying for USGA national championships. The CGA serves golf in the Carolinas with numerous programs such as: the USGA Handicap System; tournament management software and support; course measuring and course/slope ratings; agronomy consultation; answers about the Rules of Golf, Rules of Amateur Status, and Handicapping; Carolinas Golf Magazine; Interclub series; Tarheel Youth Golf Association; Carolinas Golf Hall of Fame; expense assistance for USGA Junior and Girls' Junior qualifiers from the Carolinas; and the Carolinas Golf Foundation (CGF). The CGF has distributed nearly $2,000,000 since 1977 to benefit Carolinas' golf initiatives including junior and women's programs.
For more information about the Carolinas Golf Association, follow @cgagolf1909 on Instagram, Twitter, Facebook, and TikTok or visit our website www.carolinasgolf.org/
#30#