Snyder goes Wire-To-Wire at Jimmy Anderson Invitational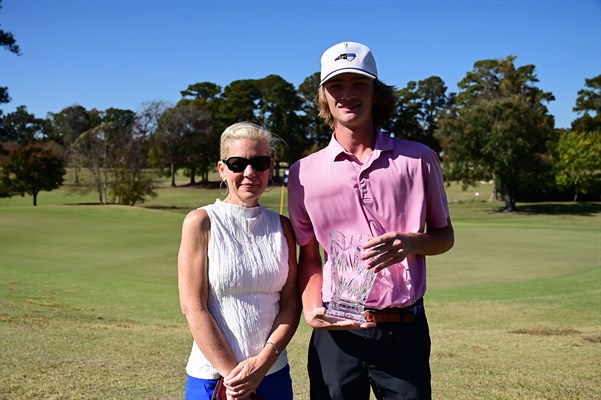 (Snyder pictured above with Jimmy Anderson's daughter Donna)
GREENVILLE, N.C. (October 29, 2023) -- Final results of the 15th Jimmy Anderson Boys' Invitational at Greenville Country Club in Greenville, N.C. The field competed at 6,220 yards (35-35--70).
After three exceptional rounds over two warm days, Michael Snyder of Lillington, N.C., went wire-to-wire to capture the 15th playing of the Jimmy Anderson Boys' Invitational hosted by Greenville Country Club in Greenville, N.C.
Snyder shot brilliant rounds of 64-67-66 for a thrilling thirteen-under-par on the tournament. "There were definitely some nerves coming into today, but I handled them well," said Snyder after his three solid rounds. "I just stayed focused on what was next and didn't get too far ahead of myself."
Opening today's round, Snyder was chased by a trio of Williams, Lake, Groves, and Connor (no relation). With nine holes to play on Sunday, Snyder carried just a two-stroke lead over Groves Williams of Greenville, S.C., but dropped birdies on 11, 12, and 16 to expand his breathing room, eventually winning by seven over the field. Grove Williams would finish in second at six-under par on the strength of 65-68-71 rounds.
"This is my first CGA win and sits number 1 in my golf career 100%, this is the best golf thing to happen to me so far," added the 16-year-old junior high school student. "I plan to go play college golf after, and then after that, hopefully play professional."
Jude Carper of Cornelius, N.C., had a steady third eighteen to climb a few spots on the leaderboard and finish in third with a five-under on 71-68- 66 rounds.
"Everything just kind of clicked, I putted really well, hit the ball really well, and just played very solid," added a delighted Snyder.
Congratulations also goes out to Dylan Johnson of Raleigh, N.C., on his first-ever hole-in-one on the par 3, third hole in today's final round.
The Carolinas Golf Association would like to extend a sincere thank you to the welcoming staff and members at Greenville Country Club, especially Head Professional Rob Farmer, Course Superintendent Jason Worley, and General Manager Andrea Pinner for hosting the 15th Jimmy Anderson Boys' Invitational.
Event: 15th Jimmy Anderson Boys' Invitational.
Host Site: Greenville Country Club, N.C.
Playing Dates: October 28-29, 2023
Social Media: @CGAgolf1909
Final Results: Leaderboard
About Jimmy Anderson
Jimmy Anderson was the head golf professional at Jacksonville Country Club for over 25 years. Each Saturday morning, he conducted a junior golf clinic to help spread the game of golf to the next generation.
During his tenure at Jacksonville CC, he taught many juniors, including Mallory Miller, the 1987 N.C. Junior Champion and numerous future collegiate and golf professionals. Not only did he teach the game of golf, but he was always there with a helpful word of encouragement to any young golfer. His daughter Donna was on hand to present this year's trophy after the passing of her father, Jimmy, this past year.
About the Carolinas Golf Association (CGA)
The CGA is a 501(c)(3) not-for-profit educational organization founded in 1909 to promote and protect the game of golf in the Carolinas by providing competitions, education, support, and benefits to golf clubs and golfers. The CGA is the second largest golf association in the country, with over 700 member clubs represented by nearly 150,000 individuals.
The CGA annually conducts 48 championships and five team match competitions for men, women, juniors, and seniors. It also runs over 150 One-Day (net and gross) events and qualifying for USGA national championships. The CGA serves golf in the Carolinas with numerous programs such as: the USGA Handicap System; tournament management software and support; course measuring and course/slope ratings; agronomy consultation; answers about the Rules of Golf, Rules of Amateur Status, and Handicapping; Carolinas Golf Magazine; Interclub series; Tarheel Youth Golf Association; Carolinas Golf Hall of Fame; expense assistance for USGA Junior and Girls' Junior qualifiers from the Carolinas; and the Carolinas Golf Foundation (CGF). The CGF has distributed nearly $2,000,000 since 1977 to benefit Carolinas' golf initiatives, including junior and women's programs.
For more information about the Carolinas Golf Association, follow @cgagolf1909 on Instagram, Twitter, Facebook, and TikTok, or visit our website www.carolinasgolf.org
##30##