Pinehurst Country Club Defends Title to Bring Home Their Sixth Carolinas Women's Club Team Trophy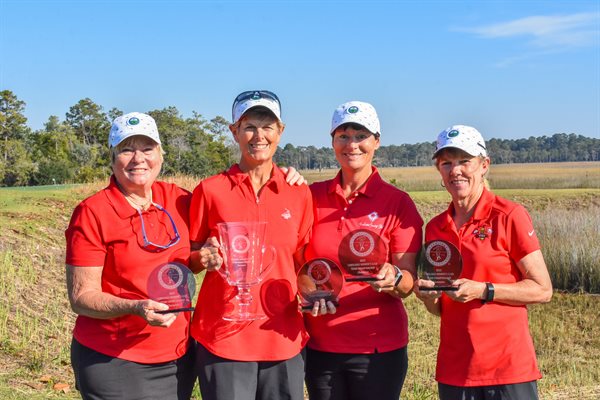 Event: 7th Carolinas Women's Club Team Championship
Host Site: The Clubs at St. James (Founders Club), Southport, N.C.
Playing Dates: November 7-8, 2023
Social Media: @CGAgolf1909
LOCATION – Southport, N.C.
Congratulations to Pinehurst Country Club (A) on taking home the win of the 7th Carolinas Women's Club Team Championship at The Clubs at St. James (Founders Club) in Southport, N.C. The team finished at 16-under to take home the win for the sixth year.
The team included Toni Notaro, Sarah Phillips-Durst, Patty Moore, and Judy Penman. When asked how they worked well together as a team this week, they attributed it to "familiarity" and explained that "we've all been partners back home". Penman shared that "we know how to keep each other positive".
In Round 1 of captain's choice, Notaro and Phillips-Durst were paired together and Moore and Penman were teamed up together. Notaro and Phillips-Durst were on fire, carding 11 birdies for the day to come in at an incredible 11-under, 61. Phillips-Durst drained a long birdie putt from the fringe on their last hole of play in Round 1 to make for an exciting celebration to wrap up the day.
Regarding what the dynamic was like within their pairings, Notaro shared "I was just trying to stay out of Sarah's way on the green. Her putter was on fire. I only putted six times yesterday. We had some good approach shots but she drained some long putts."
Moore and Penman recorded six birdies and even an eagle on the par 4 #12 for an 8-under, 64 round, putting the team at a total of 19-under-par at the end of Round 1.
"Our dynamic was I was trying to get one in play and then turn her [Penman] loose," Moore explained. "It's fun when you get that lead, and then you just don't want to throw it away."
Pinehurst CC headed into the Final Round on Wednesday with an eight-stroke lead over the next teams on the leaderboard, Mid South Club and Pinehurst Country Club (B) tied for second place at 11-under.
In the Final Round of Pinehurst alternate shot, Notaro and Phillips-Durst were paired together again along with Moore and Penman. Notaro and Phillips-Durst shot 4-over for the day, and Moore and Penman came in at an impressive 1-under in this format. Teams found the Pinehurst alternate shot to be more challenging. "Today was just about making pars," Notaro and Phillips-Durst said.
This is Pinehurst Country Club's sixth time winning this championship, and when asked what their club's key to success is over all these years, team captain Moore said "I think our club just has a lot of strong women, and I think our club gets along really well and we're all friends."
Regarding how it feels to defend the title for another year, Moore explained "we don't want to stop. We want to defend and come back and make them chase us again."
"We just want to represent Pinehurst and we're appreciative of the opportunity," Notaro shared.
Mid South Club, represented by Lorin Wagler, Sherry Bowman, Shara Fordyce, and Barb Syler, came in second place in the Championship Division - Flight 1 at a two-day total of 9-under.
Congratulations also to the winning clubs of the remaining Divisions and Flights:
Championship Division - Flight 2: Pinehurst Country Club (C) at -9
Carolinas Division - Flight 1: Cullasaja Club at -16
Carolinas Division - Flight 2: Greenville Country Club at E
Carolinas Division - Flight 3: Palmetto Golf Club at -2
The Carolinas Golf Association would like to thank Director of Golf Dave Kjmoe, Head Golf Professional Lee Doiron, Course Superintendent James McGinnis, and the rest of the staff at The Clubs at St. James for hosting this event.
About the Carolinas Golf Association (CGA)
The CGA is a 501(c)(3) not-for-profit educational organization founded in 1909 to promote and protect the game of golf in the Carolinas by providing competitions, education, support and benefits to golf clubs and golfers. The CGA is the second largest golf association in the country with over 700 member clubs represented by nearly 150,000 individuals.
The CGA annually conducts 48 championships and five team match competitions for men, women, juniors, and seniors. It also runs over 150 One-Day (net and gross) events and qualifying for USGA national championships. The CGA serves golf in the Carolinas with numerous programs such as: the USGA Handicap System; tournament management software and support; course measuring and course/slope ratings; agronomy consultation; answers about the Rules of Golf, Rules of Amateur Status, and Handicapping; Carolinas Golf Magazine; Interclub series; Tarheel Youth Golf Association; Carolinas Golf Hall of Fame; expense assistance for USGA Junior and Girls' Junior qualifiers from the Carolinas; and the Carolinas Golf Foundation (CGF). The CGF has distributed nearly $2,000,000 since 1977 to benefit Carolinas' golf initiatives including junior and women's programs.
For more information about the Carolinas Golf Association, follow @cgagolf1909 on Instagram, Twitter, Facebook, and TikTok or visit our website www.carolinasgolf.org/
#30#