Marion Lake Club Battles to Win Carolinas Interclub Championship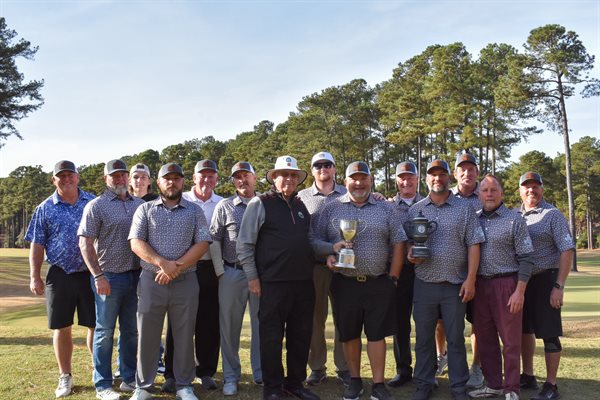 Event: 26th Carolinas Interclub Championship
Host Site: Pinewild Country Club (Holly), Pinehurst, N.C.
Playing Dates: November 13-14, 2023
Social Media: @CGAgolf1909
LOCATION – Pinehurst, N.C.
Congratulations to Marion Lake Club on winning the 26th Carolinas Interclub Championship at Pinewild Country Club in Pinehurst, N.C. with a total of 86 points. It was a beautiful two days for a fun competition between the four teams that made it to the Interclub Finals this week. Each team had eight competing players per team and two non-competing alternates per team.
In Monday's Semi-Final matches, it was Sapona Club vs. Porters Neck, and Marion Lake Club vs. Palisades CC. Sapona Club won two of their matches, tied one, and lost one for a total of 47 points to Porters Neck's 33 points. Anthony Baker + Joey Alexander of Sapona Club swept their match, winning 8 & 6. Marion Lake Club also won two of their matches, tied one, and lost one to end with a slimmer margin, but still coming out on top with 41.5 points to Palisades CC's 38.5 points. These matches were closer, with Marion Lake Club winning two matches 2 & 1 and 1 up.
In the Finals on Tuesday, it was Sapona Club vs. Marion Lake Club to determine who would be this year's champion. With Sapona coming in with 47 points and Marion Lake Club coming in with 41.5 points, it was anyone's game heading into the last day of matches.
It was a tight race throughout the majority of the day, with each match keeping both teams' total points practically tied for most of the round. Marion Lake Club was up early in a couple matches, keeping them in the running and lessening the gap in total points. Sapona Club won the first match 5 & 4. However, Terry Trinks + Mike Lewis from Marion Lake Club won the second match 4 & 2, giving Marion Lake CC 13.5 points and making the championship harder to win for Sapona Club. Marion Lake Club won the last two matches of the day 1 up and 4 & 3, claiming the title for the 26th Carolinas Interclub Championship.
Marion Lake Club earned 44.5 points in Tuesday's matches, ending up with a total of 86 points for the tournament. Sapona Club had 35.5 points in the Finals to finish as runner-ups with 82.5 points.
Many members of Marion Lake Club made the drive to Pinehurst, N.C. to support and cheer on the team representing their club, making for an exciting celebration after the final putts dropped on the 18th hole.
The Carolinas Golf Association would like to thank the members and staff at Pinewild Country Club for hosting this year's Carolinas Interclub Championship.
About the Carolinas Golf Association (CGA)
The CGA is a 501(c)(3) not-for-profit educational organization founded in 1909 to promote and protect the game of golf in the Carolinas by providing competitions, education, support and benefits to golf clubs and golfers. The CGA is the second largest golf association in the country with over 700 member clubs represented by nearly 150,000 individuals.
The CGA annually conducts 48 championships and five team match competitions for men, women, juniors, and seniors. It also runs over 150 One-Day (net and gross) events and qualifying for USGA national championships. The CGA serves golf in the Carolinas with numerous programs such as: the USGA Handicap System; tournament management software and support; course measuring and course/slope ratings; agronomy consultation; answers about the Rules of Golf, Rules of Amateur Status, and Handicapping; Carolinas Golf Magazine; Interclub series; Tarheel Youth Golf Association; Carolinas Golf Hall of Fame; expense assistance for USGA Junior and Girls' Junior qualifiers from the Carolinas; and the Carolinas Golf Foundation (CGF). The CGF has distributed nearly $2,000,000 since 1977 to benefit Carolinas' golf initiatives including junior and women's programs.
For more information about the Carolinas Golf Association, follow @cgagolf1909 on Instagram, Twitter, Facebook, and TikTok or visit our website www.carolinasgolf.org/
#30#