Cadieux Eagles 18 to Win & Joshi Dominates at Collegiate Showcase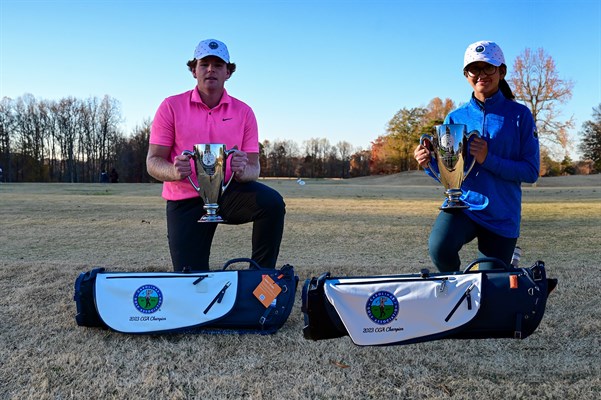 GREENSBORO, N.C. (November 19, 2023) -- Final results of the 4th Carolinas Collegiate Showcase at Grandover Resort and Spa in Greensboro, N.C. on November 19, 2023.
Beautiful fall temperatures supported strong play and tight scores of a strong field at the 4th Carolinas Collegiate Showcase played at the challenging Grandover Resort and Spa in Greensboro, N.C., over the weekend.
Ira Joshi of Pinehurst, N.C., and Tanner Cadieux of Greensboro, N.C., captured their respective titles on the strength of solid and consistent play.
The field competed on two different courses at Grandover Resort, the East Course and the West Course. Joshi played her final round on the West Course, which she remarked was a positive way to finish the showcase.
"The East course definitely played tougher for me, but I putted good," said Joshi. "Yesterday, my putting and chipping were really good, and today, I think my irons were better."
Joshi played two solid rounds, a 73 and 72 (145), to take the girl's title by five strokes, the identical lead she took into the final eighteen. A mix of birdies and bogeys by Joshi on the front nine were supported by birdies on 14 and 15.
Having defeated some older golfers in her win, Joshi added, "I think it definitely helps me realize I can probably play in bigger events." She added, "I'd possibly like to play on the LPGA one day."
Gracie Song of Waxhaw, N.C., fired off the only round under par in the girls' division with a final round of 1-under-par, 71, which moved her two positions up the leaderboard to earn runner-up at 6-over-over-par, 150 total. Victoria Davis of Cary, N.C., earned third place with at 9-over-par, 153.
While Joshi took the girls' division by five strokes, the race to the boys' division title was much tighter. Down the stretch, a half dozen players were in striking distance, resulting in the championship ultimately coming down to the eighteenth hole. In the final group, Cadieux fired an incredible long second shot from the fairway, resulting in an eagle putt that would ultimately win the boy's title.
Cadieux would fire rounds of 70 and 71, a 141 total, to win by a single stroke at three-under-par. Hank Johnson of Newland, N.C., was behind him, who went 69-73, 142 total. Following up just one additional shot behind in third place was Warren Stiglitz of Denver, N.C.,
"This is definitely at the top of my golf career," said Cadieux. "I told myself to stay calm coming down the stretch and continue to do what I needed to do."
"I was trusting in what my game has got, and that's my thing", added Cadieux. "Everything was working for me this weekend."
The Carolinas Golf Association would like to thank all the staff at Grandover Resort for graciously hosting us again on both their East and West courses for the 4th Carolinas Collegiate Showcase.
Event: 4th Carolinas Collegiate Showcase
Host Site: Grandover Resort and Spa, Greensboro, N.C.
Playing Dates: November 18-19, 2023
Social Media: @CGAgolf1909
Final Results: Leaderboard
About the Carolinas Golf Association (CGA)
The CGA is a 501(c)(3) not-for-profit educational organization founded in 1909 to promote and protect the game of golf in the Carolinas by providing competitions, education, support, and benefits to golf clubs and golfers. The CGA is the second largest golf association in the country, with over 700 member clubs represented by nearly 150,000 individuals.
The CGA annually conducts 48 championships and five team match competitions for men, women, juniors, and seniors. It also runs over 150 One-Day (net and gross) events and qualifying for USGA national championships. The CGA serves golf in the Carolinas with numerous programs such as: the USGA Handicap System; tournament management software and support; course measuring and course/slope ratings; agronomy consultation; answers about the Rules of Golf, Rules of Amateur Status, and Handicapping; Carolinas Golf Magazine; Interclub series; Tarheel Youth Golf Association; Carolinas Golf Hall of Fame; expense assistance for USGA Junior and Girls' Junior qualifiers from the Carolinas; and the Carolinas Golf Foundation (CGF). The CGF has distributed nearly $2,000,000 since 1977 to benefit Carolinas' golf initiatives, including junior and women's programs.
For more information about the Carolinas Golf Association, follow @cgagolf1909 on Instagram, Twitter, Facebook, and TikTok, or visit our website www.carolinasgolf.org
##30##