Stitch Golf to Support CGA Junior Championships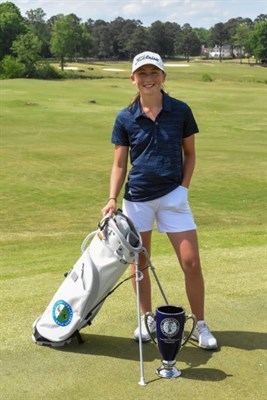 Vicki DiSantis Girls' champion Emily Mathews with her Stitch Golf bag
STITCH GOLF TO SPONSOR CAROLINAS GOLF ASSOCIATION JUNIOR CHAMPIONSHIPS
The Carolinas Golf Association (CGA) has teamed with Stitch Golf to provide each competitor in select summer junior golf championships with a Stitch Golf product. Stitch Golf and the CGA will work together on unique tournament specific designed products that will be presented to each of the junior competitors. Each junior champion will also awarded a Stitch Golf golf bag as memento of their victory.
"Having Stitch Golf as a supporter of our junior championship is a great benefit for our young women and men," stated Jason Cox, the CGA's Director of Junior Golf. "We strive to not only conduct a quality competition, but also provide the juniors with a memorable experience. For many of these young players, playing in a CGA junior championship may be the biggest event they ever play in. We want those events to be a lifetime memory and we are very fortunate to have Stitch Golf help us create those memories," added Cox.
"Stitch is excited to continually elevate our company's support for amateur golf' said Brad King, Stitch Golf CEO. " Junior golf is especially important to Stitch as we grow the brand's ambassador base. We are thankful and encouraged by the consistent growth of our followers from junior golfers all the way to the PGA Tour. We look forward to our partnership with the Carolinas Golf Association" added King.
About Stitch Golf
Founded in 2012 as a headcover company, STITCH® became known for designing and creating products with a precise attention to detail, all the way down to the last stitch. Based in Apex, North Carolina, the STITCH® Team aims to give a unique experience, whether it be the story of a lot of leather used in our headcovers, durable waterproof fabrics, or fashionable color schemes. Our products are designed to combine function and style with three themes in mind:
Dress Your Game - Dressing your golf game is about more than just your bag and headcovers. It is about putting together a color-coordinated look to fit the occasion – your round of golf. By creating cohesive looks with a unique story to tell, we have made it easy to dress your game™ to match your style and personality.
Arrive in Style - STITCH® travel bags were designed to combine function and fashion so you arrive in style™ no matter where you go. Waterproof fabrics, fashionable color schemes and innovative designs come together in our stylish, yet functional travel bags.
From Work to Play - Whether it be casual Friday or your typical work attire, our apparel allows you to transition from the boardroom to the fairways with ease. Classics with a twist, these pieces feature details that perform.