Five CGA Members in US Women's 4-Ball
Bandon, Ore. -- Starting Saturday at the inaugural U.S. Women's Amateur Four-Ball, a field of 64 sides (128 golfers) will compete to be the first to have their names engraved on the trophy. Following two 18-hole stroke-play qualifying rounds on May 9 and 10, the field will be cut to the low 32 sides for match play. Five 18-hole rounds of match play will determine the champion. Sectional qualifying to vet 336 sides (672 players) with individual handicap indexes 14.4 or less was conducted over 18 holes at 28 sites from Aug. 25, 2014 thru March 30, 2015. It's the fourth-largest USGA women's championship, behind the U.S. Women's Open, the U.S. Women's Amateur and the U.S. Girls' Junior.
The par-72 Pacific Dunes Course at Bandon Dunes Resort will measure 6,003 yards for the Women's Four-Ball, says Rachel Graves, the USGA director of competition for the event. "For many of the players, it will be the most-challenging, yet fair, test of golf they will see all year," Graves says. "The course can be intimidating given the winds, tight lies and the need for good course strategy." Based on the course setup for the championship, the Course/Slope Rating is 76.1/146.
Each of the four teams comprised of Carolinas women that made the Championship proper were medalists of their respective qualifier. Three-time CGA Women's Player of the Year Dawn Woodard, of Greer, S.C. will partner with Meghan Stasi of Oakland Park, Fla. The duo were eight better than the rest of the field in their qualifier. Stasi is a USGA winner, having won the 2006, 2007, 2010 and 2012 U.S. Women's Mid-Amateur. Angela Stewart of Greenville, N.C. and Rachel Carpenter of St. Simon's Island, Ga. shot 70 to win the Pinewild Country Club qualifier by two shots, securing the only spot available from that location. Amber Marsh Elliott of Greensboro, N.C. is one of four USGA champions competing. The team of Mallory Hetzel of Waynesville, N.C. and Lea Venable of Laurens, S.C. have both won multiple Carolinas Women's Four-Ball titles, but never as a team.
Carolinas teams' starting times and notes (USGA championship website):
Saturday (May 9), hole #1 / Sunday (May 10), hole #1
7:24 a.m./10:48 a.m. Dawn Woodard, Greer, S.C./Meghan Stasi, Oakland Park, Fla. medalist (68)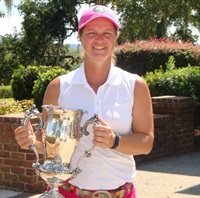 Dawn Woodard
Teamed together to win the 2009 Women's International Four-Ball and 2011 Ladies Four-Ball Invitational at Palm Beach Polo Golf & Country Club.
Woodard, a former Furman Univeristy golfer, will try to channel the same energy that other Furman alum Todd White used to win the men's U.S. Four-Ball. Her many victories in the Carolinas include the 2011 and 2012 Carolinas Women's Match Play Championships, 2010-12 Women's South Carolina Golf Association Match Play Championships and the 2012 WSCGA Stroke Play Championship.
Stasi won the 2012 Ione D. Jones/Doherty Championship. Earlier this year, the four-time U.S. Women's Mid-Amateur champion represented the USA in the South American Amateur Championship, where she finished eighth. Stasi and her husband, Danny, own Shuck N' Dive, a seafood restaurant in Fort Lauderdale, Fla.
12:12 p.m./8:48 a.m. Angela Stewart, Greenville, N.C./Rachel Carpenter, St. Simon's Island, GA. medalist (70)

Angela Stewart (right) and Rachel Carpenter
With an age difference of 36 years, teammates Rachel Carpenter, 24, of St. Simons Island, Ga., and Dr. Angela Stewart, 60, of Greenville, N.C., have the largest age difference in the field.
Dr. Stewart is a physician and founder of Our Children's Clinic in Winterville, N.C., a full-service medical clinic providing comprehensive pediatric healthcare from birth to adolescence. She won the 2011 North Carolina Women's Senior Amateur, becoming the first African American to win a Carolinas Golf Association championship. In 2012, her oral history was documented for the USGA Museum.
Carpenter is the daughter of Jeffrey and Wendi Carpenter, both retired EC-130 pilots for the United States Navy. Her mother, Wendi, who served for 34 years, was the first woman aviator to attain the rank of rear admiral.
7:24 a.m./10:48 a.m. Amber Marsh Elliott, Greensboro, N.C./Katie Miller, Jeannette, Pa. medalist (66)
Marsh Elliott, the 2003 CGA Women's Player of the Year, was diagnosed with breast cancer three years after winning the 2003 U.S. Women's Mid-Amateur. At the time of her diagnosis, her son, Justin, was 17 months old. Following a bi-lateral mastectomy, she was given a clean bill of health.
Amber Marsh Elliott (right) and Katie Miller
Katie Miller, who had her amateur status reinstated in 2013, reached the third round of the 2014 U.S. Women's Mid-Amateur Championship. She originally tabbed former University of North Carolina teammate and fellow alum Sydney Crane as her teammate for the U.S. Women's Amateur Four-Ball Championship. Professional obligations, however, prevented a partnership, so Miller turned to Crane's aunt, Amber Marsh Elliott.
She made the right choice. Miller and Marsh Elliot carded a 5-under-par 66 to earn medalist honors in their qualifier. "I'm thrilled," Marsh Elliott, a Sedgefield Country Club member, said. "Bandon Dunes is a place I've always wanted to visit."
Marsh Elliot, a former assistant golf coach at UNC, recruited Miller, but left prior to her arrival to start a family. The two stayed in touch and remained friends. Now Marsh Elliot and Miller will share news of their U.S. Women's Amateur Four-Ball status with Crane.
10:36 a.m./7:12a.m. Mallory Hetzel, Waynesville, N.C./Lea Venable, Laurens, S.C. medalist (66)

Mallory Hetzel (left) and Lea Venable
The head women's golf coach at Western Carolina University, Hetzel has won six CGA championships, including the 2014 Carolinas Women's Match-Play Championship. She was CGA's Junior Girls Player of the Year in 2003. As an amateur, the Summerville, S.C., native was a four-time American Junior Golf Association (AJGA) Rolex Junior All-American, earning the honor in 2001, '02, '04 and again in 2005. During that same time frame, she managed to advance to match play in three U.S. Girls' Junior Championships and was named to the East Canon Cup Team twice. She was also twice dubbed the Beth Daniel Player of the Year (2003, '04) by the South Carolina Golf Association.
Venable is a two-time Carolinas Women's Four-Ball champion. She also won the 2013 Carolinas Mixed Team championship with her husband, Shawn. Venable made the match play round of 64 at last year's U.S. Women's Mid-Amateur Championship.
TELEVISION COVERAGE:
Date Broadcast Hours (EDT/PDT) Network
May 12 Second Round, Quarterfinals, 7-9:30 p.m./4-6:30 p.m. Fox Sports 1
May 13 Semifinals, Championship Match, 7-9:30 p.m./4-6:30 p.m. Fox Sports 1
##30##