Results: Play Day at Greensboro CC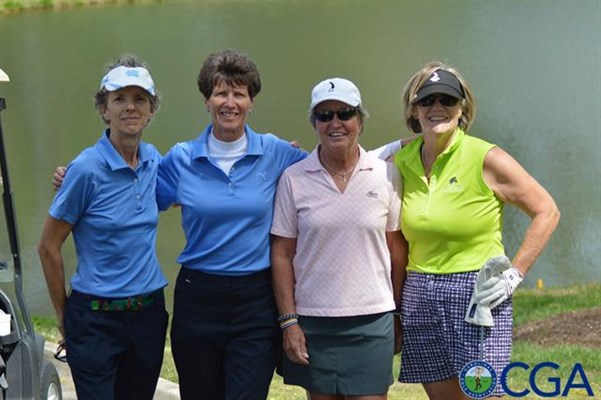 Ladies Four-Ball Play Day Results
from Greensboro Country Club (Farm)
SOUTHERN PINES, N.C. (April 11, 2017) -- Final results from the Ladies' Four-Ball Play Day hosted by the Farm Course at Greensboro Country Club in Greensboro, N.C. on Monday, April 10, 2017.
104 ladies competed in the four-ball play day at Greensboro Country Club's Farm Course in Greensboro, N.C. Prizes for first and second gross and net were given in each flight.
Ladies' Four-Ball Play Days are 18-hole events of four-ball stroke play, with prizes given for gross and net winners in each flight. The field is divided into divisions based on tee preference and flighted based on team Handicap Index®.
All players received points in the Race to the Carolinas Cup, a season-long points competition based on finish and participation in Ladies' Four-Ball Play Days.
Ladies' Four-Ball Play Day
Greensboro Country Club
Greensboro, N.C.
April 10, 2017

Results
First Flight
Place
Team
Team Gross
Team Net
1st Gross
Moore, Patty / Teague, Lori
69
65
1st Net
McKinney, Becca / Sluder, Jo Ann
76
62
2nd Gross
Means, Sally / Yelovich, Dianne
76
66
2nd Net
Murphy, Ellen / Lambert, Vicki
78
68
DeVore, Katherine / Zvarich, Betty
77
68
Roloff, Lynn / Yang, Sook Hee
78
70
Munnett, Barbara / Ollett, Ellen
81
70
Montgomery, Bonnie / Andia, Carmen
81
70
Curry, Cynthia / Hall, Peggy
84
72
Congelosi, Pam / Kelly, Lib
90
81
Second Flight
Place
Team
Team Gross
Team Net
1st Gross
Shore, Julie / Merrill, Christine
77
63
1st Net
Bergquist, Pamela / Rupert, Diane
80
63
2nd Gross
Blanchard, Karen / St. Peter, Therese
78
68
2nd Net
Poggenpohl, Linda / Smith, Beth
79
64
Brookshire, Karen / Hogan, Ann
79
64
Jones, Kim / Clark, Tracie
81
67
Meyer, Jackie / New, Nancy
81
69
Broadmeadow, R. / Hedgpeth, M.
81
68
Whitley, Kelly / Arnaud, Linda
84
71
Cooper, Nancy / Milligan, Lisa
86
74
Canals, Shelly / McGill, Linda
88
73
Third Flight
Place
Team
Team Gross
Team Net
1st Gross
Rhodes, Mary / Watson, Dollie
79
63
1st Net
Stewart, Franny / Brooks, Rhonda
89
67
2nd Net
Hann, Roni / Elliott, Marti
88
67
2nd Gross
Farthing, Sara / Gooch, Christie
88
69
Staley, Diana / Rycroft, Bette A Rycroft
89
70
Donahue, Janet / Piper, Judy
89
68
Hampton, Jean / Beasley, Wendy
90
69
Reardon, Kay / Whitley, Marilyn
90
71
Barefoot, Deborah / Johnson, Kathern
92
70
Fogel, Kate / Reynolds, Kathy
94
74
Fourth Flight
Place
Team
Team Gross
Team Net
1st Gross
Ford, Gail / Hauslohner, Emily
83
62
1st Net
Loveland, Kelly / Gamber, Robin
85
59
2nd Gross
Shores, Kay / Branon, Suellen
85
60
2nd Net
Bourne, Anne / Peters, Jean
91
66
Staub, Deb / Tippett, Trish
85
69
Brown, Mary Ann / MacKenzie, Janet
90
67
Strohmenger, Linda / Parr, Becky
90
70
McClelland, Marty / Reilly, Deborah
90
70
Maulucci, Donna / Waldron, Kathleen
91
70
Baker, Cindy / Witmer, Colleen
94
70
Smith, Sharon / Falls, Cristeen
96
73
Fifth Flight
Place
Team
Team Gross
Team Net
1st Gross
Sasser, Jean / Musser, Betty
92
64
1st Net
Lands, Cheryl / Shlafer, Garnett
93
63
2nd Gross
Sjodin, Barbara / Ballard, Marie
93
65
2nd Net
Williams, Carolyn / Richards, Dale
99
64
Lamar, Susan / Davis, Ann
95
73
Core, Jo Anne / Gill, Phyllis
95
67
Fowler, Benjie / Wade, Faye
96
70
Vincent, Ellen / Watterworth, Susan
98
64
Reed, Carol / Lane, Peggy
101
73
Moore, Joan / Fitzgerald, Grace
110
81
About the Race to the Carolinas Cup and Ladies' Four-Ball Play Days
The Race to the Carolinas Cup is a season-long points competition in which players accumulate points based on team finish and participation in CGA Ladies' Four-Ball Play Days.
Four-Ball Play Days are ladies-only four-ball (better ball) competitions that are conducted at member clubs across North and South Carolina. Play Days are designed for players of all skill levels and abilities. These events are flighted by team Handicap Index and include gross and net prizes. Players have the option to play in two divisions at different yardages (one of which is always the most forward tees on the golf course). Most events will be a shotgun start and all events will include lunch.
Every team at every Four-Ball Play Day earns points in the Race to the Carolinas Cup based on their gross or net finish in their respective flight. Each team will also receive participation points. Team points will be split between players to apply to each player's individual standing in the Race to the Carolinas Cup. Players may play with any partner in any of the play days and earn points toward her individual standing. At the end of the Race to the Carolinas Cup regular season, the player with the most points will be named the Race to the Carolinas Cup champion. This award will be given at the year-end Carolinas Cup Tournament. Players in the Top 100 of the Race to the Carolinas Cup standings, as well as each gross and net flight winners at every play day, will be invited to participate in the Carolinas Cup Tournament at Pinehurst Resort (No. 3). Players may compete with any partner that is also eligible for the tournament. The Carolinas Cup Tournament will be held on December 9, 2017 and will include a banquet and luncheon to celebrate the Race to the Carolinas Cup Champion as well as the Carolinas Cup Tournament winners.
More Information about the Race to the Carolinas Cup
2017 Ladies' Four-Ball Play Days Schedule
About the Carolinas Golf Association (CGA)
The CGA is a 501(c)(3) not-for-profit educational organization that was founded in 1909 to promote and to protect the game of golf in the Carolinas by providing competitions, education, support and benefits to golf clubs and golfers. The CGA is the second largest golf association in the country with over 700 member clubs represented by nearly 150,000 individuals.
The CGA annually conducts 48 championships and five team match competitions for men, women, juniors, and seniors. It also runs over 150 One-Day (net and gross) events as well as qualifying for USGA national championships. The CGA serves golf in the Carolinas with numerous programs such as: the USGA Handicap System; tournament management software and support; course measuring and course/slope ratings; agronomy consultation; answers about the Rules of Golf, Rules of Amateur Status, and Handicapping; Carolinas Golf Magazine; Interclub series; Tarheel Youth Golf Association; Carolinas Golf Hall of Fame; expense assistance for USGA Junior and Girls' Junior qualifiers from the Carolinas; and the Carolinas Golf Foundation (CGF). The CGF has distributed nearly $2,000,000 since 1977 to benefit Carolinas' golf initiatives including junior and women's programs.
For more information about the CGA, visit our website.
##30##