Top Ranked Players at Twin States Junior Girls'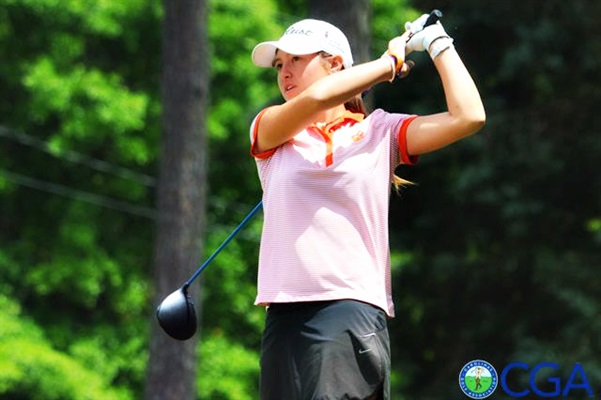 Gracyn Burgess looks to repeat as Twin States Girls' champion
SOUTHERN PINES, N.C. (June 23, 2017) -- The Carolinas Golf Association's 51st Twin States Junior Girls' Championship will take place June 27-28 at Starmount Forest Country Club in Greensboro, N.C.
The Twin States Junior Girls' Championship format is 36 holes of stroke play. 65 golfers will compete on a 6,010 yard, par 72 layout.
The first round ever played at Starmount Forest Country Club on August 1, 1930. Since then, the course has hosted the United States Women's Open, the Greater Greensboro Open, the Carolinas Open and seven Carolinas Golf Association amateur championships. Earlier this month, the club hosted a U.S. Senior Open qualifier.
Related: Championship Web Site | History | Starting Times
Top Ranked Players to Watch
Gracyn Burgess, 17, the top-ranked girls' junior golfer in S.C., looks to repeat as champion. Just a few days prior to this year's championship, Burgess won the Women's South Carolina Junior Championship. "I feel good about playing in this year's championship," said Burgess of Lexington, S.C. "I've never played this year's course before so it will be fun getting to learn the layout." A Clemson University commit, Burgess, walked away victorious at the Vicki DiSantis Girls' Championship in May, finishing the final day with a round of 67 to erase a five-shot deficit. She was the recipient of the Beth Daniel Player of the Year in 2016, which is given to the top female golfer by the South Carolina Junior Golf Association. With her confidence growing after every win, Burgess looks to focus on the mental side of her game and staying positive on the course as areas of improvement in her quest to repeat.
Kathryn Carson, 17, ranked sixth in N.C. junior girls' standings, enters this event having clinched the N.C. Junior Girls' title last week. During the match play portion of the championship, the East Carolina University commit trailed for a total of three holes. Following the N.C. Junior Girls', she finished T2 in the North Carolina Women's Amateur and won their low junior award. Carson placed tied for second behind Burgess at last year's Twin States Girls' Championship.
Campbell University commit Emily Hawkins, 17, of Lexington, N.C. tied for second with Carson at last year's Twin States Girls' Championship. Hawkins, who is currently ranked the second best junior girls' golfer in N.C., has six first-place victories as well as 15 top-five finishes in her junior career.
Elle Johnson, 16, from Inman, S.C. ranks fifth in S.C. junior girls' rankings and finished in a tie for second at the 2016 Women's South Carolina Golf Association Green Valley Girls' Championship.
Baylee Evans, 17, won the 2016 Women's South Carolina Junior Championship. The Lancaster, S.C. native ranks eighth in the S.C. junior girls' golf standings.
Keri Kenkel of Charlotte, N.C. jumped four spots to number 15 in the N.C. rankings after three top-10 finishes this year. Most recently, she placed fifth at the Peggy Kirk Bell Girls' Golf Tour North Carolina Open.
Scoring will be provided by the CGA throughout the championship, offering 9 and 18-hole updates. Live updates will also be available on the CGA's Junior Department Twitter account, @CarolinasJunior. Continue to visit the CGA website throughout this championship and all year long for complete championship coverage including scores, interviews, photos, and recaps.
Past Champions in the Field
Gracyn Burgess, Lexington, S.C. - 2016
Full Field of Players
Battle, Mackenzie, Aberdeen, NC
Bonifay, Anna, Pfafftown, NC
Bruxvoort, Hannah Rose, Chapel Hill, NC
Burcham, Macie, Greensboro, NC
Burgess, Gracyn, Lexington, SC
Carles, Phoebe, Clinton, SC
Carson, Kathryn, Mooresville, NC
Connolly, Becca, Winston-Salem, NC
Cook, Victoria, Reidsville, NC
Cox, Alyssa, Mount Airy, NC
Cox, Michaela, Greensboro, NC
Denhard, Lauren, Salisbury , NC
Dunlap, Emily, Greenville, SC
Evans, Baylee, Lancaster, SC
Fox, Lotte, Raleigh, NC
Freedman, Hailey, Chapel Hill, NC
Funderburg, Sarah, Wilmington, NC
Gillespie, Peyton, Greenville, SC
Greene, Carleigh, Williamston, SC
Hamilton, Riley, Reidsville, NC
Harn, Michelle, Charlotte, NC
Harriman, Madison, High Point, NC
Hatcher, Abigayle, Roebuck, SC
Hawkins, Emily, Lexington, NC
Hayes, Sasha, Winston Salem, NC
Hillman, Anna, Summerfield, NC
Hirtle, Mara, Pinehurst, NC
Holland, Sophie, Cornelius, NC
Isaacson, Caroline, Greensboro, NC
Isaacson, Madison, Greensboro, NC
Jenkins, Carson Stewart, Raleigh, NC
John, Olivia, Summerfield, NC
Johnson, Elle, Inman, SC
Joy, Hailey, Reidsville , NC
Kenkel, Keri, Charlotte, NC
Kouchi, Nina, Charlotte, NC
Kue, Ella, Kings Mountain, NC
Ladd, Victoria Grace, Greensboro, NC
Lamb, Kerington, Easley, SC
Martin, Lauren, Mooresville, NC
Matthews, Kate, Greenville, SC
McCann, Holly, Raleigh, NC
McGaha, Kennedy, Honea Path, SC
Melting, Parker, Mint Hill, NC
Morgan, Anna, Spartanburg, SC
Pack, Emelia, Browns Summit, NC
Pavlish, Kallie, Charlotte, NC
Pendleton, Hailey, Waxhaw, NC
Reid, Emma, Flat Rock, NC
Rogers, Jayla, Wilmington, NC
Seymour, Angelique, Fayetteville , NC
Shepherd, Harper, Greensboro, NC
Smith, Sarah, York, SC
Sudjianto, Alexis, Charlotte, NC
Topiwala, Kelley, Matthews, NC
Tsiros, Ana, Asheville, NC
Uppal, Muskan, Cornelius, NC
Wagler, Lorin N, Southern Pines, NC
Ward, Kayla, Raleigh, NC
Warr, Tatum, Hartsville, SC
White, Mary Slade, Winston Salem, NC
Williams, Shalie, Camden, NC
Wong, Siana, Summerfield, NC
Wooten, Amy, Clinton, NC
Championship Facts
Event: 51st Twin States Girls' Championship
Playing Dates: June 27-28
Host Site: Starmount Forest CC, Greensboro, N.C.
6,020 yards, par 72, 74.6/138
Defending Champion: Gracyn Burgess, Lexington, S.C.
Format: The junior division is conducted at 36-holes of stroke play.

Eligibility: Entry is open to any female amateur golfer who has not reached her 19th birthday by June 28, 2017, who has not started college, is a legal resident of North Carolina or South Carolina, is a member in good standing of a club which is a member of the Carolinas Golf Association (CGA) and has a current USGA handicap index® at a CGA member club that does not exceed 18.3.
Schedule of rounds
Starting times: Tuesday, June 27 First round. 18 holes of stroke play (tee times).
Wednesday, June 28 Final round. 18 holes of stroke play (shotgun).
Awards luncheon following play.
About the Carolinas Golf Association (CGA)
The CGA is a 501(c)(3) not-for-profit educational organization that was founded in 1909 to promote and to protect the game of golf in the Carolinas by providing competitions, education, support and benefits to golf clubs and golfers. The CGA is the second largest golf association in the country with over 700 member clubs represented by nearly 150,000 individuals.
The CGA annually conducts 48 championships and five team match competitions for men, women, juniors, and seniors. It also runs over 150 One-Day (net and gross) events as well as qualifying for USGA national championships. The CGA serves golf in the Carolinas with numerous programs such as: the USGA Handicap System; tournament management software and support; course measuring and course/slope ratings; agronomy consultation; answers about the Rules of Golf, Rules of Amateur Status, and Handicapping; Carolinas Golf Magazine; Interclub series; Tarheel Youth Golf Association; Carolinas Golf Hall of Fame; expense assistance for USGA Junior and Girls' Junior qualifiers from the Carolinas; and the Carolinas Golf Foundation (CGF). The CGF has distributed nearly $2,000,000 since 1977 to benefit Carolinas' golf initiatives including junior and women's programs.
For more information about the CGA, visit our website.
##30##