Spicer Wins Match Play After Numerous Runner-Ups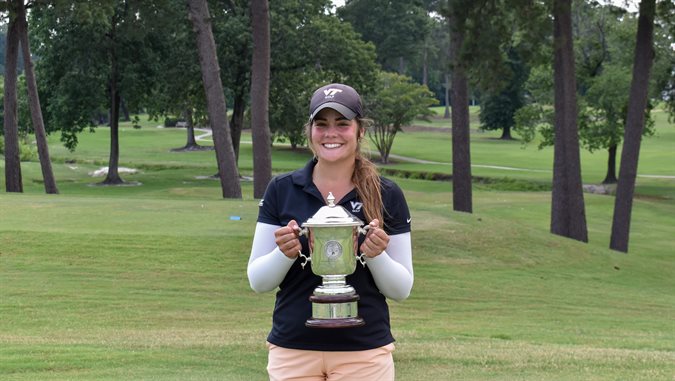 GREENVILLE, N.C. (August 4, 2022) -- Final results of the 24th Carolinas Women's Match Play Championship at Greenville Country Club in Greenville, N.C. from August 2 - 4, 2022.

Related: Championship Website | Full Field | Starting Times | Scoring | History | Photos

After nearly six rounds of golf at Greenville Country Club and finishing as runner-up two times previously (2018 and 2021), Jessica Spicer of Bahama, N.C. claimed the 24th Carolinas Women's Match Play Championship. She defeated Nicole Adam of Pinehurst, N.C., 1 up.

"It's obviously really important to know how to win, but I think it's also important to know what it feels like to lose and know that, you know, it feels bad at the time obviously, but life goes on," Spicer said. "I think that helped me to not feel as much pressure."

Both Spicer and Adam played lights out the whole tournament, taking out their opponents one by one to advance to the next match. The main highlight from Spicer came from the semifinal match, where she knocked out Mallory Fobes of East Bend, N.C., 2 & 1. Fobes defeated Spicer in last year's Championship Match, so that semi-final win this week gave the 24-year-old Spicer a sweet feeling of redemption and victory.

Spicer remarked that the course all came down to her putting, something she was able to capitalize on match after match. She consistently sank birdies to push her further into the championship. Going into the Championship Match, Spicer focused on taking each hole shot-by-shot and not getting too focused on the scoreboard or other outside distractions.

Adam's journey to the Championship Match was just as impressive, taking out prestigious golfers such as recent East Carolina University graduate Kathryn Carson of Mooresville, N.C., top-10 ranked Carolinas junior golfer Ellen Yu of Greensboro, N.C. and the medalist, Carrie Catherine Ganim of Greensboro, N.C.

When both Spicer and Adam finally faced off in the Championship Match, Spicer took an early lead and stayed 2-up for almost the entirety of the match.

Things got interesting when Adam chipped in for birdie on the par-3 No. 15 after a wayward iron missed the green. After her chip-in, Spicer missed a 15-footer to cut Spicer's lead to 1-up. Despite Adam's attempted comeback, Spicer held steady, fighting off the exhaustion and fatigue of multiple rounds per day in nearly 100 degree weather. She credited her front nine performance for pushing her through to the end of the match.

"That front nine with both of us making so many birdies, I think that kind of helped to get me in the zone a little bit," Spicer said. "It just kind of got me dialed in and just focused on trying to make as many birdies as possible."

This extra bit of perseverance allowed Spicer to hold out and stay ahead in the match the whole round, officially sealing her long-awaited victory. Spicer gave her utmost respect to Adam, admiring her driving and putting that put up a strong fight all the way until the last hole.

"She definitely kept me on my toes and she's just a super sweet girl, so it was really fun to play against her," Spicer said.

Going forward, Spicer is considering trying her hand at LPGA Qualifying School. This tournament win has given her the extra motivation and confidence to possibly pursue this opportunity. As of now, she is soaking in and enjoying her hard fought victory, describing the feeling as simply "awesome."

"I think it still hasn't really sunk in yet 'cause I was just trying to stay in the moment so much, but it feels pretty sweet," Spicer said.

The CGA would like to thank the members and staff at Greenville Country Club for hosting the 24th Carolinas Women's Match Play Championship. A special thanks goes out to General Manager Andrea Pinner, Golf Course Superintendent Fig Worley and Head Golf Professional Rob Farmer.
Semifinal Results:
Jessica Spicer of Bahama, N.C. def. Mallory Fobes of East Bend, N.C., 2 & 1
Nicole Adam of Pinehurst, N.C. def. Kathryn Carson of Mooresville, N.C., 4 & 3
Championship Match Results:
Jessica Spicer def. Nicole Adam, 1 Up
First Flight
Championship Match Results:
Lexi Bennett of Santee, S.C. def. Parker Perry of Durham, N.C., 4 & 2
Second Flight
Championship Match Results
Toni Blackwell of Fayetteville, N.C. def. Adrienne O'Brien, 1 Up
Click here to view the full match play bracket and stroke play qualifying results.
About the Carolinas Golf Association (CGA)
The CGA is a 501(c)(3) not-for-profit educational organization that was founded in 1909 to promote and to protect the game of golf in the Carolinas by providing competitions, education, support and benefits to golf clubs and golfers. The CGA is the second largest golf association in the country with over 700 member clubs represented by nearly 150,000 individuals.
The CGA annually conducts 48 championships and five team match competitions for men, women, juniors, and seniors. It also runs over 150 One-Day (net and gross) events as well as qualifying for USGA national championships. The CGA serves golf in the Carolinas with numerous programs such as: the USGA Handicap System; tournament management software and support; course measuring and course/slope ratings; agronomy consultation; answers about the Rules of Golf, Rules of Amateur Status, and Handicapping; Carolinas Golf Magazine; Interclub series; Tarheel Youth Golf Association; Carolinas Golf Hall of Fame; expense assistance for USGA Junior and Girls' Junior qualifiers from the Carolinas; and the Carolinas Golf Foundation (CGF). The CGF has distributed nearly $2,000,000 since 1977 to benefit Carolinas' golf initiatives including junior and women's programs.
For more information about the CGA, visit our website.
##30##